There's nothing quite as comforting as a good old fashioned Shepherd's Pie, just like your Mum used to make. If it's a cold, rainy day and you're looking for some comfort food then nothing beats a Shepherd's Pie!
This British classic is the perfect winter warmer dish, made up of mince, vegetables and potato there's really nothing better! This dish can feed the whole family and is filling and satisfying – the best part is that it keeps so well, you can warm up the leftovers in the microwave the next day and enjoy for lunch.
This dish is simple to make and requires minimal ingredients, and makes a perfect cheap and easy winter meal, so without further ado, read on to get cooking!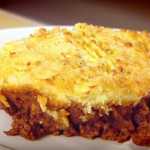 Print Recipe
Winter Warmer Shepherd's Pie Recipe
British classic shepherd's pie recipe
Ingredients
1/4

cup of

olive oil

1

teaspoon

of salt

1

cup of

chicken stock

1

large

onion

2

medium

carrots, chopped

500

grams of

lamb mince

2

tbsp of

tomato puree

a splash of red wine

a dash of Worcestershire sauce

900

grams

of potato, chopped up into cubes

90

grams

of butter

2

tbsp

of milk

1/4

cup of

parmesan
Instructions
Heat up oil in a frying pan

Soften chopped onion and carrot on medium heat

Once soften, add your lamb mince and cook until lightly browned

Tip out any excess fat from your lamb

Add in your Worcestershire sauce, red wine and tomato paste, stir into mince

Add in your chicken stock, bring your heat up and allow to simmer for 40 minutes

Meanwhile boil your potatoes for 10-15 minutes, until soft

Remove water from potatoes and stir through until melted in

Add parmesan to potatoes and stir through until melted in

Put mince into an oven safe dish and then spoon mash over the top

Bake for 20 minutes in the oven

Allow your dish to cool for 5 minutes before enjoying -- preferably in front of a warm fireplace!
Notes
The above video is to another recipe. 
The history of Shepherd's Pie
This cozy comfort food is popular to make even nowadays because it's an inexpensive and easy to make dish – and one that's great when you have leftover vegetables and mince at home. Unsurprisingly, the dish therefore is thought to have likely originated from housewives in Northern England, Scotland and throughout Ireland who were looking for ways to use their leftover food in a way that would be appealing for their husbands and children.
The dish probably first began to emerge in the 1870's as a way to use leftover chunks of meat, but the modern version of it as we know it can't have emerged until at least the 1700's, when potatoes were first introduced throughout Europe.
The dish is made up of lamb (hence the use of the word Shepherd's in the name) – a version of it with beef also emerged around the same time, and this became known as Cottage Pie.
Fun additions to make it unique
Whilst traditional shepherd's pie is fairly simple, owing to its history as a frugal peasants dish created to use up ingredients, this dish can easily be made into a verifiable party for the senses with a few fun additions. Popular inclusions are vegetables like peas, corn and celery. Twists on the classic recipe like using sweet potato instead of the usual white potatoes can also be a fun (and healthy) update to the old recipe.
The addition of ingredients like mushrooms and spinach can up the taste flavor, and some fun seasonings like cayenne and paprika can give the recipe a bit of a kick.
Some minced garlic never goes astray either, and adding heavy cream and some egg yolks to your mashed potatoes can really elevate the dish.
Fresh herbs like rosemary and thyme can make the dish more aromatic and absolutely delicious as well – there's really no end to the changes and updates you can make to this protein and carbohydrate heavy dish.
Of course, the dish is always best served with a glass of red wine nearby!
Should you freeze Shepherd's Pie?
Shepherd's Pie is the perfect dish to prepare ahead of time and keeps extremely well in the freezer. If you have a lot left over after preparing, then set some aside, cover in a container and freeze for up to  year. The dish will be just as delicious once defrosted in the microwave as it was the day that you first made it.
So there you have it – the perfect winter dish, crack it out when the weather starts to get cold and keep it until next winter rolls around if you want to! There's nothing more comforting then a warm shepherd's pie.