The popularity of custom made apparel, especially t-shirts, has stepped up the t-shirt industry. Various organizations, companies or even individuals look for personalized t-shirts for so many reasons but most of them struggle to create perfect t-shirts.
Not only are tees a staple apparel, they are also a powerful marketing tool. So anyone looking to raise funds for charity, hosting an event or promoting brand, should create custom tees. If your t-shirts are thoughtfully designed, they'd provide you with incessant exposure for years. No doubt, custom clothing is an ultimate marketing tool, but it badly relies on the design.
So if you're one of them, consider making custom t-shirts. The entire design process will really excite you, especially when you have some hands-on-experience in graphic design.
We have boiled it down to 6 tips. While brainstorming, consider these essential tips to design custom t-shirts.
Figure out the purpose of your t-shirt design
Why do you want to design a custom t-shirt? Is it for brand promotion or personal use?
Figuring out the purpose should be the first step towards creating a great custom t-shirt. Whatever your need may be, your custom tees will always involve a bit of branding. When you are using it for promotional purposes, branding is your primary goal. Even if it is for personal use, your t-shirt design must communicate your message clearly.
Before you proceed, note down a list of the prominent themes, personality traits, and styles that you want your custom tees to communicate. Write down if your brand is a playful, serious, affordable, luxurious, edgy or conservative. Your t-shirt design should clearly convey your brand message.
Remember, you are not designing your t-shirt for your own use; therefore, don't impose your personal choices in your design. Give priority to the trend, your target audience. Here are 4 t-shirt goals that will guide you through the design process.
Internal company use: companies give their employees as a token of appreciation, solidarity. The goal still remains the same — branding.
Promotional gifts: widely used as a giveaway, your custom t-shirts will always be there in the mind of your potential.
Event souvenirs: t-shirts are always a great souvenir for special events.
What t-shirt designs do you want?
Now it comes to considering the design type that you need. In case you already have a stunning design and you want it on your t-shirts, you should deliver in a vector file format. Even if the design is simple and minimalistic or a pure graphic design, you still need to watch our some factors:
Size: watch out for the size of the design as it will look different on the different t-shirt size.
Color: note that the amount of colors of your design will impact the costs.
Logo / design size: the size of a logo or design on the t-shirt sleeves cannot be bigger that 3-4 cm.
Print size: print has to be min. 2cm of the seam.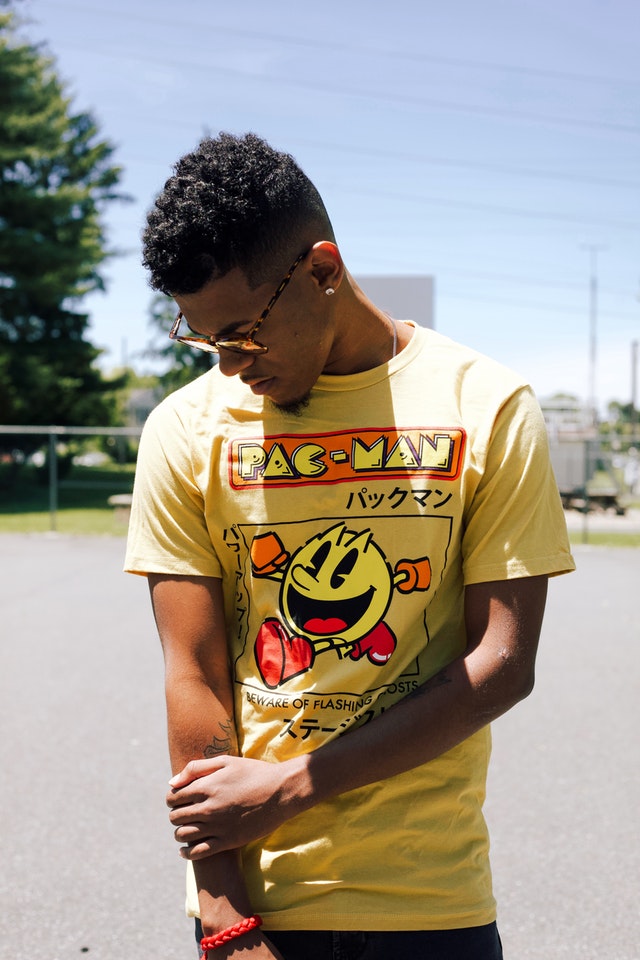 How are you going to sell your products/services?
Find out the way you're planning to sell your products/services to. There are plenty of ways such as in a physical traditional store, online store, a pop-up store etc., but it entirely depends on your target customers, your brand and the goal that you want to achieve with your custom t-shirts.
Research your niche
Who are you going to sell to? Who are your target audience?
Answer these questions yourself before you get to designing. Your design must appeal to your clients; keep this golden rule always in your mind. Having trouble finding your niche? Brainstorm what you are involved in. Are you associated with any unique community / group?  Target it! It's always easy to sell to the niche you're aware of than one which is new to you.
Your niche market can be anything; be it your hobbies, communities, events and so on.
In case your niche is too wide, you probably won't be able to target it aggressively. Ask yourself which particular small niche you can effectively target.
Find t-shirt design inspiration
Now it's time to brainstorm design inspiration. Spot out the latest design trends because you need your store to be fresh and trendy. Designers at Designhill are well aware of the latest trends. So if you're running out of design inspiration and ideas, visit their site to hire a professional designer.
Typography: Typography can work fine with any niche — play around with beautiful text and style of typography. Isometric and hand-drawn typography, two styles are prevalent today.
Collage design: The design industry is witnessing gradual surge in collage design, and it's expected continue for years to come.
Hand-drawn illustration: Simple design, decorated with a hand-drawn illustration is predicted to rise.
80s & 90s Patterns: Due to millennials, aesthetics are making a comeback — think intricate shapes, big contracts, and pastel colors.
How to print & produce t-shirts
Along with good t-shirt design, quality printing is essential to look your t-shirt stunning. Now that you already know that how artistically designed custom tees are effective marketing and fundraising merchandising products. Therefore, you should not leave any stone unturned when it comes to designing, printing and producing your t shirts. Choose a service that manages every step of the process delicately. You can consider PrintShop by Designhill for the best results. This platform offer flexible options.
An ideal custom tees service is one that offers great designing, printing and selling facilities.
Although designing a great custom t-shirt for promoting your brand, fund raising or engaging attendees at an event is not an easy task, but following the aforementioned tips, you can achieve your goal. Consider each of the element carefully and you're done!