Below is a list of the top and leading Theme Parks in Adelaide. To help you find the best theme park located near you in Adelaide, we put together our own list based on this rating points list.
Adelaide's Best Theme Parks:
The top rated theme parks in Adelaide are:
⦁ Mega Adventure
⦁ The Big Wedgie
⦁ Burnside Adventure Park

Mega Adventure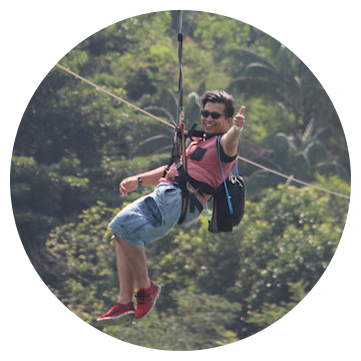 Mega Adventure provides an opportunity for anyone who tries it, to discover more about themselves and the world of excitement and possibilities that surround them. What is their purpose in life? To remain safe, comfortable and untroubled by the unpredictable? Much modern technology is aimed at achieving exactly that, by reducing their exposure to the risk of harm. It's a laudable motive, but in achieving it, they also lose the essence of life and the very emotional tools that have allowed them to thrive, ascend and evolve. Mega Adventure's objectives are not earth shattering, ambitious or mighty. It is simply to give people the opportunity to challenge themselves through adventure.
Products/Services:
Megaclimb, Giant Swing, Skywalk, Megabounce, Kids Course, Team Building Programs, Schools and Education Programs, Corporate Groups, Birthday Parties
Location:
Address: 4 Hamra Ave, West Beach SA 5024
Phone: 1300 634 269
Website: www.megaadventure.com
Reviews:
"
Good place. Everyone was very helpful and knowledgable. Would be good to have some more staff at the structure to help.

" – Vaibhav Goyal

"
Great for kids and adults who enjoy a challenge and aren't afraid of heights!

" – KJ Oduro

The Big Wedgie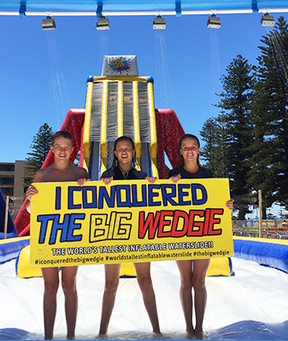 The Big Wedgie, the world's TALLEST and most EXTREME standalone inflatable waterslide – they even have the world record to prove it! At a whopping 18.2m tall and 82m long, The Big Wedgie is not for the faint hearted and is definitely a thrill ride! With a massive 55 degree drop, you are sure to have a blast rocketing down the steep slope being soaked in water! The Big Wedgie is also a four lane racer, so it can be enjoyed by families & friends at the same time!
Products/Services:
Group Bookings, Birthday Parties
Location:
Address: Military Rd, West Beach SA 5024
Phone: (08) 8350 5050
Website: www.thebigwedgie.com.au
Reviews:
"Loved it! Staff were amazing. They encouraged a my 9 year old to go down the Big Wedgie after she was scared to go down and then we could get her off. Great day out." – Dolphin gurll

"Shamazing time on all slides!!! What a great group activity xx" – Tasha Youngman

Burnside Adventure Park

https://www.facebook.com/CityOfBurnside/photos/a.1011443598910868/1468944353160788/?type=1&theater
The City of Burnside is one of Adelaide's oldest residential areas, and is well known for its tree lined streets, period architecture and plentiful reserves and gardens within our 30 km² area.
Located in the South Eastern corner of Adelaide and just 10 minutes from the Central Business District, the City of Burnside covers 28 suburbs and has a residential population of 42,000 people. Offering a wide range of community facilities and a diverse mix of shopping and retail outlets, the City of Burnside is one of Adelaide's most pleasant places to live or visit.
Products/Services:
Community & Recreation, Environment & Sustainability, Planning & Business

Location:
Address: The Parade & West Terrace, Kensington Gardens SA 5068
Phone: (08) 8366 4200
Website: www.burnside.sa.gov.au
Reviews:
"

Great little playground. Suitable for bigger toddlers and up. BBQ, lots of space to run, kick a ball, picnic. Lovely nature. Stinky loos :)" – Stuart Glasson



"Pet friendly, kid friendly plenty of sports on weekends, just a great park!" – Catt Taylor