Pasta salad is an Aussie favourite, and it's the perfect side dish when you host a backyard barbeque or family get-together outside.
It's simple to make, reasonably nutritious and very easy to expand to make sure that there's enough to go around!
The meal is prepared all over the world, and the ingredients typically differ from region to region.
In the US, for example, it is common to just mix cold macaroni with mayonnaise, while in Greece and Italy Mediterranean ingredients are normally used, with an olive oil or vinegar dressing.
In Australia all kinds of pasta salad can be found, thanks to our culturally diverse backgrounds.
Even the American style versions that use mayonnaise as the dressing, however, still tend to feature lots of vegetables. We also tend to mix ingredients from different regions together.
While there are almost an infinite number of recipes for pasta salad, this one is our favourite: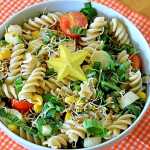 Print Recipe
Pasta Salad
Pasta salad is an Aussie favourite, and it's the perfect side dish when you host a backyard barbeque or family get-together outside.
Ingredients
1/4

cup

99% fat-free salad dressin

1

small avocado

1/4

cup

flat-leaf parsley leaves

3

ripe tomatoes

1

red capsicum

cut into thin strips

250

gram

lean leg ham

cut into short strips

250

gram

green beans

3

cobs corn

250

gram

Spiral pasta
Instructions
Cook pasta in a large saucepan, following packet directions, until just tender. Drain. Transfer to a large bowl.

Bring a small saucepan of water to the boil. Add corn and beans. Cook for 1 minute or until beans are bright green. Drain. Rinse under cold running water to refresh. Drain. Pat dry with paper towel.

Add corn, beans, ham, capsicum, tomato and parsley to warm pasta. Toss until well combined. Add avocado, dressing and salt and pepper. Toss gently to combine. Enjoy!
Notes
The video is with different pasta salad recipe 
Because there are many different ways to prepare a pasta salad, the recipe above is not intended to be the definitive method to creating one. However, it is a good place to start from if you are unsure how to prepare a bowl for your gathering.
If you want to leave any of the ingredients out of the dish, feel free! If you take out the ham, for example, the meal will be vegan (depending on the dressing), while some people might not like corn or tomatoes. You can also substitute ingredients – if you want to give your pasta salad a bit of a kick, use chilli flakes instead of pepper!
Adding flavours and little bits is also very easy. Crumbed fetta or diced haloumi would be good cheeses to put in to your salad for some extra flavour, while olives would also mix well with the dish. Remember, it's your pasta salad so you can use whatever ingredients you like!