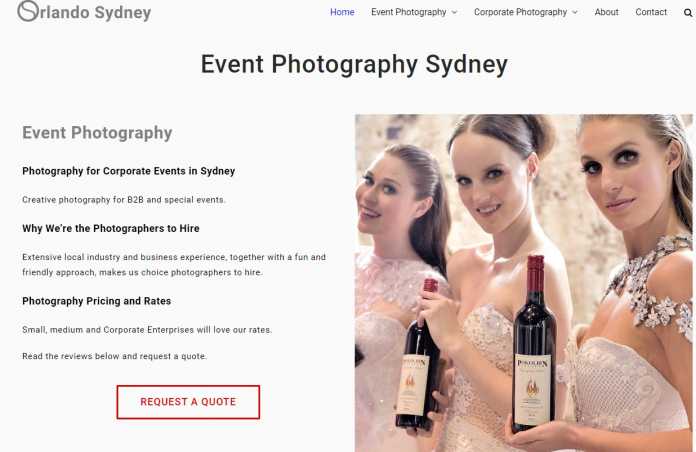 If you're looking for tried-and-tested corporate event photographers, Orlando Sydney is the way to go. With their extensive experience, friendly staff and creative solutions, their expert team helps takes some of the stress out of running an event.
Ensuring that you capture your company's special events is highly important; photos can be used online and on marketing material to help incite interest and communicate an air of professionalism with your audience.
But just how well do they stack up against other B2B photographers?
Here's our review:
Pricing and contract
Orlando Sydney do not list their prices on their website; they tailor their fees depending on your specific needs and the size of your business.
Factors that affect the cost include post-production, length of shoot, location, backups, equipment used, and second shooters.
The average cost of a corporate event photographer is between $200-$300 per hour.
Features and services
Here is a list of some of the features and services that Orlando Sydney offer:
High-resolution professional photos
Creative content & visual storytelling
Photo backups
Post-production editing
Second shooters
Services the Sydney CBD area and beyond
Co-branding and sponsorship opportunities
Overall, they offer a flexible and comprehensive range of services which will serve any corporate event very well. The photos they provide you with can be used on your social media platforms, website and promotional material for years to come.
Pros
Some of the major benefits of Orlando Sydney are:
Extensive experience (20+ years) in the corporate photography sector
Adept at servicing a range of events, from seminars to fashion shows
Quick turnaround time
High-quality photos
Personable service
Cons
The main drawbacks to Orlando Sydney are:
Only operates in the Sydney region
No online price list
Competitors
Some of their main competitors are:
Visionair
Graynoise
Evan Maclean

Executive Editor at Best in Australia. Mike has spent over a decade covering news related to business leaders and entrepreneurs around Australia and across the world. You can contact Mike here.