As an adventure enthusiast with a keen interest in the fast-evolving electric bike scene, I was thrilled to discover Ampd Bros Australia, a brand known for crafting electric bikes that embrace the spirit of freedom and exploration. When I learned that this Queensland-based brand had a growing reputation for creating incredible electric bikes, I couldn't resist the opportunity to take their Ace-X Plus+ electric bike for a spin.
Upon laying my eyes on the Ace X, I was captivated by its serious attitude and scrambler motorcycle-inspired styling. The heavy-duty frame and chunky knobbly tires gave it a tough and rugged appearance, and I was eager to experience the adventure it promised. What truly impressed me was that this feature-packed bike was surprisingly affordable, providing an environmentally-friendly alternative to cars and motorbikes.
Stepping onto the Ace X, I immediately noticed the comfortable, spacious seat that promised a smooth ride for riders of all sizes. The bike was available in two frame options – the Ace-S with a step-through frame and the Ace-X with a high-bar cross frame. I opted for the Ace-X, seeking both strength and style, especially recalling what I learned about triangles and load-bearing during my engineering studies at university.
Ampd Bros offered two Ace X variants – the standard model and the Plus+. Both shared the signature Kenda sport mud tires and Shimano 7-speed rapid fire transmission for a delightful ride experience. However, the Plus+ model had a larger battery, granting a range of up to 70km, and it came equipped with front suspension, which I knew would be perfect for my off-road adventures.
As a first-time rider of a pedal-assisted electric bike, I was eager to understand how the 'pedal-assist' feature worked. It was refreshingly simple – all I had to do was hop on, get comfortable, select a speed setting from 1 to 5, and start pedalling. As I gained momentum, the electric motor gradually kicked in, supporting my speed or accelerating up to an exciting 38km/hr, depending on the intensity level. I realised that the speed of this pedal-assisted ebike was governed by ongoing pedalling, unlike a motorcycle's throttle that takes off from a standstill.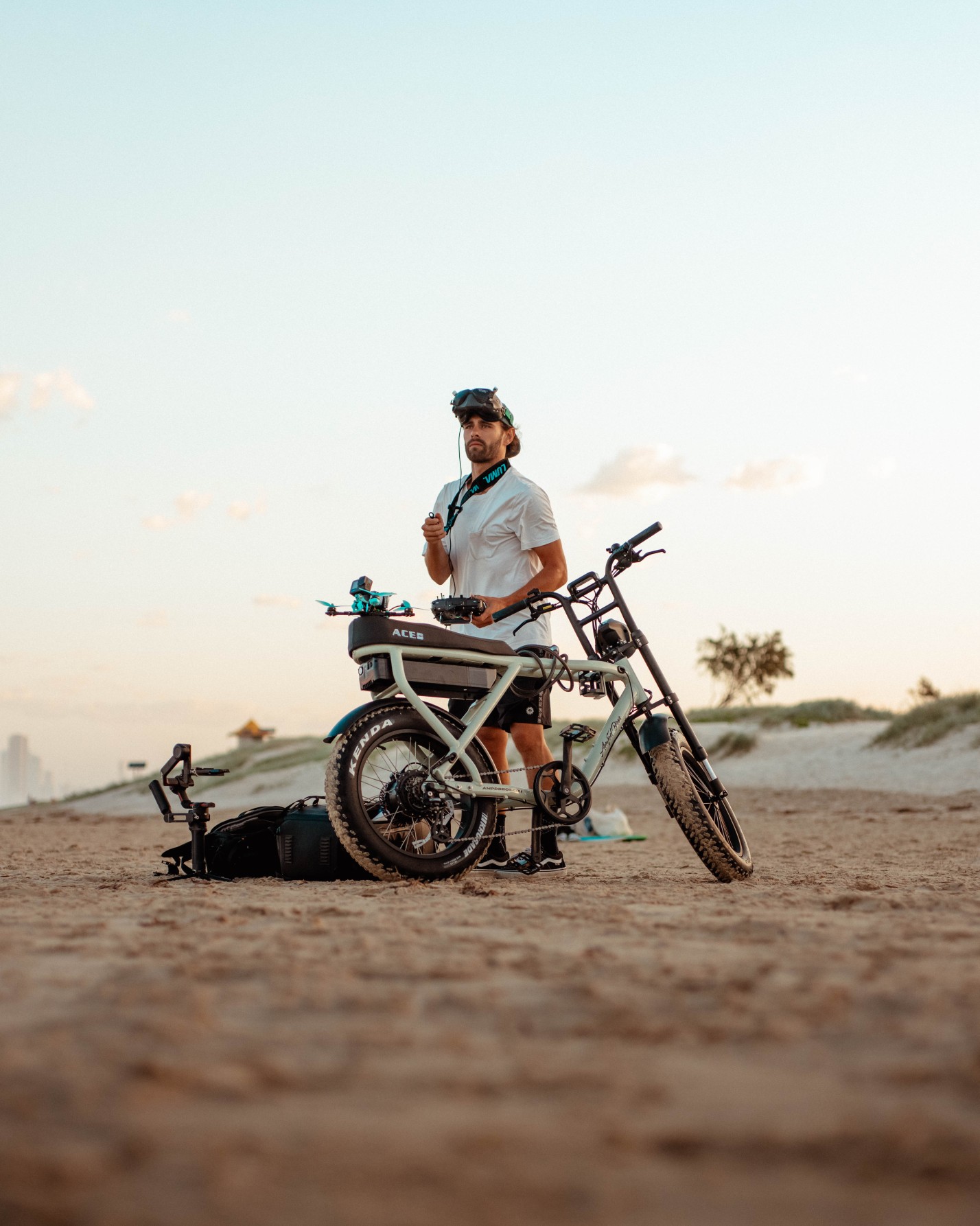 With the wind in my hair and the electric motor backing me up, cruising along paths and bikeways became a breeze. The Ace X handled like a dream, offering responsive and straightforward handling akin to a BMX. The wide tires provided a sense of stability, and the disc brakes were impressively responsive whenever I needed to slow down quickly.
Off-road excursions were where the Ace X truly shone. The front suspension, combined with the fat knobbly tires and the cushy seat, effortlessly absorbed shocks from potholes and rocks, ensuring a smooth ride on unpaved trails. And for those seeking a bit of excitement, standing on the pedals allowed me to launch over inviting bumps and jumps, adding an extra dose of adventure.
With a grin on my face, I couldn't resist testing the Ace X's top speed on a wide-open road. To my delight, the bar-mounted digital speedometer indicated a hair-raising 38 km/hr, giving me plenty of momentum for my explorations.
One of the features that intrigued me was the battery placement – conveniently mounted under the seat, it could be easily locked and removed with a key. This meant I could take the battery indoors for charging, just like my phone, without needing to plug in the entire bike like a Tesla. A full charge provided a pedal-assisted range of approximately 50km to 70km, ensuring I'd never be left stranded on my adventures.
In conclusion, the Ampd Bros Ace X is an ebike that boasts attitude and adventure. Its robust design, comfortable ride, and versatility make it a perfect companion for coastal living. Manoeuvring through tight spaces, tackling rough terrains, and the convenience of the integrated cup holder all added up to an enjoyable riding experience. At such a competitive price, I firmly believe the Ampd Bros Ace X stands as an exceptional choice in the electric bike category.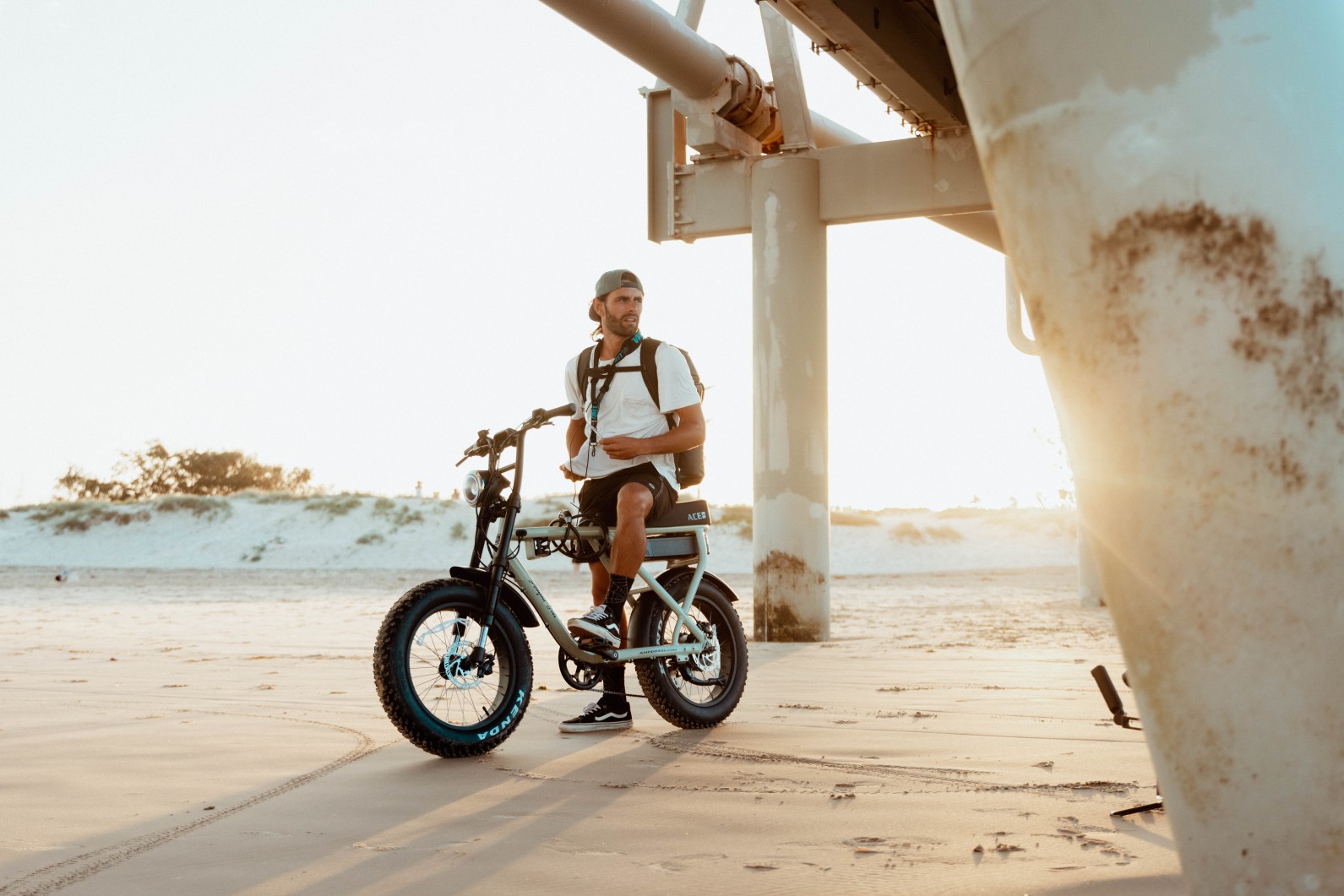 In addition to the standard ACE and ACE plus mentioned above, Ampd Bros also have some other premium offerings in their ACE range. There is the ACE Classic which adds in retro styling with white wall tyres paired with brown seat and grips. Next is the ACE Pro which incorporates heavy duty dual suspension, bigger battery and a beastly 1000W rear motor. Lastly, the ACE Demon is the top-of-the-line, dual-motor, dual-suspension powerhouse which is sure to impress the adrenaline junkie in us all.
Ampd Bros Australia, being a family-owned brand on the Gold Coast, has quickly earned its place in the ebike scene, celebrated for their top-notch & durable products. To truly experience the wide range of Ampd models, I highly recommend visiting their showroom at 71 Dover Drive, Burleigh Heads, Queensland. If you can't make it there in person, jump onto ampdbros.com where you can shop online with free delivery, or find one of over 80 Ampd Bros dealers across Australia. There is definitely one near you. Get ready for some electrifying adventures!