NRL, short hand for the National Rugby League is Australia's professional rugby league competition. Over the years, the NRL has had various iterations with different names and rebranding.
Originally the rugby league competition was introduced as the NSWRL (New South Wales Rugby League) from 1908 until 1994. In 1995 to 1997, it was briefly rebranded as the Australian Rugby League (ARL) until it was renamed to the current NRL league we know today.
Pre-season games typically start in February before the regular season starts in mid-March. The main round of the competition spans 25 game weeks with teams ranked on a scoring ladder system.
Teams receive two points for a win, a single point for a draw and no points for a loss. The top eight teams of the ladder then progress to final play-offs with the top 4 teams receiving an additional life-line in the lead up to the elimination finals.
NRL Teams
Brisbane Broncos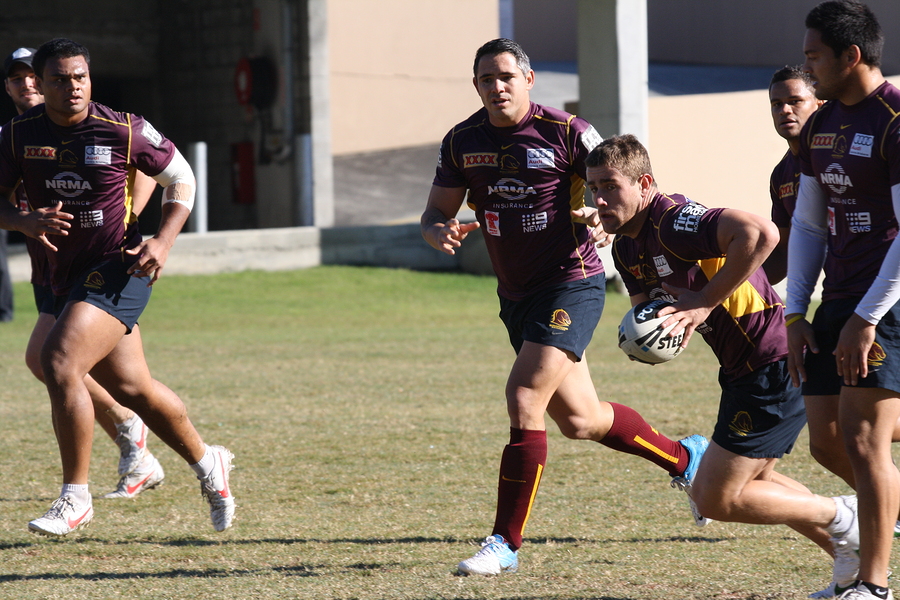 Brisbane Broncos: established in 1988, the Brisbane Broncos have won 6 Premierships in 1992, 1993, 1997, 1998, 2000 & 2006. Their home stadium is Suncorp Stadium in Brisbane. Since the club was founded, Brisbane was never received the wooden spoon (in other words, the Broncos have never come last). The club is also one of the most successful in the history of Rugby League, having won 60% of games played, second only to the Melbourne Storm with a 65% win percentage. Up until 2015, they had never lost a Grand Final game.
Canberra Raiders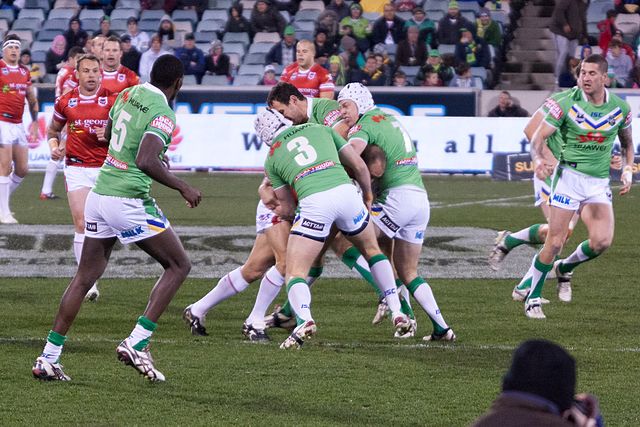 Canberra Raiders: established in 1981 and Canberra's only team, the Canberra Raiders have won 3 Premierships in 1989, 1990 and 1994. In 1982, during their second season, the Canberra Raiders came last. Across their history, Canberra have won approximately 50% of all the games they have played. Their home stadium is GIO Stadium in Canberra.
Canterbury-Bankstown Bulldogs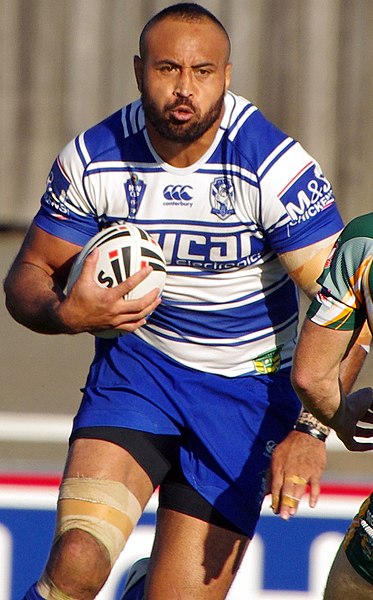 Canterbury-Bankstown Bulldogs: established in 1934, the Bulldogs have won 8 Premierships in 1938, 1942, 1980, 1984, 1985, 1988, 1995 & 2004. The Bulldogs have won just over half of the games they have played with a 51% win percentage. In the 1990's the club was briefly known as the Sydney Bulldogs. The Bulldogs share their home stadium at ANZ Stadium in Sydney Olympic Park, with the South Sydney Rabbitohs.
Cronulla-Sutherland Sharks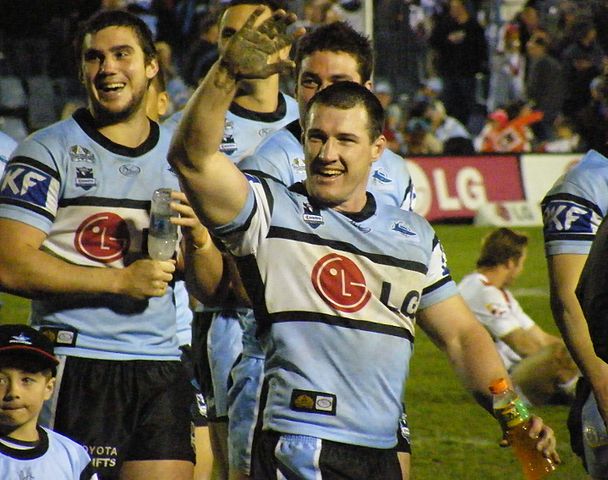 Cronulla-Sutherland Sharks: established in 1967, Cronulla have only won one Premiership title in 2016 during their 50 plus years in the competition. The Sharks have won just under half of the matches they have played with a 48% win percentage. Cronulla's most capped player Paul Gallen, with 348 games, recently retired in 2019 after a loss to the Sea Eagles at Lottoland. The Sharks home stadium is Shark Park in Woollooware, New South Wales.
Gold Coast Titans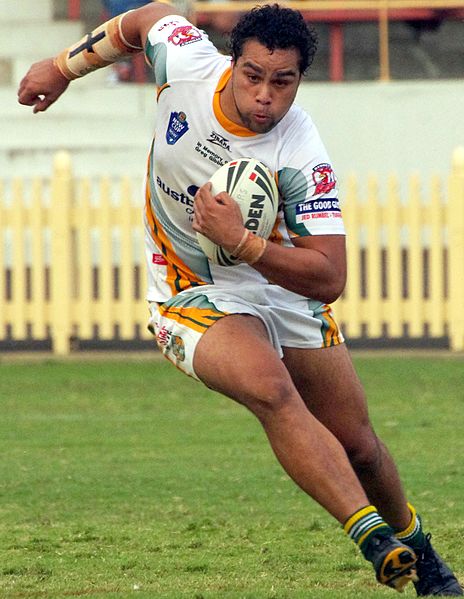 Gold Coast Titans: the most recent of the current NRL teams having been established in 2007. The Titans are yet to win a Premiership along with the New Zealand Warriors. The Titans have a 40%-win percentage having received the wooden spoon twice in 2011 and 2019. The Titans home stadium is Cbus Super Stadium also known as Robina Stadium or Gold Coast Stadium in Robina, Queensland the Gold Coast Shire.
Manly Warringah Sea Eagles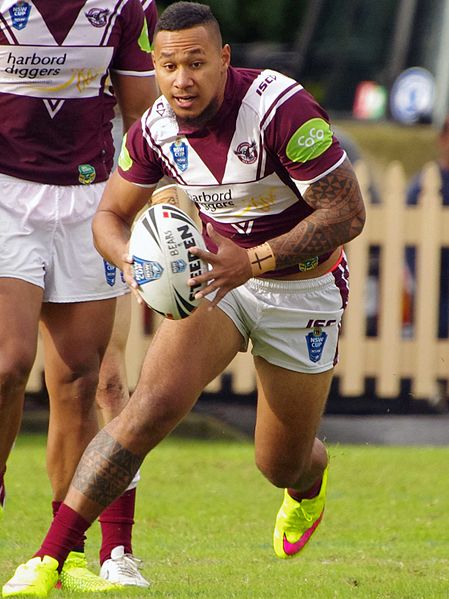 Manly Warringah Sea Eagles: established in 1947, Manly have won a Premiership in each decade since the 1970's (1972, 1973, 1976, 1978, 1987, 1996, 2008 & 2011). Manly have a 57% win percentage having never come last in the competition. Their most capped player with 309 games is Cliff Lyons. Manly's home stadium is Lottoland. Commonly known as Brookvale Oval in Brookvale, New South Wales, the Northern Beaches of Sydney.
Melbourne Storm
https://www.instagram.com/p/BxqiwCXlPTo/
Melbourne Storm: established in 1997, as Melbourne's only NRL team, the Melbourne Storm have won 3 Premierships in 1999, 2012 & 2017 having had titles stripped in 2007 and 2009 due to salary cap breaches. The Storm's home stadium is AAMI Park in Melbourne's City Centre. Of all the clubs, Melbourne has the highest win percentage with 65% of all games played.
New Zealand Warriors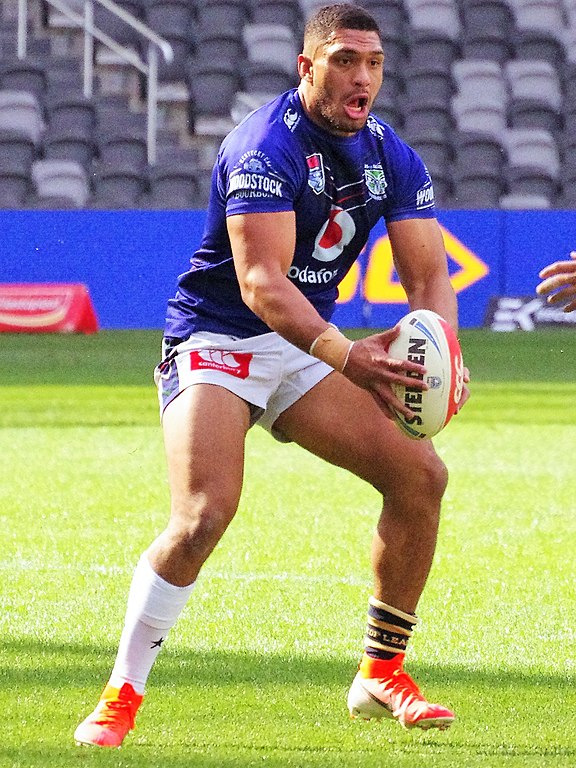 New Zealand Warriors: established in 1995, as New Zealand's only NRL team, the Warriors are yet to win a Premiership title like the Gold Coast Titans. The Warriors have come close on two occasions have been runners up in 2002 & 2011. The Warriors home stadium is Mount Smart Stadium in Auckland, New Zealand.
Newcastle Knights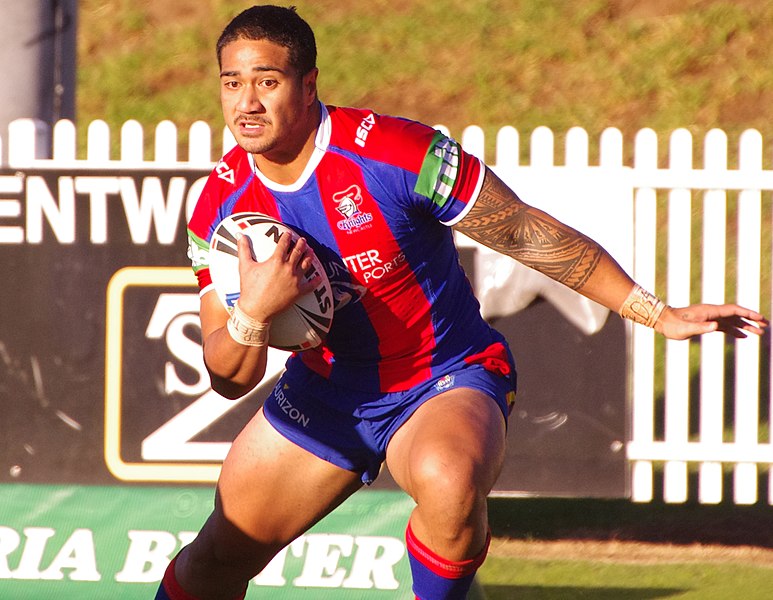 Newcastle Knights: established in 1988, the Knights have won 2 Premiership titles in 1997 & 2001. Their most notable player is rugby league Immortal Andrew Johns who is the club's highest points scorer. Newcastle's home stadium is McDonald Jones Stadium in Newcastle, Australia.
North Queensland Cowboys
https://www.instagram.com/p/BzRv1NZn1f6/
North Queensland Cowboys: established in 1995, the Cowboys have won one Premiership title in 2015 against the Brisbane Broncos in a Queensland derby. Their home stadium is SMILES Stadium in Townsville, Queensland. The Cowboys most notable recent player is Jonathan Thurston who retired in 2018 and was pivotal in their 2015 premiership victory. He received the Clive Churchill medal for his efforts that game. Thurston is also their most capped player with 294 games and highest points scorer over his career.
Parramatta Eels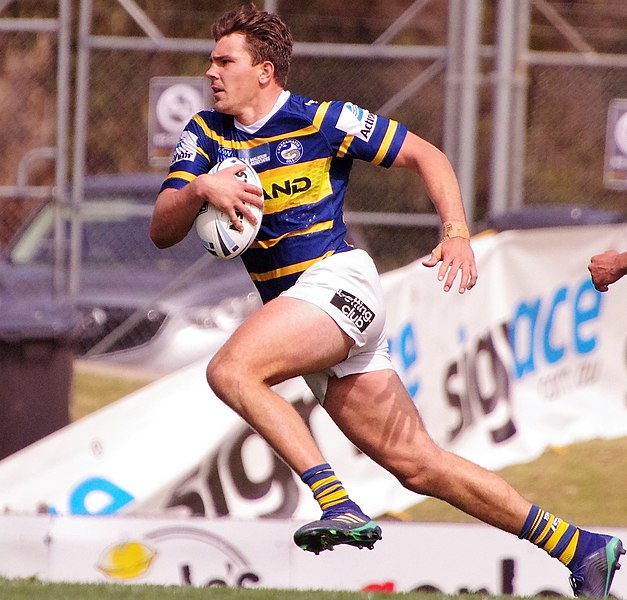 Parramatta Eels: established in 1947, the Eels have won 4 Premiership titles all in the 1980's in 1981, 1982, 1983 and 1986. Home stadium is the Bankwest Stadium which replaced the old Parramatta Stadium. Peter Sterling, a notable former Eels player continues to endorse and commentate the Rugby League today. He is regularly featured on the Footy Show.
Penrith Panthers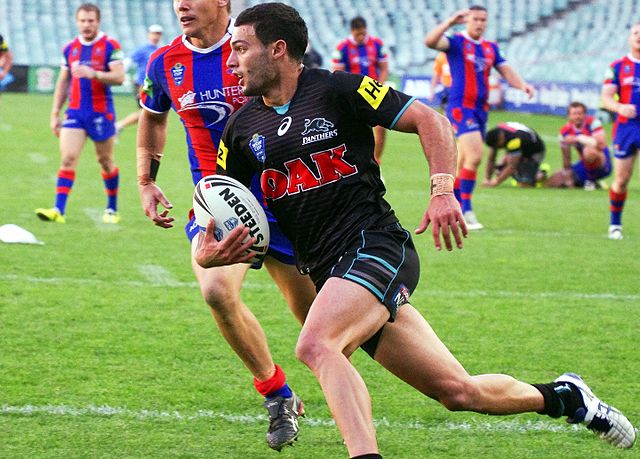 Penrith Panthers: established in 1967, the Panthers have won two Premiership titles in 1991 & 2003 having also been minor premiers that year too. In 1990, the Panthers were runners up. Their home stadium is Panthers Stadium in Penrith, New South Wales.
South Sydney Rabbitohs
https://www.instagram.com/p/B2sMAeABxiP/
South Sydney Rabbitohs: established in 1908, the Rabbitohs are one of Australia's oldest NRL teams along with the Sydney Roosters. During those years, the Rabbitohs have amassed 21 Premiership titles most of which came in the early 20th century (1908, 1909, 1914, 1918, 1925-29, 1931-32, 1950-51, 1953-55, 1967-68, 1970-71 & 2014). The Bunnies home stadium is ANZ Stadium in Sydney Olympic Park where NRL Grand Finals are played. Currently, the Rabbitohs are jointly owned by Russell Crowe and James Packer.
St. George Illawarra Dragons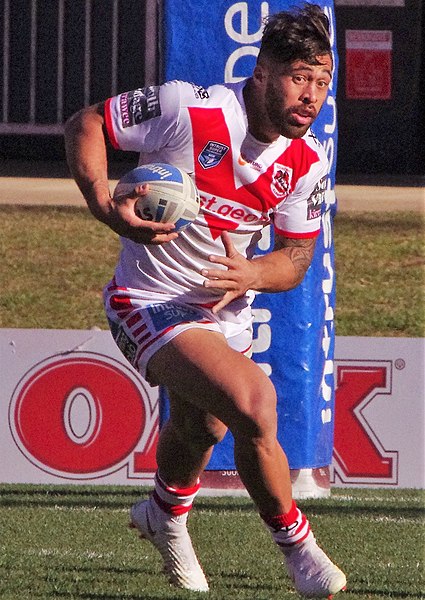 St. George Illawarra Dragons: established in 1998 when the Illawarra Steelers merged with the St George Dragons. Consequently the team has two home stadiums. Jubilee Stadium in Kogarah and WIN Stadium in Wollongong New South Wales. St George Illawarra Dragons currently hold one premiership title from 2010, being minor premiers twice. That same year in 2010, and the year prior in 2009.
Sydney Roosters
Sydney Roosters: established in 1908, the Roosters are one of Australia's oldest NRL teams along with the South Sydney Rabbitohs. The Roosters have won 14 Premiership titles over those many decades (1911-13, 1923, 1935-37, 1940, 1945, 1974-75, 2002, 2013 & 2018). The Roosters most capped player is Anthony Minichiello with 302 games.
Wests Tigers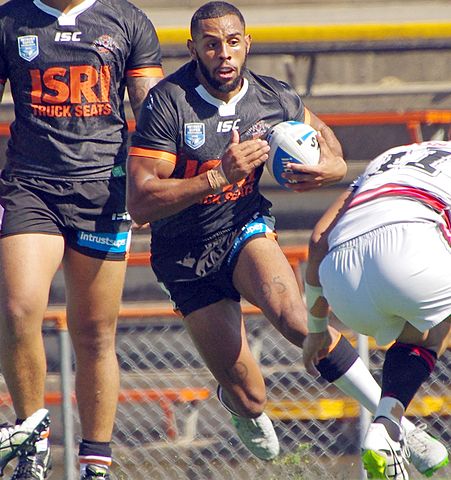 Wests Tigers: the current Wests Tigers team we know of today was established in 1999 when the Balmain Tigers merged with the Western Suburbs Magpies. Since then, the Tigers have won one Premiership title in 2005. The Tigers most capped player is Robbie Farah with 277 games and their highest points scorer being Benji Marshall with 1144 points. The Tigers home stadium is Bankwest Stadium in Parramatta New South Wales, which they share with the Eels.
NRL – Playing positions
A rugby league team will have thirteen players comprising of forwards and backs. Forward players being big and strong to improve the teams' position and ram through the opposing defensive line.
In contrast, the backline features fast players with ball playing skills rather than just strength, to create space and score tries. Because Rugby League has typical field positions, a player's shirt number will typically indicate where they play on the field.
Typically wear the number 1 jersey. As the name suggests, the fullback is a member of the teams back-line. The fullback sits deep in defence behind the forwards being the last line of defence during line breaks. Because fullbacks frequently regather the ball from kicks, this position is also known as the sweeper. Because of this crucial role, fullbacks usually handle the ball at least once in each of the six sets. This makes them a crucial player in important attacking positions in running into open space on the field.
Notable NRL fullbacks include Darren Lockyer and Billy Slater. The legendary Clive Churchill is considered the best NRL fullback of all time with the Clive Churchill Medal awarded to the man of the match in each years Grand Final game. Read more from Billy Slater, one of the most successful NRL fullbacks in the current modern era, about how to excel as an NRL fullback.
Wingers (left and right):
Each team has two wingers for each side of the touch-line field numbered 2 and 5. Wingers are usually the fastest players in a team using their pace to exploit space created for them during offloads and build up play. Wingers can also drop deep behind the defensive line to assist the fullback in catching and returning kicks.
Centres (inside and outside):
There are two centres. The inside and outside centre numbered 3 and 4 positioned either on the left or the right side of the field. When the opposition have the ball, the centres will mark the opposing centres. During attacking phases, they provide a fast attacking threat out wide often offloading the ball to fast paced wingers.
Five-eight (or fly half):
The five-eight and half-back position comprise the two halve pairs. Despite the inclusion of the two centre players in a team, and contrary to the name, the five-eight and half-back are the two most centrally positioned players in attack.
Due to the demands of this position, these two players are typically required to be the most skilful, intelligent players on the team. This pair also perform the most tacking kicking throughout the game. The five-eight, numbered 6 is the strong agile passer. In attacking situations, they typically initiate the attacking play.
Numbered with jersey number 7, the half-back is commonly referred to as the first receiver as he usually receives the ball first from the dummy-half after the ball is played following each tackle.
Numbered 13, the Lock during a scrum sits in between the two second rowers in the scrum. Different teams will have different players with different qualities in this position. Perhaps a third prop or a more skilful player as another playmaker.
Second Rowers (2 players):
Numbered 11 and 12, their responsibilities are similar to the props but have more speed and agility to take a wider position in attack and defence. Second rowers will perform a large number of tackles in defence.
Numbered 8 and 10, they make the two front ends of the front row of the scrum. Props are usually the largest and heaviest players as their size and strength will be used to run the ball directly into defensive lines to gain metres.
Numbered 9, the hooker will usually rake the ball back with his foot when the ball enters a scrum. The Hooker is also the common dummy-half player who usually passes the ball after each phase to continue the teams attack.
A team will usually hold four additional reserve players.
NRL Fantasy
Every season of the NRL features an NRL fantasy game. To register and start playing requires you to have an NRL Account. We have included some draft guidelines below.
Users can either join a private or public league via a league link. Public leagues are open to everyone with private leagues requiring an invitation or PIN to join. When picking your team, players are allocated to the position they play.
Each round, a series of trades, free agent signings and substitutions can be made to maximise your teams weekly score. Each week, you nominate a captain or vice-captain who will earn double points. If your captain does not play that game week, then your vice-captain will score double points instead. Consequently, it is important to select a captain who you think will be the highest scoring player.
When picking your reserves, they can be players from any position, however players can only be substituted with another player who plays in the same position. Making a substitution is easy by simply clicking on the 'S' action button on the player you which to substitute. Valid substitutions will be highlighted. Keep in mind that you can make as many substitutions as you like each round. However these changes need to be finalised before players begin their match. Any players in a team where they have already started playing, will be locked. This is referred to as a rolling lockout as players will progressively be locked as each game is played.
In choosing a team, research detailed statistics in the Stats Centre where you can also read expert analysis and opinions from some of the most knowledgeable. Detailed NRL fantasy news is also available online.
Statistics are broken down into various categories including, a player's overall price change (how much it has fluctuated since the beginning of the Fantasy season), their weekly price change, average score (total score divided by the number of played games) and total score. Every year ongoing statistics for players and teams is available on this webpage.
While some star players will always reap great points, these players will cost more. Other detailed statistics such as dollar per point calculations (which players earn you the most points for the least cost) and points per minute (how quickly your player scores fantasy points in a game). More detailed statistics can be unlocked by subscribing to the Coach, such as a break-even score (score a player must maintain to match their current price), score projections and price projections.
As you progress throughout the season, you may decide to make various player trades, use the free agent system or restricted free agent system. A complete history of all your past player movements is accessible on the League Overview page.
Due to incidental injuries that happen throughout the season, NRL Fantasy allows for incidental emergency options during gameplay. If a player does not play during a game, they can be substituted for a reserve player using the emergency on setting. Leaving your team on emergency off will mean only your on field selected players will play that round and will not be covered by any players on your bench. Unfortunately if your player plays and scores zero points of less due to an early injury, there will still be no auto-emergency substitution.
Every so often, a team will have a bye round. The time for these byes varies slightly each season but usually occurs around rounds 12 & 16 when the second round of the State of Origin is on.
The point scoring system is based upon the merits and performance of each player. Tries, try assists and field goals earn the most points with sin bins or a send-off reducing a player's total points. The outline below indicates the NRL Fantasy point scoring system.
Try: 8 points
Goal: 2 points
Field Goal: 5 points
Try Assist: 5 points
Line Break: 4 points
Line Break Assist: 2 points
Tackle: 1 point
Tackle Break: 3 points
Missed Tackle: -2 points
Offload: 2 points
Error: -2 points
40/20: 4 points
Total meters gained: total meters run divided by 10, rounded down to nearest whole number
Kick meters: total meters gained kicking divided by 20, rounded down to the nearest whole number
Penalty conceded: -2 points
Sin-bin/Send-off: -5/-10 points
Try Saves: 5 points
Kicks Defused: 1 point
Forced Drop-outs: 2 points
Points are updated live during a game, and you can log in to see a running total of your teams score. Due to fluctuations during the game, these points are preliminary and is subject to change. Scores are usually finalised a few hours after the game but can also be adjusted after round.
Scoring well on your NRL Fantasy league throughout the season places and in each round can earn you prizes.