Comic book aficionados around the globe were hyped by Netflix's  announcement yesterday. The streaming service provider just confirmed that it has secured the rights to Bone, cartoonist Jeff Smith's New York Times best-selling comic book series. There has been numerous attempts to bring the Bone cousins to life on screen before, but it seems like Netflix is about to pull off what past companies weren't able to do: develop Bone into an animated children's series about the widely popular Bone cousins and their adventures.
For those who are not in the know, don't worry; once you get in on this ride, you'll surely fall in love with the vastly immersive world created by the award winning cartoonist. The story centers around a ragtag family of bald cartoon characters who lives in Bonesville. The Bone cousins: Phoney Bone, Fone Bone, and Smiley Bone are lost and separated in a vast unknown desert after being run out of their own hometown. Step by step they find their way into a deep forested valley where they meet the wonderful people and terrifying creatures that live there.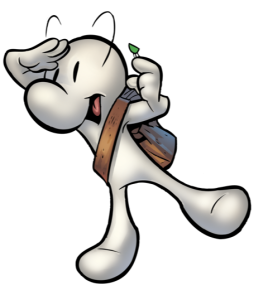 Bone was first published in 1991 in over 30 different countries by Smith himself. The series is part of TIME Magazine's "Ten Best Graphic Novels of All Time" and has garnered international acclaim, having won numerous awards like the Harvey Awards, The French Alph Art, and Eisner Awards, among others.
Bone is considered a pioneer in comic book and graphic novel publishing as it is one of the very first graphic novel series that made a substantial impact in the comic book industry. Smith took inspiration from American cartoonist Carl Barks, creator of the first Donald Duck on both his narrative and visual process for the comic series.
This is really big news for fans of the series since being first published. It remains as one of the most popular comic book series that has yet to be successfully adapted on screen. Smith tried to pitch a Bone movie to Nickelodeon during the 90s but it fell through because according to him, Nickelodeon wanted a Britney Spears song as part of the soundtrack. In 2008 the film rights to Bone was claimed by Warner Bros although nothing came into fruition. 2016 also showed signs of promise as Mark Osborne, the director of Kung Fu Panda was tapped to write the script for a Bone movie. Sadly, that didn't bear fruit either.
Smith said in a recent interview that Netflix is the perfect place to showcase Bone. The series is structured in such a way where the story develops every chapter within every book of the series and an animated show is the most ideal medium to successfully pull this off.