Some people find that the only way they can get the dream home they have always wanted is to build it themselves. Building from scratch is a sure-fire way of getting the exact home you want. Very few people are qualified to perform all the necessary steps in the construction process, so there's a very good chance you'll need a professional labouring company to assist along the way.
The entire process can be rewarding, fun and exciting; however, it can also be frustrating, tiring and stressful. Indeed, these conflicting emotions can be attributed to a wide variety of steps when it comes to building your own home in Perth. Let's check some of them out!
The following businesses offer home building services in Perth:
Find a reliable and professional contractor
If you desperately want to get your dream home, then you obviously need a team of builders who can get the job done for you. Regardless of how specific your needs and preferences may be, the best home builders will be able to design a home that you will love and enjoy for many years!
Know what you want before you begin
It's important that you have some idea of what you want before you begin the process of building your own home. There might be some things that you want that are simply not viable because of certain zoning laws. Therefore, you should get in touch with a reliable home builder, who can help you devise plans for your brand-new home. Find out what you want specifically before you start building! It could be anything from vaulted ceilings, an in-home entertainment room or an outdoor entertainment area. Make sure you prioritise what things you value the most, so if anything needs to be changed or compromised on, you'll know which things are non-negotiable.
Make sure there is a consensus
If this is a solo effort, then you obviously hold all the cards. However, if you are building your home with your partner or family, then there needs to be a consensus. Discuss every decision with all those involved before making a final decision. It's important to not rush any decisions and to take your time. You want your home to be perfect for you and your family, so regretting a house-related decision is something you certainly don't want.
Get financial help (if needed)
If you think you will need financial assistance to fund your home build (which most people would), it's important that you get in touch with a bank to organise a commercial loan. You'll need to make sure that your credit score is in order to ensure that you get the best loan available. Do your research so you're not getting hit with exorbitant interest repayments later down the road. At the end of the day, you want to be looking for loans with favourable and flexible repayment options, so get in touch with all the major banks for different options. If you can get money off family or friends (with limited interest), you should definitely consider that as an option.
Have a set budget (but be flexible)
It's important to have a set budget to guide your financial decisions. The last thing you want to be doing is blowing your budget midway through the project. Every decision you make must be considered through a monetary lens, so don't rush your decision-making and be prepared to compromise in order to be thriftier. You might not get the specific thing you wanted, but if you didn't spend more than you could afford, that is nothing but a good thing.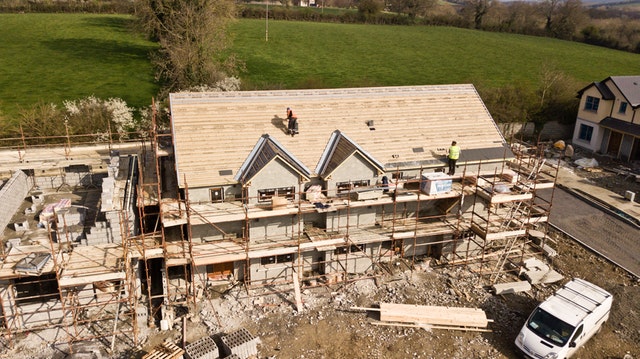 Go through the relevant zoning laws
This is probably one of the most important steps in the entire process. If you haven't heard of a zoning ordinance, then it's time you started doing some research. Basically, a zoning ordinance is a written regulation that defines how property can be used and developed in specific geographic regions. Get in touch with the local council and government to verify what you can and can't do in terms of construction. Zoning laws generally stipulate height limitations, density of materials and other structural requirements.
Be patient
It's important to remain patient and settle your expectations. Building your brand-new home will take time and effort. There will likely be delays (due to poor weather and logistical problems), along with other issues. And that's completely fine. Just remember to be patient and understanding – you will eventually get the dream home you always wanted!
The benefits
Now that you have a rough outline as to how to build your own home, you can now start putting some plans in motion. If you decide to go through with it, there are some great benefits of going with this option.
Money saver
Firstly, if you do it right, you can save a lot of money. If you plan properly and carefully, you'll easily save on stamp duty. If you were to buy an existing home, you must pay for stamp duty for the land and the existing value of the home. When you are building a home, you are only paying stamp duty on the value of the land. Building from scratch can be cheaper as well, saving you hundreds of thousands of dollars.
Government grants
You might even be able to get access to some valuable government grants, particularly if you are a first-home buyer. In New South Wales, the grant is up to $10 000.
Better warranty
Furthermore, you can also get a great home warranty that can protect you financially. Should you go to a dodgy contractor and receive faulty, incomplete work, this warranty can help soften the financial blow.
Conclusion
At the end of the day, if you truly want the dream home you have always wanted, the best way is to build it yourself. By following this guide, you are putting yourself in the best position to be fulfilling that lifelong dream.