If you operate any kind of workshop that services heavy vehicles (such as construction vehicles, semi-trailers etc.), then you need to make sure that you have top-quality equipment in your inventory.
Not only do you need high-performance equipment, but you also need guarantees that you can get adequate after-market support and ease-of-access to replacement parts if necessary.
Due to the nature of the kind of work you do, you can't afford to allow for any compromise when selecting a supplier of heavy wheel servicing equipment. Naturally, if you are an Australian business, then you would want to engage an Australian firm to do business with.
With that said, here are the best heavy wheel servicing equipment suppliers in Australia.
3 Best Heavy Wheel Servicing Equipment Suppliers in Australia:
Jonair
Levanta
Genesis Equipment
Jonair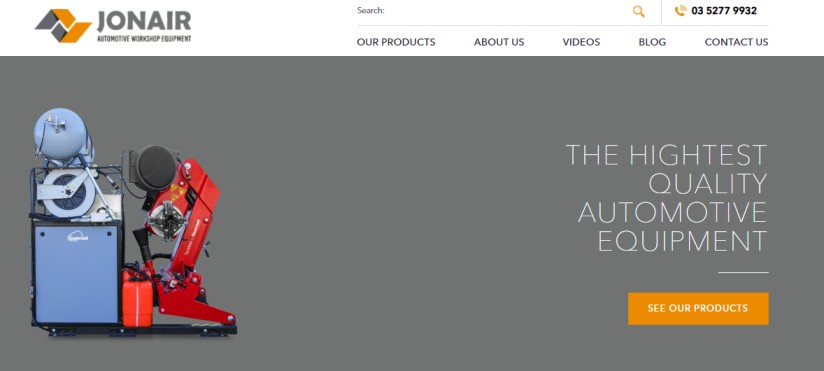 Website: www.jonair.com.au
Jonair is a heavy wheel servicing equipment supplier in Australia. Based in Victoria, Jonair carries an expansive range of heavy wheel servicing equipment, including products rated for mobile use being mounted on service vehicles. These products are specifically designed and rated for use in remote areas, enabling the quick and convenient services heavy vehicle operators demand when they encounter an issue on the road.
The company has a team consisting of experienced in-house technicians that are ready to diagnose issues with any and all equipment sold, 5 days a week. These issues can be easily solved via a phone call, eliminating the hassle and fee associated with a "call-out", especially for businesses located in a remote area.
If and when an issue does need direct attention, Jonair can connect their customers with affiliated technicians all around Australia. This means fast and effective service no matter where the customer happens to be.
Jonair is dedicated to minimising downtime and inconvenience experienced by their customers both in terms of the quality products they sell, as well as with their after-market services. If no affiliated technician can be called out to service the equipment, Jonair will dispatch an in-house technician to come to the rescue.
This dedication to customer satisfaction is welcome, especially when it comes to products with sophisticated machinery and multiple interworking parts. Speaking of parts, all replacement kit that is ordered prior to 3:30 PM EST will be dispatched the same day through express post.
All issues related to the repairs of major truck tyre changers, brake lathe repair, hydraulic jack repair, as well as torque wrench calibration are performed by Jonair's in-house technicians or their affiliate technicians.
Levanta
Website: https://levanta.com.au
Levanta is a business that provides heavy wheel tyre servicing equipment in Australia. They have locations in Queensland, Victoria, New South Wales, and Western Australia. The company combines more than 25 years of expertise in the Australian workshop equipment and supply industry, with nation-wide sale and service capability.
Levanta provides workshop solution that covers all stops when it comes to workshop fit out – this includes concept, design, sourcing, procurement, equipment supply, as well as service and maintenance. They leverage an established network of manufacturers and suppliers, to ensure that their customers get the highest quality equipment, including items designed for heavy truck wheel servicing.
Their wide range of connections ensures that they can present their customers with an expansive list of options. Levanta has a myriad of solutions to fit a variety of needs and deliver a specialist service with in-depth expertise.
Their prompt and responsible team services workshops all around Australia with the service and parts required.
Genesis Equipment
Website: https://genesisequipment.com.au
Genesis Equipment is an Australian business that supplies heavy wheel servicing equipment. They carry a range of wheel servicing equipment that covers wheel alignment, wheel balancers, and try changing machines.
Their team consists of highly-skilled professionals who are both passionate and dedicate about the industry. They have experience working within and on the design of some of the most prestigious workshops in Australia.
The team listens carefully to the requirements of customers and develops an intricate plan in order to make sure the right solution is achieved. They have a high degree of technical expertise and the resources needed to ensure fast and effective service for all their customers.
Genesis stocks a range of the highest-quality European tyre servicing equipment, including those rated for use with heavy vehicles. They are highly experienced with delivering fit-outs for heavy vehicle workshops and are trusted as a supply partner by many businesses around Australia.
They are able to deliver maintenance services for critical heavy wheel servicing equipment, as well as source and deliver necessary spare parts.