Here, we have organized a guide on how you can convert MBOX to PST without Outlook application. Additionally, multiple user scenarios and free solution are provided as per user requirements. So, read the article and know how to access the MBOX database in Microsoft Outlook 2019, 2016, 2013, 2010, 2007 & 2003.
Whether its Mozilla Thunderbird on Windows, Apple Mail on Mac, or any other MBOX-based email client across multiple operating systems, the fact that Microsoft Outlook is taking over their users remains true. Outlook has been gaining users since 2007 and is the most used "desktop" email client as per litmus email market share report. The factors behind this growth are the wide range of features that one can get from Outlook (Office) and how easy it is to operate this email client.
Due to these developments, enterprises looking to up their productivity and individuals looking for a more sophisticated platform that is easy to handle, are all switching to MS Outlook. And since most of the email clients (more than 20) work on MBOX files, the queries regarding MBOX to Outlook conversion is building up.
Why convert MBOX to PST format?
Because Outlook does not support the MBOX format. And if you are thinking that why to choose PST when Outlook also works with OST (Exchange server) and OLM (Mac). Then, be aware that Outlook has a built-in option to import PST files in all its versions across the operating systems.
Another approach to this question would be understanding the scenarios leading to MBOX to PST conversion.
Case 1: The most common user scenario is when a person or an enterprise (as a whole) decides to switch from MBOX based email client such as Thunderbird, Mac Mail to Outlook, etc.
Case 2: The second scenario points to accessing old orphan MBOX files in MS Outlook. Since there is no such option in Outlook, you cannot access it directly. You will need to convert MBOX to PST and then, import this PST file in Outlook 2019, 2016 or any other version that you are using.
Case 3: Suppose you have a Gmail account and you used its Takeout service to backup and downloaded all your Gmail data. The emails are saved in an MBOX file that no Outlook user can open directly.
Note: As you can see, there are many situations where a user needs to export MBOX to PST format in order to access them in Microsoft Outlook. Do note that there are other scenarios such as switching the operating system, accessing a client's file, etc. in which a user looks for similar solutions.
Free Methods to Convert MBOX to PST With Outlook
There are many methods available on the internet to solve this query. However, most of them are outdated and/or impractical due to the guaranteed loss of data. So, we analyzed the best practices to convert MBOX files to PST and are providing you with the brief steps below. But keep in mind that there are no free methods that can export MBOX mailbox to PST without the requirement of Outlook. MS Outlook and at least one external application is a must for executing any manual method.
Let us start with the manual method:
Step 1: Open Mozilla Thunderbird and import the MBOX file in it. (Use ImportExportTools add-on for this.)
Step 2: Select the emails in MBOX mailbox and save them in EML format. (Do it for all the emails in each mailbox sub-folder.)
Step 3: Open Microsoft Outlook and drag and drop the EML files onto its interface. (Drop on center panel for success.)
Step 4: Export the Outlook folder containing EML emails as PST file. (Use the native Import/Export option for this.)
There you have it. All the MBOX emails successfully converted to PST format.
Pros & Cons of Using the Manual Method
Pros:
Feasible to convert small MBOX files into PST (low number of emails)
Free approach
Selective conversion
Cons:
Requires MS Outlook for successful implementation
Not feasible for large MBOX files (high number of emails)
Not meant for batch conversion of multiple MBOX files
Lengthy & Time consuming
Requires configured Mozilla Thunderbird on the same system
Risk of losing email attributes when importing MBOX to Thunderbird and/or during the drag-drop procedure.
Safe & Secure Method Without the Need of Outlook
The ability to convert MBOX to PST is the need of the hour for many users. And not all can afford to risk losing email attributes while conversion. Hence, you will see most users going for a more professional approach with automated software solutions. This not only guarantees a loss-less conversion but depending on the features, lets user convert MBOX files at their own pace.
Specialized solutions such as SysTools MBOX Migrator provides users with the leverage to convert MBOX to PST files without Outlook. It not only keeps the attributes intact but also preserves the attachments, formatting and header information of the email messages. You will also be able to retain your folder structure in and out of MBOX file. For demo purpose, it freely exports 25 emails from each folder in the MBOX database to PST format.
Simple Steps to convert MBOX to PST without Outlook
Step 1: Download and Install the MBOX Migrator on your system.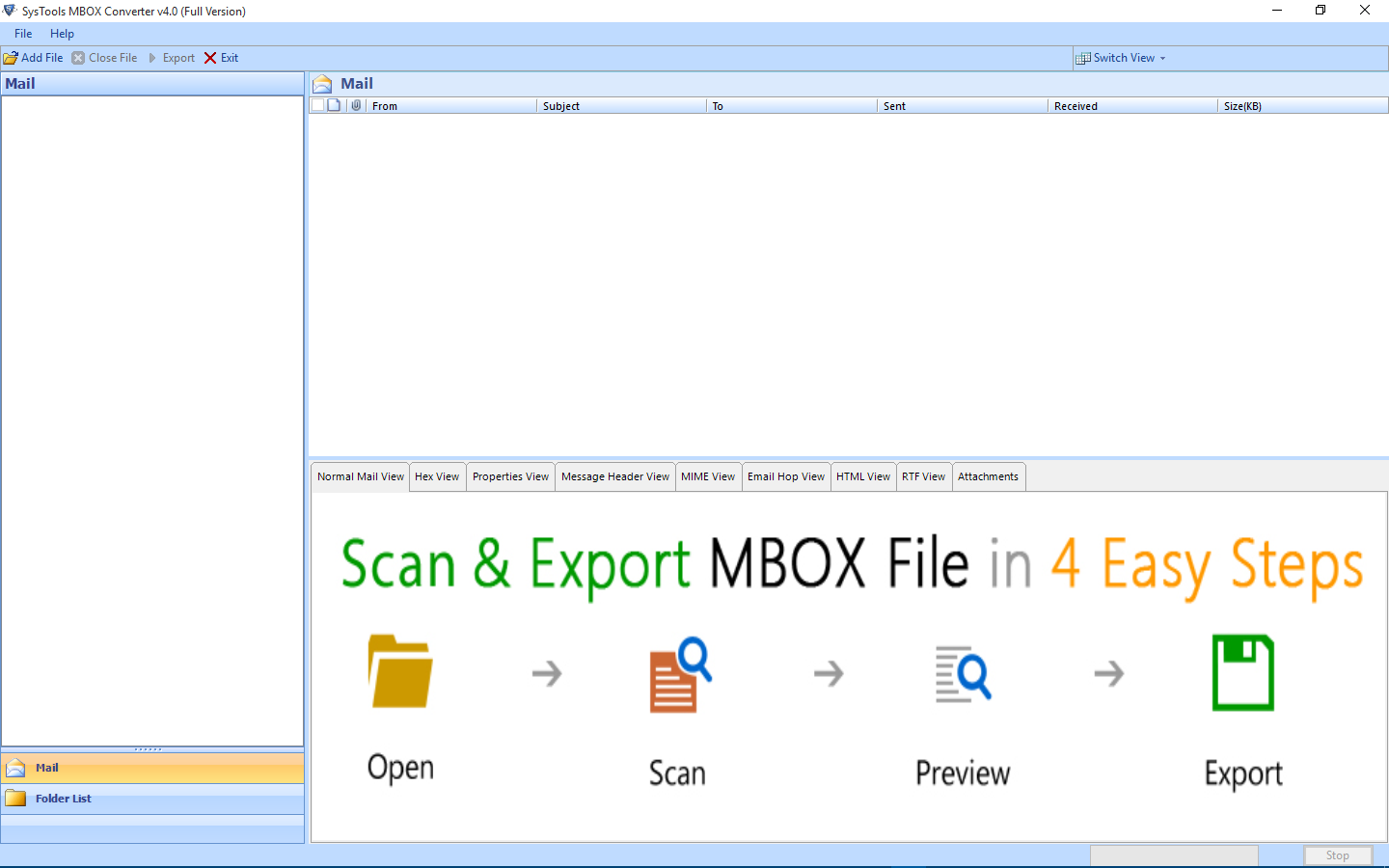 Step 2: On the home interface screen, click on the Add File or press Alt+A to open the MBOX selection window.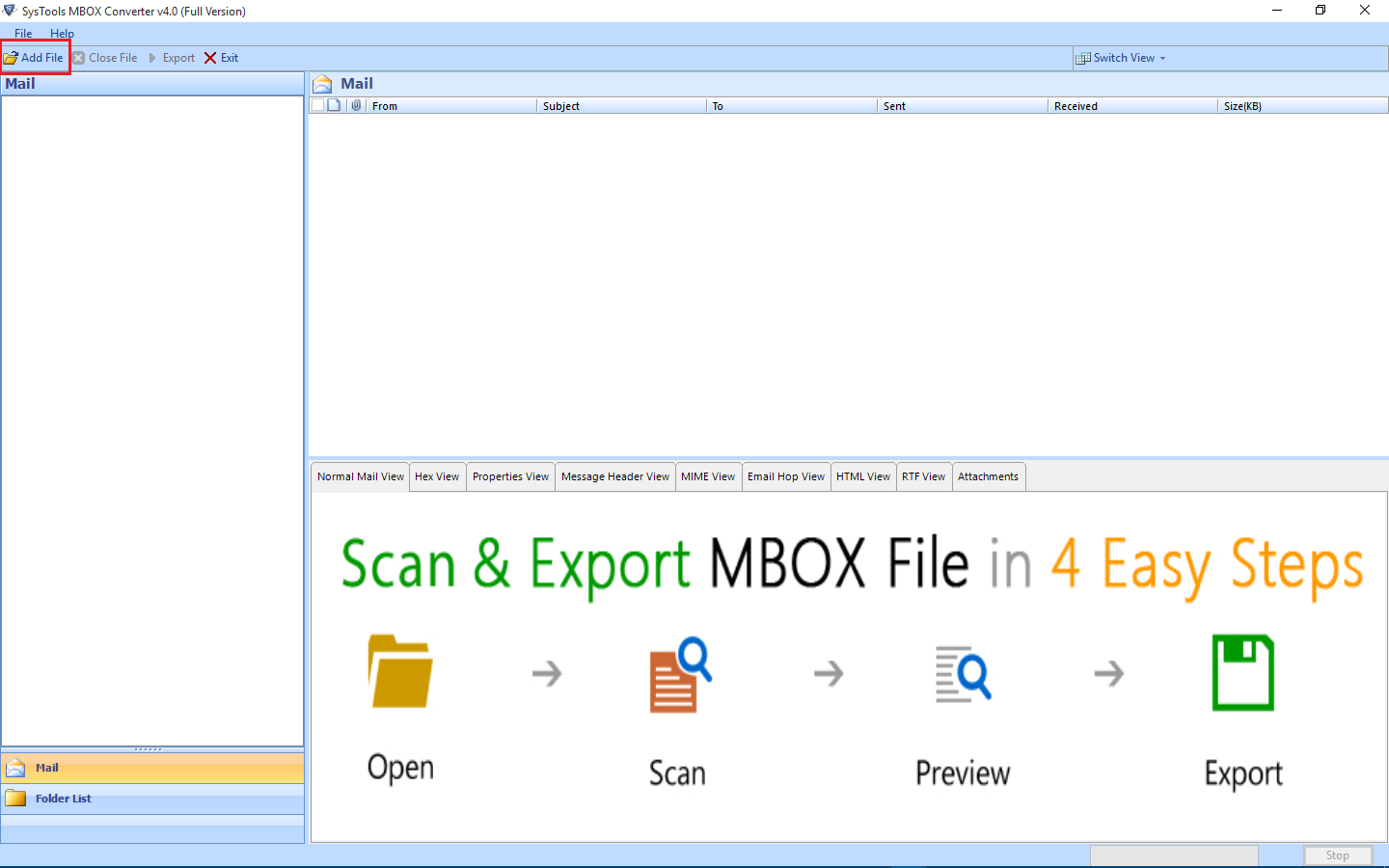 Step 3: You can choose the MBOX files option and click on the Next button. Now, either select MBOX files or a folder containing multiple MBOX files.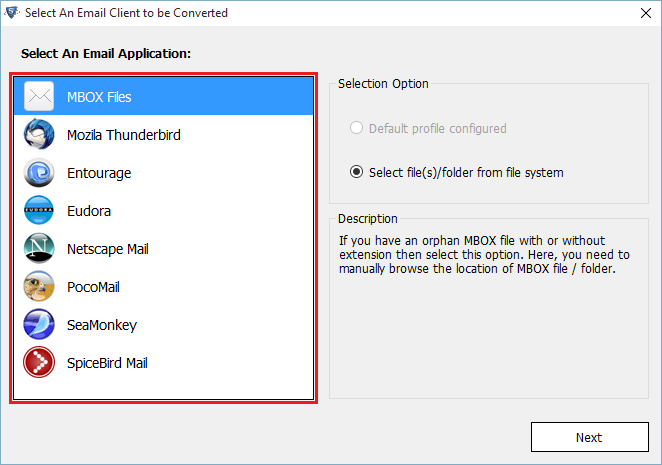 Note: You can also click on Thunderbird, Eudora, Netscape Mail, etc. on the interface and directly fetch its database without requiring the MBOX files. It also supports the MBS, MBX, SBD folders.
Step 4: The software scans and displays all the emails of the MBOX files along with their attachments. Click on the Export menu button to continue.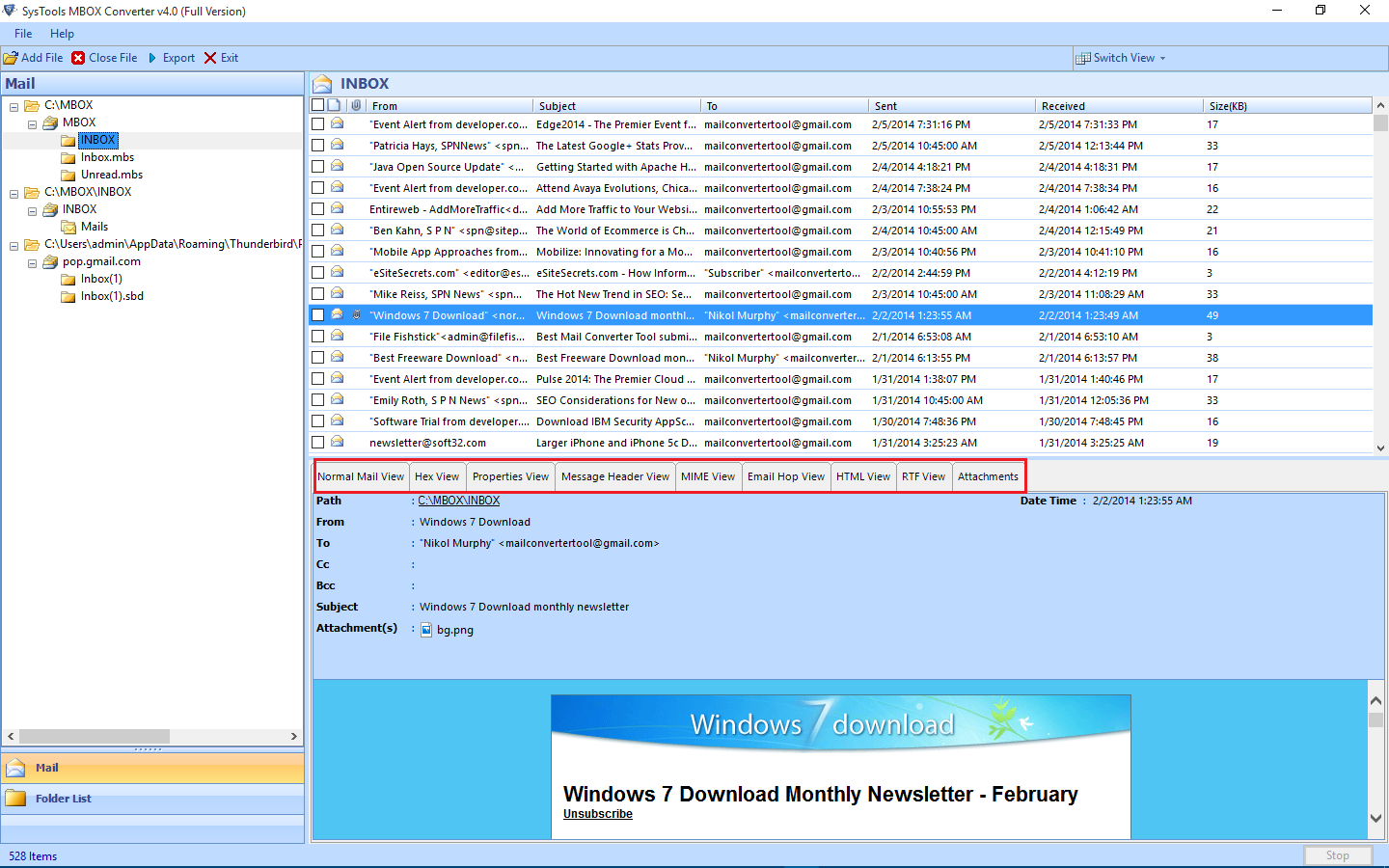 Note: For selecting preferred emails, you can mark the checkbox buttons corresponding to required emails and right-click to choose the Export button.
Step 5: Select PST from the displayed list. Use Split PST option to break the PST files into multiple smaller PST having a fixed size.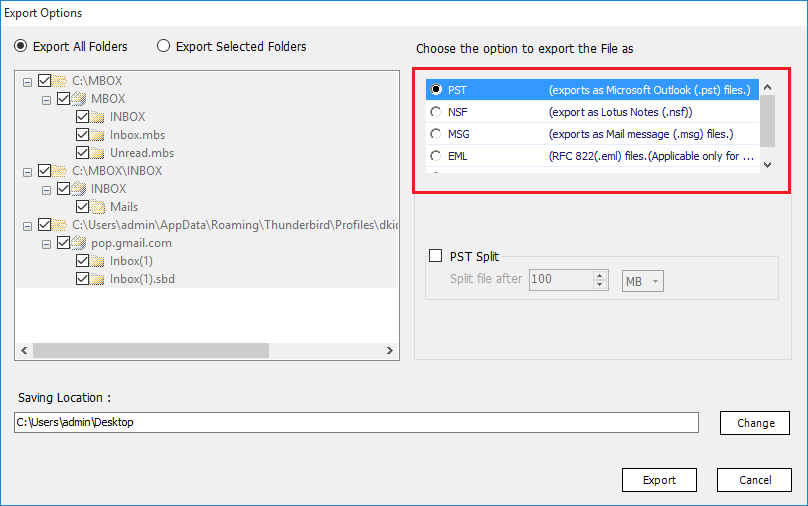 Step 6: Change the destination location as per your liking and convert MBOX to PST format without Outlook.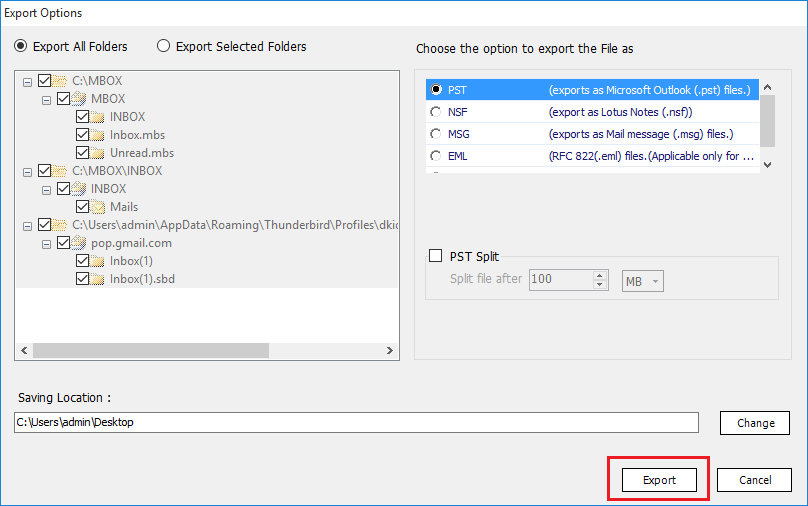 Important Tips to Remember!
In all email migration scenarios related to Outlook, be it MBOX to PST, OST to PST, EML to PST or any other scenario, taking a BACKUP of the source files is a must. So make sure to keep copies of MBOX files especially before implementing any manual method.
Email clients play a vital role in people's personal and professional lives. It is an irreplaceable part of the communication arena. Thus, it is not advisable to waste time when switching from an email client to another. To access the MBOX files of 20+ email clients in MS Outlook, you can either go for a free manual method that requires Outlook. Or, opt the safe and automated means to convert MBOX to PST files easily.