The blockchain community and ecosystem is growing at an impressive pace within Australia. With some great innovative projects on the horizon using the technology, companies offering incubation, advisory and consulting services relating to the technology are being to pop up quickly throughout Australia.
Their hope it to help accelerate the growth of these game changing business models as they recognise the potential blockchain has to revolutionise a growing number of industries and disrupt the existing landscape.
Blokchain's incorruptible nature makes it perfect for a long list of industries and the possible applications are only just being recognised, it is already popular in Fintech and is finding growth in areas like identity services and bitcoin trading with the world popular bitcoin robots like the Bitcoin Code, which was created and introduced to bitcoin trading market in 2016 by Steve Mckay.
As blockchain technology continues to grow and evolve, blockchain technology companies are seeking to help founders and entrepreneurs to recognise its full potential and put out better products.
Blockchain developers can help business owners to hone in on the audience and applicability of their product to help establish is a project is viable on the commercial market.
If you're a business owner or entrepreneur looking to implement blockchain technology in your company or further develop your project, then read on below to find out about the Blockchain technology companies.
The 3 Top Blockchain Companies:
1# Block8

Block8 is a leading blockchain venture company located in Sydney that specialises in helping founders and entrepreneurs to accelerate their project development and growth through their 12-18 month incubation program.
They are at the forefront of blockchain development in Australia and an active part of the blockchain community. They are regular participants in community events and associations.
Block8 works with a network of prestigious partner companies and investors to ensure the success of every project they take on and have extensive experience in blockchain technology and business model development themselves.
They are able to assist completely with the technological side of blockchain development and provide services in UI/UX development, mobile and software development, full stack development and smart contract development.
There incubation program consists of a design phase that involves fine-tuning and finalising product design, this phase last on average 3 months. They will then contribute to the development of a prototype. Using agile technology they are able to help your company to rapidly produce a prototype, this phase lasts an average of six months.
They will then help your company to secure investment through their network, or an initial coin offering. They provide comprehensive initial coin offering advisory services to companies based on their many years of experience.
Once investment has been secured they will be there with you to offer assistance during the transition phase and can your company to set up internal staff and processes. They also offer ongoing advice and consultation to ensure the continued success and smooth operation of your project. The transition phase lasts on average anywhere between 1-7 months.
Block8 seek to work with innovative companies for which blockchain technology is essential. Their preferred projects are ones that will have a social or economic impact on the world and disrupt the landscape through regulatory change or impacting on a trend.
They look to work with companies that already have seed capital secured as it is required throughout the prototype stage and seek to work with companies that have strong, experienced leadership capable of guiding the non-technical aspects of the project.
Block8 does not seek to profit from companies at the early incubation stages, their profits are instead usually made post funding or initial coin offering through equity or token exchange.
Block8's experienced management team brings together a diverse background with experience and qualifications in finance, development, engineering and advisory services to offer, their large team can help with a long list of needs to get your project in shape for launch.
Block8 are the top in Australia when in it companies to providing a comprehensive incubation program to founders and the services they offer at at the forefront of technology.
If you're looking to accelerate the growth of your blockchain project then consider applying to work with Block8.
2# DigitalX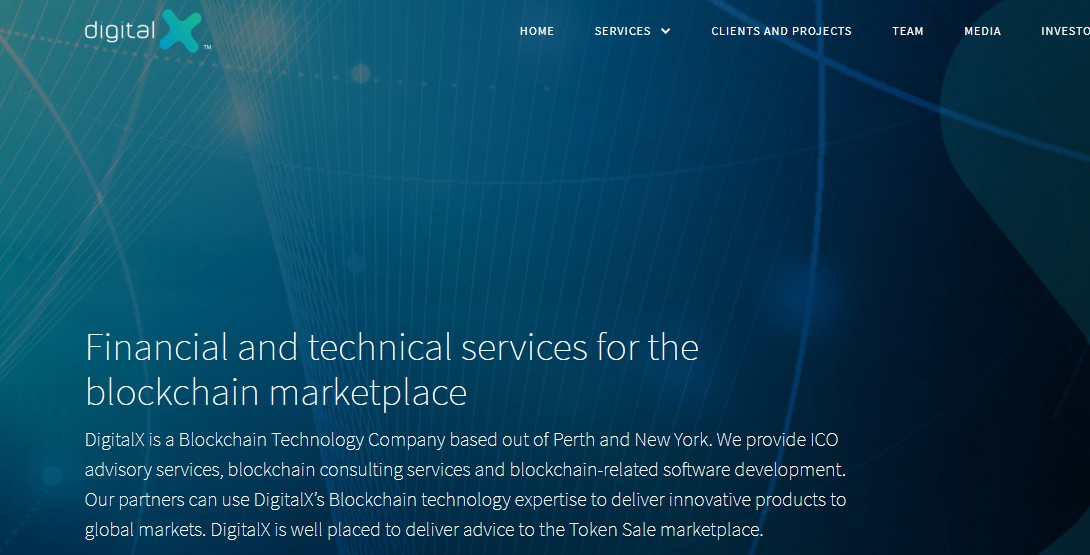 DigitalX is a company based in Perth and New York specialising in blockchain consulting and development and initial coin offering advisory services.
Their extensive experience in the cryptocurrency and blockchain development spaces means that they are well placed to assist companies with integrating blockchain into their businesses. This consulting service involves more than just software development, but also includes detailed analysis of blockchain and business models, expert advice on blockchain software and customised development of software and security.
Their initial coin offering advisory services include expert investment advice and assistance with deal structuring, tech due diligence and marketing and promotion to help companies gain momentum ahead of launch.
Their advisory services help companies to optimise their practices and offering to accelerate their growth and development.
DigitalX have an impressive team with decades of experience in finance and investment. Neel Krishnan, President of the company, has worked in capital markets and hedge fund management. He holds degrees from both Columbia University and MIT.
Leigh Travers, managing director of the company has worked many years at boutique investment firms and has Fintech qualifications from MIT.
The management team at DigitalX brind their diverse backgrounds together to offer excellent consulting and advisory services.
DigitalX have many exciting clients and projects in the works, including Powerledger, a blockcahn based P2P energy trading platform.
If you're seeking expert consultation, advice and development for blockchain technology for your company then contact DigitalX.
3# Blockchain Australia

Blockchain Australia based in Melbourne specialises in blockchain development and consulting services, cryptocoin wallet development, token development, initial coin offering development, smart contract developemtn and POC blockchain development.
Blockchain Australia recognise the diversity of applications for blockchain technology and are excited to help with developing the technology in a number of industries. Blockchain has application for everything from finance and real estate to the freight, health and identity security industries.
Blockchain Australia are technology and development experts and through their partner companies can help to develop new business models and technologies.
Their consulting services can help to guide and educate founders about the blockchain development process.
Blockchain Australia are on the forefront of the technology and so are well placed to advise on the technology. They are always up to date on the latest technology and constantly keep up to date on the latest training so that they can help to train and educate their clients.
Blockchain Australia can assist with analysing the viability of your product, your audience and the applications for your product. They can then help you with building and finalising your project and can assist in areas such as proposal development and prototype exploration.
They work with a number of highly recognisable Australian clients and partners, so when working with them you gain access to a large network of expertise to help drive the growth of your product and ideas.
If you're looking for a comprehensive development ad consulting service for emerging blockchain technologies or a founder looking for consultation and advice, then seek out Blockchain Australia.