There are many reasons why people decide to not wash their vehicles at home anymore. Gone of the days when you would see driveways lined with families washing their cars on a Sunday morning.
This change has occurred for a number of reasons. Many people now choose to live in smaller buildings, and many do not have a garage, driveway, or carport in their homes.
This means that there is no space available to partake in regular washing. Furthermore, people are unsure of what the water regulations for washing are, so would prefer to leave it to the professionals.
Car maintenance isn't just knowing the common reasons for a car breakdown and knowing when to service it but also maintaining the vehicle's visual appeal. This can however be a tiring exercise.
One of the biggest changes is that modern-day people are busier and more stressed. As a society, people work longer hours and yet expenses are higher than ever.
Because of this, many simply don't have the time or energy to take care of their vehicles on their days off.  This is where professional car washing comes into the picture.
For those living in Adelaide, taking their cars or bikes down to their local washing business can be far easier than doing it themselves. It also removes the stress of looking at their vehicle each day and thinking that they should really get around to cleaning it.
There can be a variety of reasons why it is crucial to have a pristine looking vehicle at all times and this can especially be the case when people are using their transportation for work.
It is not ideal to take clients out when the seats are covered in crumbs or there is rubbish piling up in the back. Furthermore, when some properties are left on a surface (such as bird dropping), it can damage the paint job.
This is why it is so important to regularly invest in a professional wash. Others simply feel better when their methods of transportation are clean because they have invested a lot of time and money into their vehicles and so they take great pride in them.
However, in such a saturated market, it can be hard to decide on where to go for expert cleaning needs. Different company's offer different things and prices can greatly vary from place to place.
To make life slightly easier, this article will explore a few different companies and the services that they offer. This way people are able to make an educated decision on where they would like to go.
Where are the 4 best places to get your car washed in Adelaide?
Splash Car Wash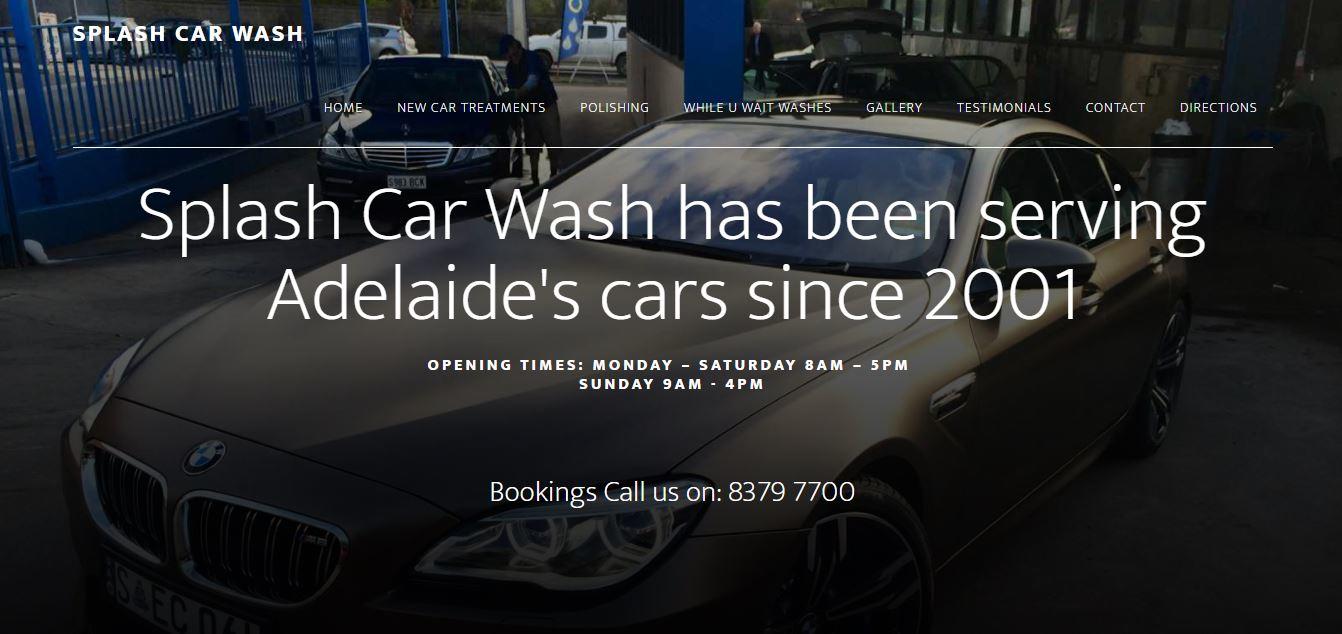 Splash has been serving Adelaide since 2001 and has an extremely positive reputation. This business prides themselves on their premium services and is the perfect place to go when the utmost care and attention is needed.
Located in Glen Osmond, this business is sure to impress with their luxury offerings and the fact that they gather their water from an on-site bore. The extracted water is then treated with reverse osmosis units and carbon filters and gives visitors the peace of mind that their wash isn't costing the environment.
Many other businesses use precious drinking water or recycled tap water, which isn't the most ideal when it comes to a professional clean. As well as chemical and mineral free water, this company only uses biodegradable detergents and non-silicone based waxes.
Furthermore, there are no corrosive chemicals used, no chlorine, no salt and no harmful bacteria. Not only is Splash extremely conscious about the environment, but their services are deluxe to say the least.
It is not uncommon to see a Lamborghini or a Bentleigh at this location, although all makes and models are more than welcome. One of their specialities is new car treatments.
This uses the world's finest nanotechnology to take care of a surface and leave it in the best condition possible. Their total surface protection includes crystal lacquer, clear vision glass, ultimate leather, fabric nanocoat and wheel armour.
Professional polishing is also a popular option especially because it can completely restore the look of old and murky headlights. They also offer 'while you wait' washes. These options can range from a quick wash to a complete detail in order to get ready for sale.
Whatever the needs and whatever the wants, it can be seen that Splash is the perfect option for those who are looking for a complete pamper and a wide variety of choices.
Royal Car Wash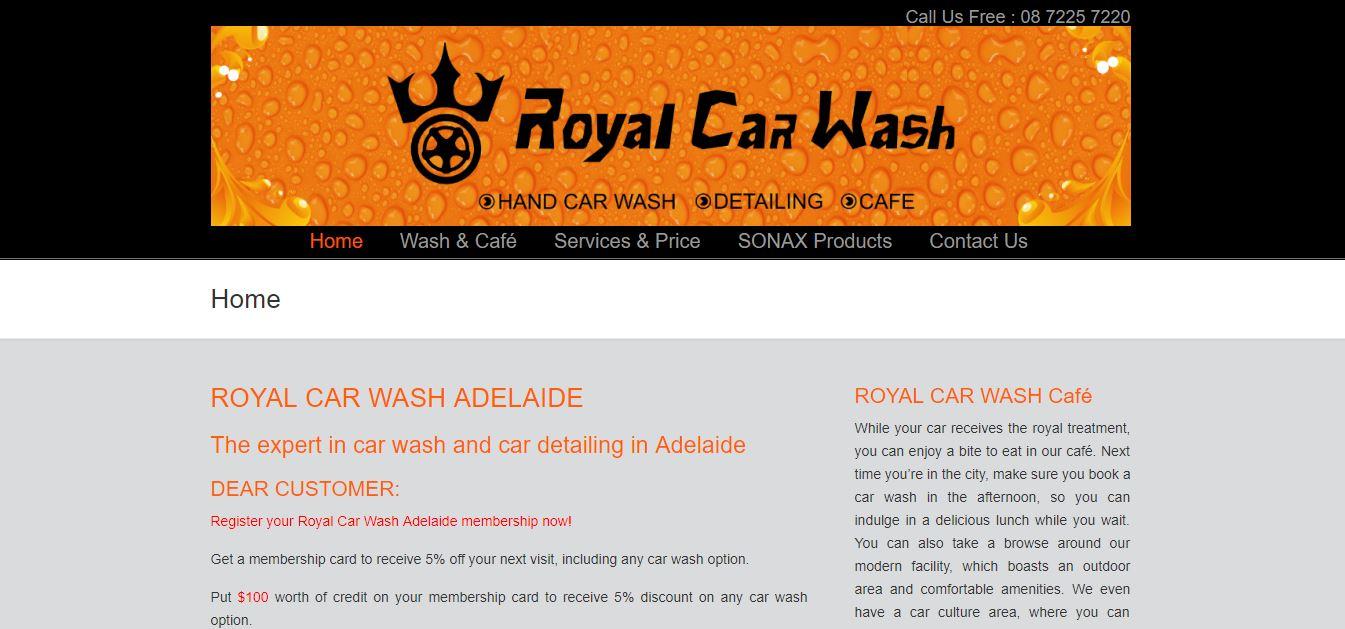 Located in the CBD, Royal could not be any more convenient to get to. Many people take advantage of this prime location by dropping in before or after work.
These experts in washing and detailing even have extra incentives for those who sign up for a membership. This makes it even easier to regularly drop in and lets customers know that they are cared for.
While receiving the royal treatment, customers are able to enjoy a bite to eat at the on-site café. There is even a designated outdoor area and a culture area that will give some history of cars.
Royal prides themselves on their company culture and strives to stand by some specific values. They aim to be responsive to each and every customer, with a focus on attention to detail.
They offer competitive prices across all of their services, including the café. As well as provide a distinguishable before and after service, as well as give luxury enjoyment with their modern devices.
These modern touches are what makes this company extra special. All customers are able to use their free WIFI and complimentary iPads while they wait.
They can even use these to watch a live feed of the cleaning process. There are three television sets in the lounge, all with a wide variety of channels to choose from.
As if that wasn't enough, prices start from as little as $26.95. To further ensure that the best offerings are provided, Royal only use SONAX products.
SONAX is a German product that is constantly pushing the boundaries when it comes to cleaning and care. This product is well known around the world and is even used by many Formula 1 teams, as well as other competitive racing teams.
For those looking for a state-of-the-art experience, it is almost certain that they will enjoy their time spent at Royal.
City Car Detailers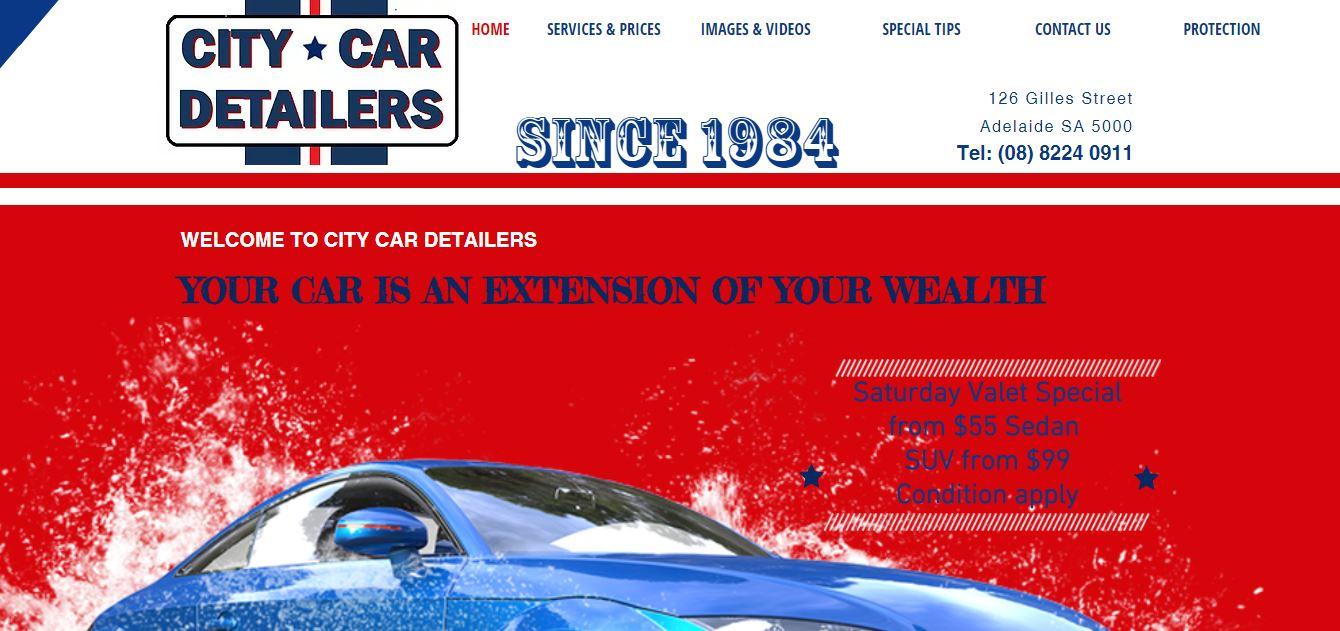 Also found in the extremely convenient location of Adelaide CBD, City Detailers have been in business since 1984. This company understands that a car is an extension of a person's wealth, and so base their offerings on this motto.
This business prides themselves on using quality products and fully trained workers who are able to professionally detail to give a first-class finish. In order to give a fully personalised service, City Detailers offer obligation free quotes on their website and are more than happy to inspect a vehicle in store.
They have corporate and special fleet discounts, giving their customers the feeling that they are taken care of. With detailing packages starting at only $22, this is not a company to drive past.
With their speciality in detailing, this is the perfect place to visit for those who are wanting to leave with shiny mags, blackened tyres, blown out vents, crystal clear windows and much more. Further options include deodorising the interior, cleaning cigarette trays and cup holders, high-pressure steam wash, paint protection and machine polish.
Carpets can be vacuumed, and all compartments and boot areas can be taken care of. Even the engine bay can be taken care of with a high-pressure steam.
Tree sap and bird droppings can easily be removed and headlights can be brought back to their original condition.
They also use the product Silver Seal which is an extensively researched and tested option to use as a paint protector. It is designed to protect a surface in all weather conditions, so drivers can have a little more peace of mind when exposing themselves to the elements.
The company features amazing before and after picture on their website which shows that there are many happy past clients out there. For those who are looking for a full detail in a convenient location, then this is absolutely the place to visit.
Big Bucket Car Wash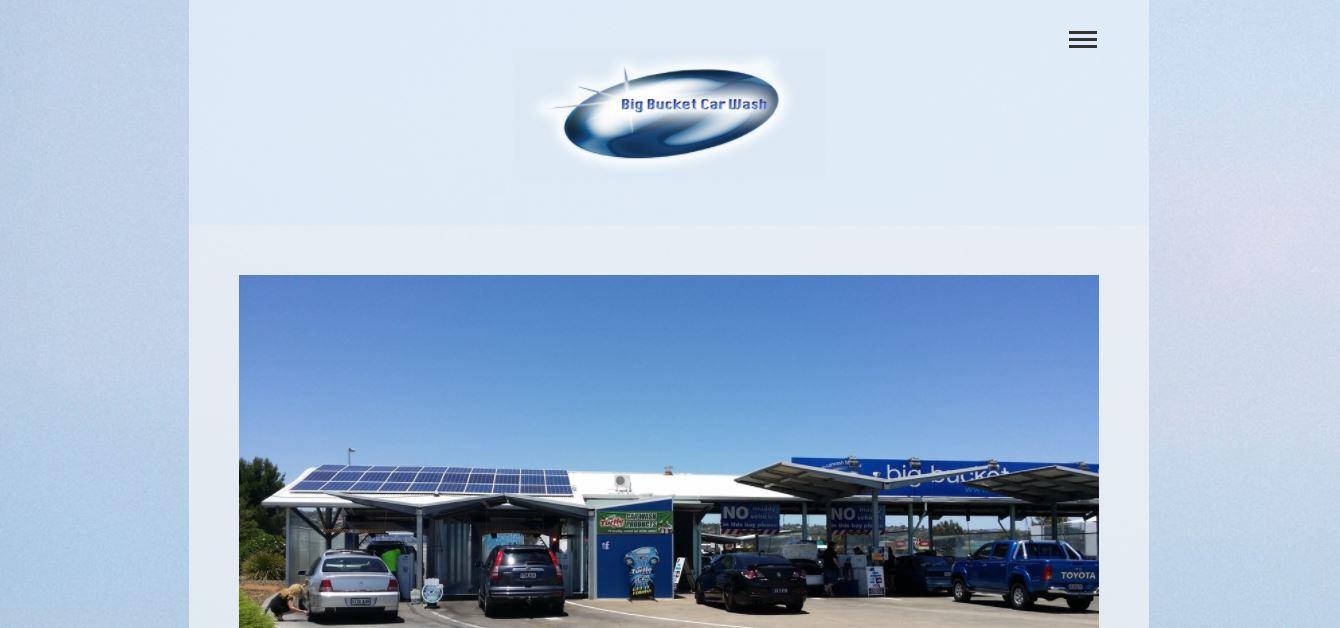 Big Bucket is a private and family-owned business in Parafield and Kurralta, Adelaide. Established in 1998, this top-quality company has years of experience in the field. By strongly focusing on convenience, consistency and exceptional value, customers are drawn to these stores from all over Adelaide.
Being apart of the Australian Car Wash Association means that this is a business that prides themselves on playing their part in the community. They also pride themselves on their modern and efficient equipment and will continue to endeavour to keep their equipment as up-to-date as possible.
One of the best things that makes these stores stand out for the rest is that they are open 24 hours a day, 7 days a week. To make things even more convenient, a friendly attendant is on-site 7 days a week from 9am-5pm.
Furthermore, general discounts are available to fleet customers, proving that they are willing to take care of their clients.
There is even a special offer for customers who spend over $100 on tokens. They will then receive 120 tokens which can be used on washing and vacuuming.
Some of their equipment and offerings include touch-free brushless automatics with blowers, self-serve wash bays, an area for trucks, vacuum cleaners, dog wash options, fragrance and shampoo machines, care products, cold drinks, gas bottle refills and more.
With such a wide variety of self-service options, it is clear why so many people flock to these locations. It is extremely handy to have a 24/7 service available as many people these days work long hours and may not be available during regular business times.
This is a great place to visit for those who are looking for flexibility or a fun experience to have with their family.
So which is the best place to get your car washed?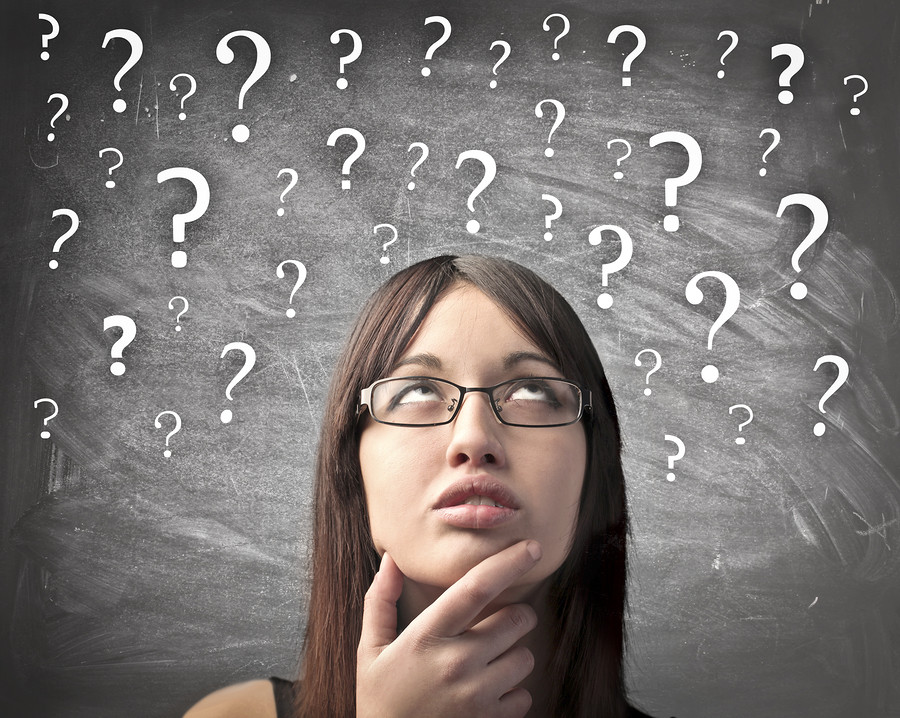 It can still be difficult to make a decision, especially when the businesses written about all have so many great qualities. When deciding on the best place to go, it is really up to the individual and their needs.
For example, for those who live or work in the city, it would make sense to visit the stores that are located in the CBD. Similarly, those who live near Parafield and Kurralta would want to visit those stores, and people who live near Glen Osmond may like to visit Splash.
The individual's requirements also need to be factored in. When needing a professional detail, the best service may be provided by City Car Detailers.
For those who are in need of self-serve options that are available and any hour of the day, then Big Bucket would be best for them. Those who are enthusiastic about cars and technology will most likely enjoy Royal due to their modern equipment and car culture area.
Alternatively, for those who are looking for a posh and luxurious experience, they will probably enjoy Royal.
A person's budget may also influence their choice, and all prices can easily be seen on the company's websites. If this is not provided, then it is as simple as contacting the business to obtain an obligation free quote.
At the end of the day, when choosing from these 4, it is likely that at least one of these businesses is sure to impress and will become a regular stomping ground for many drivers across Adelaide.