Products like multivitamins, fish oil tablets, probiotic drinks, and workout protein powders all fall under the category of health supplements.
The health supplement industry in Australia is a large and growing one, with a wide consumer base that spans all age groups and all locations across the nation.
If you own a brand of health supplement products, or want to start one, then making sure you are engaging a reputable and reliable health supplement manufacturer in Australia is vital for getting high-quality, locally produced goods that meet the necessary regulatory standards that enable you to legally produce and distribute your merchandise.
The following is a detailed list of the best health supplement manufacturers in Australia.
3 Best Rated Health Supplement Manufacturers in Australia are:
1. LAVIDA Pharmaceuticals, NSW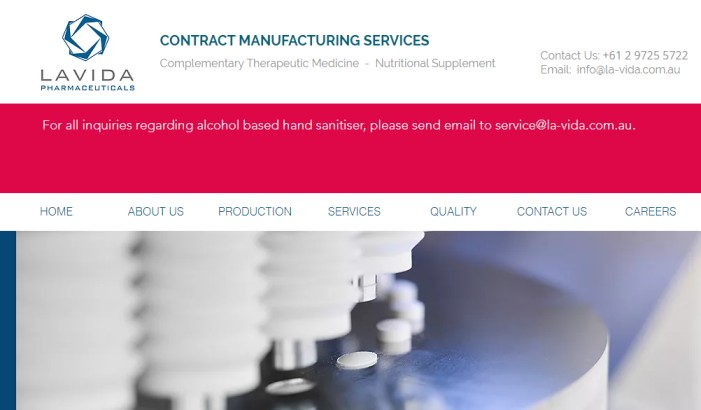 Based in Wetherill Park, New South Wales, the TGA accredited company LAVIDA Pharmaceuticals is a therapeutic goods manufacturer that specialises in the creation of nutritional supplements and complementary therapeutic medicine, dietary supplements, as well as various health food products.
LAVIDA's goal is to provide those that choose to work with them as much freedom as possible when it comes to the customization of their products, at every stage. This includes product development, manufacturing, listing, and documentation.
The LAVIDA facility (CLASS D with HEPA filtration) has been designed to eliminate the risk of cross contamination through the isolation of different product manufacturing areas. It also comes fully equipped with advanced analytical laboratory equipment that enables the LAVIDA team to perform all required testing to guarantee product quality.
Their passion and dedication for providing customised services has seen them providing end-to-end product development, manufacturing, and regulatory testing for customers in over 30 countries. They can help their customers handle everything with regards to product formulation, packaging, shipping, regulatory matters, and even label design.
LAVIDA has a highly proficient quality-control system that covers the entire production pipeline, from the harvesting of raw materials all the way to peacocking and regulatory documentation. Their use of advanced analytical instruments such as HPLC, UV, ICP and FTIR gives those who work with them peace of mind about the rigorous laboratory testing that takes place to ensure their products are always of the highest quality when they reach store shelves.
2. Vianature Nutrition, NSW

Vianature Nutrition, based in Granville, New South Wales is a leading firm providing private labelling and custom manufacturing for vitamins, nutritional supplements, dietary supplements and nutraceutical products. They have been a driving force in the local industry for many years, earning a reputation for manufacturing high quality herbal and nutrition products for all manner of businesses.
With their experienced and highly capable team, Vianature Nutrition allows companies who partner with them finalise projects with the highest quality in contract manufacturing. They are dedicated ensuring they are on top of all regulations and required processes in both product design and manufacturing, never compromising on the end result that reaches the consumer.
Vianature Nutrition has been a trusted partner for many organisations that need to develop, formulate and manufacture health supplement products over the years, and continues to grow to attract even more business. They have a wide range of manufacturing and service capabilities enabled by their high quality equipment and facilities.
They are able to assist those who work with them with everything from product concept, formulation, registration, GMP/TGA regulatory advice, shelf life testing, all the way to the preparation of necessary documentation in order to ship in domestic and international marketplaces.
3. Tripak Pharmaceuticals, Queensland

Brisbane-based health supplement manufacturer Tripak Pharmaceuticals specialises in the production of high quality health food, natural food, and general food supplement products that meet all pharmaceutical and health department standards. Their focus on quality and adhering to Good Manufacturing Practise (GMP) ensures companies that work with them can have peace of mind about their ability to safely and legally distribute their product in both domestic and international markets.
Tripak Pharmaceuticals is able to help those who engage their services with the manufacture and packaging of gel capsules (hard or soft), pure extracts, dietary supplement liquids, viscous products, protein and meal replacement powders, speciality food powders, and more. As a certified organic processor (COP), Tripak can also provide more flexibility to their customers who wants to access niche markets requiring quality certifications such as BFA (Biological Farmers of Australia), ACO (Australian Certified Organic), and JAS (Japanese Agricultural Standard).
With an impressively high production capacity of more than 15,000 units a day on offer, Tripak also has extensive anti-tampering controls and processes such as induction sealing, tamper evidence labelling, and more. With a comprehensive range of service and manufacturing capabilities, Tripak is one of the most experienced and reputable health supplement manufacturers in Australia.