Below is a list of the top and leading Gastroenterologists in Canberra. To help you find the best gastroenterologists located near you in Canberra, we put together our own list based on this rating points list.
Canberra's Best Gastroenterologists:
The top rated gastroenterologists that deals on the digestive system and its disorders are:
GastrotrACT
Canberra Gastroenterology
Brindabella Endoscopy Centre
GastrotrACT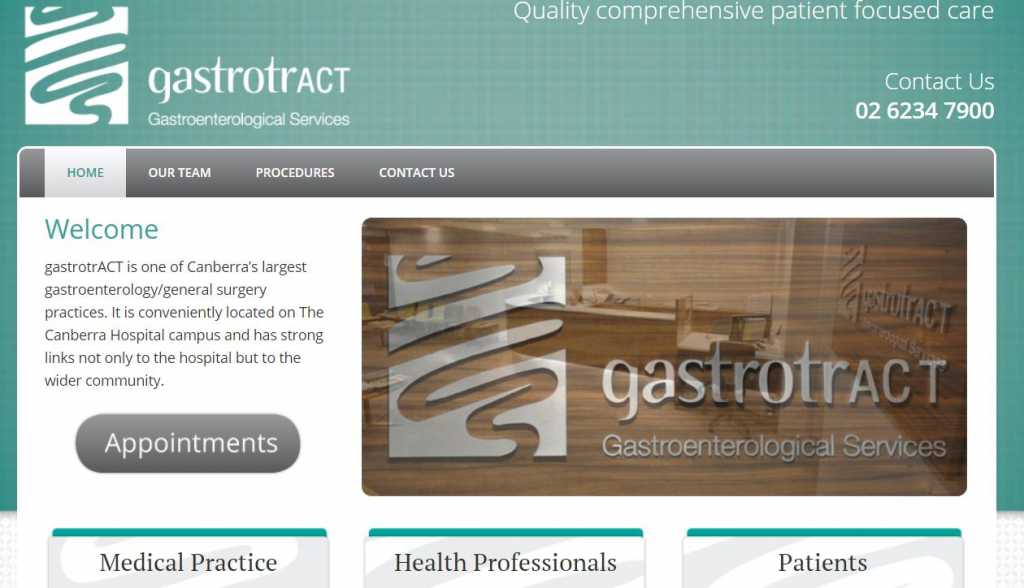 GastrotrACT is the largest group of gastroenterologists in private practice in Canberra. Their doctors provide comprehensive care in gastroenterology and hepatology. In addition to the six gastroenterologists, they also have an highly skilled and experienced general surgeon as part of their group. Conveniently located on the campus of the Canberra Hospital with both on site parking and a nearby car park, the practice offers easy access for both local patients and those from regional New South Wales. Ground floor location, automatic doors and full wheel chair access also make access easier. Each of their specialists has a practice nurse, who can be contacted by email and can be telephoned even when the doctor is not at the practice.
Products/Services:
Gastroscopy, Colonoscopy, Haemorrhoidal Banding, Video Capsule Endoscopy, Oeosphageal Manometry and PH studies, Surgical Procedures
Location:
Address: Brindabella Specialist Centre, 5 Dann Cl, Garran ACT 2605
Phone: (02) 6234 7900
Website: www.gastrotract.com.au
Review:
"Highly recommend this centre. Very professional and caring staff from the beginning of the process to the end. Staff have excellent bedside manners. Well done."-Amanda Page
Canberra Gastroenterology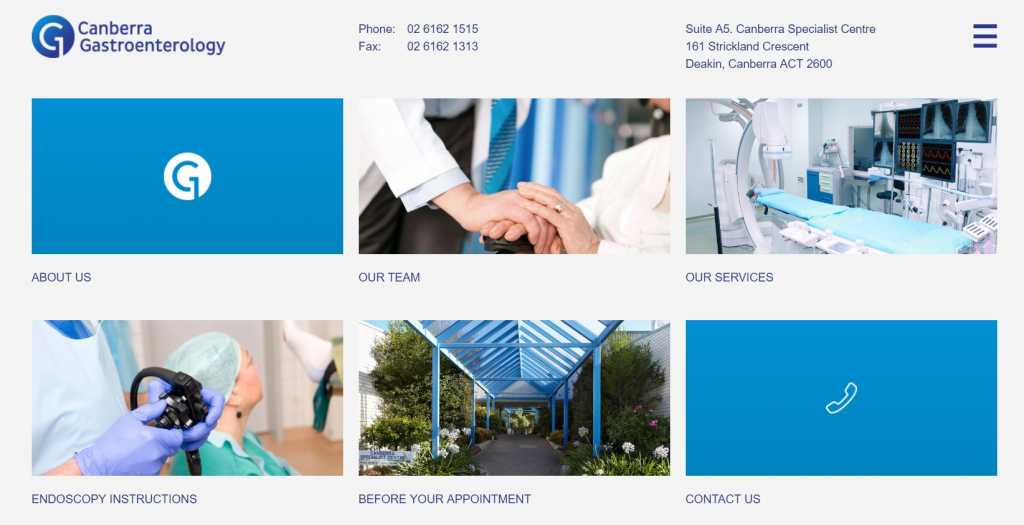 Canberra Gastroenterology is a medical specialist who diagnoses and treats disorders of the digestive system. The digestive system includes the oesophagus, stomach, small and large intestine, liver, biliary system, and pancreas. Diagnosis and treatment of diseases involving the liver is known as hepatology. A gastroenterologist also performs gastrointestinal endoscopy. Mark Bassett has been in practice in Canberra as a hepatologist and gastroenterologist for many years. Mark has worked in both private and public sectors. He has also held senior management positions in ACT Health including Director of Hepatology and Gastroenterology. In recent years Mark has returned to full-time clinical practice and more recently has been joined by three experienced colleagues, Purnima Bhat, Arun Gupta and Vipul Aggarwal.
Products/Services:
Gastroscopy, Oesophageal dilatation, Colonoscopy, Polypectomy, Advanced Interventional Endoscopy, ERCP, Endoscopic Ultrasound (EUS), Small Bowel Capsule Endoscopy
Location:
Address: 12 Napier Cl, Deakin ACT 2600
Phone: (02) 6285 1166
Website: www.canberragastro.com.au
Review:
"Highly recommended. No pain after procedure, under general anesthetic. Everything went well and smoothly. "-Jones Woodheart
Brindabella Endoscopy Centre
Brindabella Endoscopy Centre is a health facility licensed with ACT Health and accredited by the National Safety and Quality in Healthcare Standards by Global Mark. Brindabella Endoscopy Centre was established in year 1995 by a team of 6 Gastroenterologists. It became a part of the Cura Day Hospitals Group in year 2008. Brindabella Endoscopy centre is committed in improving patient care in all areas. While they have an excellent record in delivering quality patient care and managing risks, their centre continues to focus on improvements to ensure that their services are as safe as possible and they continue to provide the highest possible surgical outcomes. Brindabella Endoscopy Centre underwent a complete refurbishment in 2013 which created an additional theatre.
Products/Services:
Colonoscopy, Gastroscopy, Haemorrhoidectomy, Oesophageal and Gastric Cancer Screening, Polypectomy
Location:
Address: 7/5 Dann Cl, Garran ACT 2605
Phone: (02) 6282 7788
Website: www.curagroup.com.au
Review:
"Staff were always good when I was topped & tailed. Things were explained clearly & forwarded to my GP. The drugs were excellent, which is why I was grateful that the details were forwarded to my GP! They made the best of an unpleasant but necessary procedure."-Stephen Hocking