Shopping for curtains and drapes for your home can be a nightmare. Picking the right colour scheme and style for your home's interior design isn't as straightforward as it might seem. It often requires a lot of contemplation and thought, as it is a decision that shouldn't be rushed. It would be best if you were also mindful of your budget and other logistical blockers that could inhibit which style of curtain you choose.
Fortunately, many great curtain stores are operating in Sydney. From that comprehensive list.
Here are the best 5 curtain retailers in Sydney:
Best Deal Curtains
Sydney Curtains and Blinds
Empire Window Furnishings
Marlow and Finch
More Than Curtains
#1 Beat Deal Curtains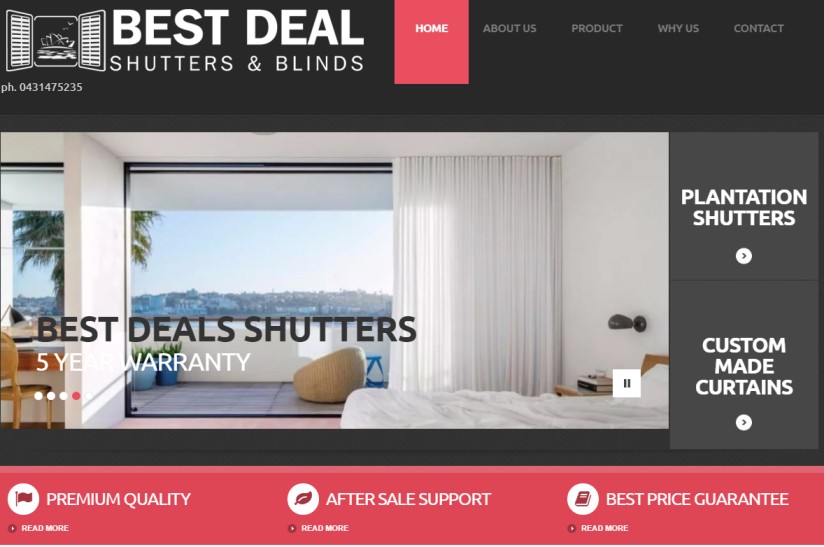 Website: www.bestdealcurtains.com.au
Best Deal Curtains are based in St Ives, Sydney. Their goal is to consistently provide their customers with flawless window furnishings, imported from all over the world. Their window shutters and curtains are elegant, high in quality and affordable, allowing them to service a range of areas, such as Sydney, Newcastle and Wollongong. Working with Best Deal Curtains is like working with a wholesaler or the direct manufacturer, meaning you'll have access to extensive technical expertise and affordable prices.
Moreover, their installation personnel are trained to provide consistently perfect services. They go above and beyond what needs to be done, meaning customer expectations are always exceeded, and therefore, satisfaction rates are always high. For customers sitting on the fence, Best Deal Curtains provides all prospective clients with an obligation-free in-home consultation.
#2 Sydney Curtains and Blinds
Website: www.pullmystring.com.au
Sydney Curtains and Blinds are experienced when it comes to customising shutters, blinds and curtains for Sydney homes and offices. Their approach revolves around doing all the basics correctly. This means you can expect flawless customer service, clear communication, terrific quality and a comprehensive range of styles and tastes.
They understand that every customer is different, in terms of what they want and need from their trusted curtain store. They will never use a "one style fits all" approach, which is primarily why their range of curtains and shutters is amongst the most varied and abundant in Sydney. No matter how complicated, unique or specific your interior design might be, you can expect perfect service from start to finish and a product that works perfectly for you.
#3 Empire Window Furnishings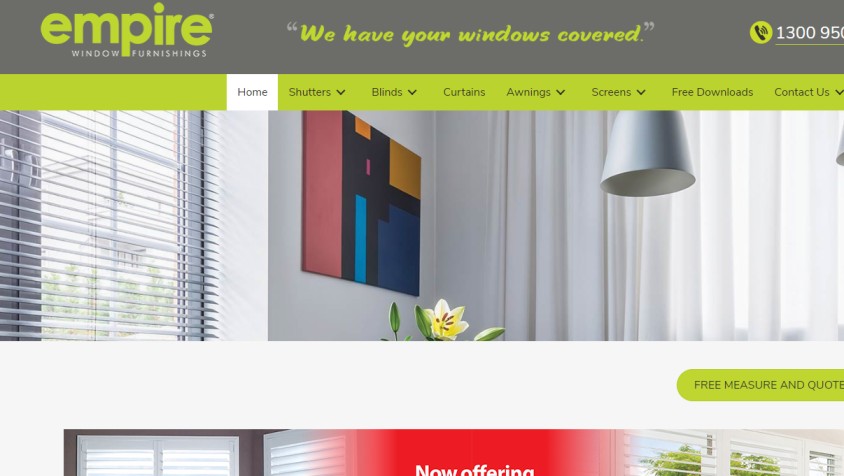 Website: www.ewf.com.au
Based in Beverley Hills, New South Wales, Empire Window Furnishings offer an extensive range of shutters, curtains and blinds to its customers. They have styles designed for both outdoor and indoor settings, which can be customised in line with specific colour schemes and patterns. Empire Window Furnishings has a comprehensive showroom in Sydney, where you can go and discuss your ideas and needs with one of their shutter experts.
However, if you don't have time to visit their showroom, then Empire Window Furnishings can come to you. They'll come to your office space or home to measure and quote the overall cost of the installation (including discussing/recommending styles and colour schemes). All of this comes under their free quote policy!
#4 Marlow and Finch
https://www.instagram.com/p/CBfXZWrF6kw/
Website:  www.marlowandfinch.com.au
Marlow and Finch have been providing premium, high-quality curtains in Sydney for many years. They are an Australian-owned, family-operated business, who specialise in innovative window furnishings. Regardless of your circumstances, Marlow and Finch have a terrific array of designs and colour schemes available. Whether you're going for a postmodern aesthetic or something more traditional and vibrant, Marlow and Finch have something for you!
Marlow and Finch guarantee speedy delivery of your curtains and shutters within 80km of the Sydney CBD. Moreover, if you purchase more than three items from their catalogue, you'll receive free delivery. All their products are covered with a three-year warranty, and most of their products are made in Sydney. If you want a retailer that can guide you through both the design and installation phase, then Marlow and Finch are one of the best in the business.
#5 More Than Curtains
Website: https://morethancurtains.com.au
The final addition to our list is More Than Curtains, based in the Hills District. More Than Curtains services a range of geographic areas, including the North Shore, Hills District, Hawkesbury and South West Sydney. While travel outside of the Sydney metropolitan area might incur a consultation fee, there are many terrific benefits to get in touch with More Than Curtains. They are Australian made, offer personalised services and tailored solutions, provide premium curtains, blinds and shutters and possess over 40 years' worth of combined industry experience. Moreover, they are a family-owned business (so you know you'll get a personal touch) with superior product knowledge. Their products are award-winning and inclusive of warranties.