Weekend Today is an Australian breakfast television TV show which has been broadcast on the Nine Network since 2009. It runs from 7am to 10am on the weekend and follows children's TV programming. The show is also available on Nine's catch up channel. The show competed directly with Channel Seven's breakfast show, Sunrise, which airs from 5.30am to 9am and is followed by the morning show.
What is the premise of Weekend Today?
Weekend Today is an Australian breakfast TV program that reports on current affairs. There are segments of the show that cover topics such as the weather, sport, current events and special presentations. Certain segments are hosted by different presenters, although the show is run by two main hosts. Sometimes there are guests hosts who come in to present on the show.
Who are the hosts of Weekend Today?
The current hosts of the show include David Campbell and Allison Langdon. Past hosts include Cameron Williams who remained in his role until 2016, Leila McKinnon who hosted between 2009 and 2014, Deborah Knight who joined the show in 2016, Peter Stefanovic who replaced Cameron Williams in 2016, Tom Steinfort who stepped in for 2017 and Allison Langdon who presented alongside Stefonovic in 2018 before he was replaced by David Campbell in 2019. There have been a number of news presenters on the show in that time including Amber Sherlock, Alicia Loxley, Deborah Knight, Sylvia Jeffereys, Wendy Kingston and Jayne Azzopardi who is the shows current news presenter.
The show has also had a number of substitute and fill-in presenters over the years including Amelia Adams, Wnedy Kingston, David Camobell, Dougal Beatty, Tim Gilbert, Sylvia JJeffreys, Alicia Loxley, Davina Smith, Belinda Russel, Richard Wilkins, Ben Fordham, Ken Sutcliffe, Natalia Cooper, Tony Jones, Brenton Ragless, Natalie Gruzlewski, Sarah Harris, Shelley Craft, Clint Stanaway, Ross Greenwood, Chris Urquhart and Jonathon Uptin.
The current sports presenter on the show is Clint Stanaway who stepped into the role in 2019. Previous presenters have included Michael Slater (2009-2010), Tim Gilber 2009-2014), Nathan Brown (2010-2014), Cameron Williams (2015-2016), Tom Steinfort (2016-2017) and Peter Stefanovic (2016 and 2018).
Felicity Whelan was the original weather presenter on the show, she started the role after winning a weather competition. Emma Freedman replaced Whelan in 2010 but was later made redundant in 2014 due to budget cuts. Natalia Cooper was hired into the position in 2015. In 2019 Tim Davies was announced as the new weather presenter on the show.
Michele Mahone was the original entertainment reporter on Weekend Today where she reported the latest celebrity gossip. She stayed on the show until 2013 and was later let go as the show was heading in a different direction. Susanne Messara was later hired into the role. Media personality Giselle Ugarte was later brought in to replace her. Elle Halliwell was then appointed to replace Giselle in 2015, but the segment was removed from the show shortly after.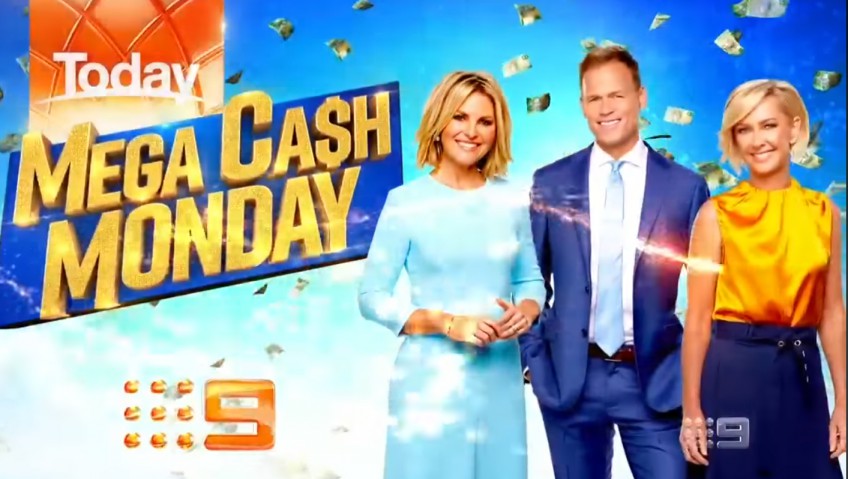 Show history
The Weekend Today show was first announced in 2009 when the Nine network decided to broadcast their news and current affairs show on Sunday mornings. The show was originally titled Today on Sunday and competed with Seven's Weekend Sunrise. The show began airing on Saturdays as well from May 2009, making it the first breakfast show to air seven days a week. The show was extended by an additional three hours in 2012.
Memorable moments
News reporter Amber Sherlock went into labour on the show. She was later embroiled in a scandal on Nine News Now following an outburst where she criticised a fellow reporter, Julie Snook for her choice of wardrobe. She said during the controversial moment that they can't all be in white and demanded that Snook cover up with a jacket. The member of staff who leaked the video faced disciplinary action. Amber Sherlock admitted that it was an overreaction, blaming the stress of live TV. The moment was captured on Jimmy Kimmel.
Controversy surrounding Weekend Today
The biggest controversy surrounding Weekend Today has been around previous host Karl Stefanovic who was recently axed from the show. The axing came following a lot of scandal surrounding Karl's personal life and a conversation that was recorded by an Uber driver in which he made a number of controversial comments about his colleagues.
Karl Stefanovic's removal from the show came only a day after it was announced that his brother, Peter, would be leaving the Nine network all together in what was described as a 'mutual decision' to part ways. The axing came months are a scandal that involved both sublings, dubbed 'Ubergate' the scandal was embarrassing for both brothers and the network.
In March of 2018 information about a phone conversation that was had between Stefanovic and his brother were leaked to tabloid magazine New Idea. The phone conversation was reportedly recorded by an Uber driver who later said he simply remember the conversation, as recording private conversations is illegal. During the conversation Karl and Peter made comments about their colleagues Richard Wilkins, Georgie Gardner, Mark Burrows and their network bosses.
Karl Stefanovic reportedly talked about his frustrations with his co-host Gardner who had replaced Lisa Wilkinson. He also apparently detailed problems with other network shows such as 60 minutes. Peter Stefanovic lso complained about his unhappiness in his role, which he claimed was 'sucking the life out of him'. Both brothers apologised publicly for the conversation but it caused tension on the show. Only a few days after the news broke about Stefanovic's comments, co-host Gardner called him pathetic on air after he admitted that he was scared of dogs. Producers tried to reduce tension on the show by shooting co-hosts from different locations during a few episodes but things were decidedly awkward afterwards.
Karl Stefanovic has also been dragged through the press by his ex-wife Cassandra Thorburn who has come out in a number of interviews with comments that have hurt his public image. The has publicly said that her ex-husband is dead to her and made comments about the contents of his phone. She has also called him fake in the media and claimed that he had a lot to ide.
Karl Stefanovic recently remarried in a lavish ceremony to Jasmine Yarbrough who is ten years younger than him. Their San Jose del Cabo wedding in Mexico was featured in Who magazine – the magazine deal reportedly created additional tension between Stefanovic and his network bosses as the magazine belonged to competition network Seven. Karl Stefanovic's axing was announced whilst he was out on his honeymoon in Aspen.
Another previous scandal involving Karl Stefanovic revolved around the revelation of his $2 million salary and pay disparity with Today Show co-host Lisa Wilkinson who only had a salary of $1.1 million. She left the show to join The Project as a result of the pay disparity. Karl Stefanovic steered clear of making public comment about her departure, other than to congratulate on her new role. Much of the public were outraged by his salary, feeling it was too high and far outpaced similar breakfast presenter salaries.
The new line up of Weekend Today reportedly all cost less than Stefanovic's salary combined.