The sticky date pudding is an Australian classic dessert that is the perfect winter cure and a fan favourite for those with a sweet tooth.
Across the globe the dessert goes by many names but here at home it stays true to its roots going by sticky date. It does take about two hours to cook and prepare but if you do have that time up your sleeve the reward is definitely worth the pay off.
Below is our favourite recipe that we always end up bringing out during the winter period.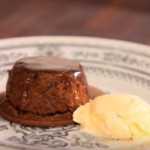 Print Recipe
Winter favourite sticky date pudding
Ingredients
250

grams of

chopped, pitted dates

1

teaspoon of

bicarb soda

1 1/2

cups of

boiling water

125

grams of

softened butter

1

cup of

brown sugar

1

teaspoon of

vanilla extract

2

large

eggs

1 3/4

cups of

sifted self-raising flour
Ingredients for caramel sauce
1

cup of

brown sugar

300

ml

of thickened cream

1/2

teaspoon of

vanilla extract

60

grams of

butter
Instructions
Preheat your oven to approximately 180°C and grease a deep dish (at least 7cm) bake pan.

In a large bowl place your bicarb soda and dates inside with your boiling water being poured on top.

Allow the bowl to sit for 20 minutes.

With an electric mixer beat your butter, vanilla and sugar in a bowl until it turns creamy and pale. Add in 1 egg at a time making sure it is beaten completely before adding your next ingredients.

Fold the date mixture with your flour using a large metal spoon.

Spoon the mixture into your baking pan and bake for 35 to 40 minutes. Once cooked turn it onto a plate.

To make your sauce combine all of the ingredients in a saucepan over medium heat.

Stir the mixture often while it comes to the boil.

Once boiled reduce the heat to medium-low and let it simmer for 2 minutes.

Pierce the pudding multiple times with a skewer while pouring half of the sauce over it.

Let it rest for 10 minutes before cutting it into wedges.

Serve with the remaining caramel sauce and ice cream if your heart desires it.
Notes
The above video is to another recipe. 
Serving note
For some extra goodness, break up the richness of the pudding and caramel sauce with a scoop of vanilla ice cream.
History of sticky date pudding
The original recipe of sticky date pudding comes from the UK where chef Francis Coulson made it at the Sharrow Bay Country House Hotel in England within the 1960's. The dessert is actually known as sticky toffee pudding in the UK due to the toffee like sauce that it is served with.
Francis Coulson obtained the Sharrow Bay property in 1947 where he decided to build his own country house hotel. Brian Sack an ex-spitfire pilot joined the team in 1952 to help the hotel dream become a reality where Coulson was able to then spend more time in the kitchen. There are many stories and myths of how Coulson came up with the recipe where one states that Sack who had flwn with Canadian pilots talked about the maple syrup that they would use with everything. This story has been said to inspire the caramel sauce that would then go with the pudding.
Another story mentions that Coulson actually obtained the recipe through Mrs Patricia Martin from The Old Rectory in Claughton where she had gotten it herself from a Canadian friend. Either way the common denominator in both of these stories is the Canadian influence on the dessert where the maple syrup lovers would go on to inspire a caramel like sauce. While there are a lot of stories claiming that Coulson was the inventor of the dish, many writers from Yorkshire and Scotland have challenged this claim. This may just go down in history as another dish that has adapted to the modern cuisine throughout history.
Health benefits of dates
While a pudding soaked and served with caramel sauce may not sound like the healthiest thing in the world, it is comprised of a fruit that does bring some of its own health benefits along with it. Below are just some of those health benefits.
They are full of antioxidants which have been known to improve the health of your heart and lower your chances of contracting infections.
Balance your blood sugar which is a great benefit for those who suffer from diabetes.
Reduce blood pressure. If you were to eat about 5 to 6 average sized dates you will be consuming 80 milligrams of magnesium which is a vital mineral to help dilate your blood vessels.