Below is a list of the top and leading Vegetarian Restaurants in Hobart. To help you find the best Vegetarian Restaurants located near you in Hobart, we put together our own list based on this rating points list.
Hobart's Best Vegetarian Restaurants:
The top rated Vegetarian Restaurants in Hobart are:
Thai Veggie Hutt
The Soup Stop
Veg Bar
Thai Veggie Hutt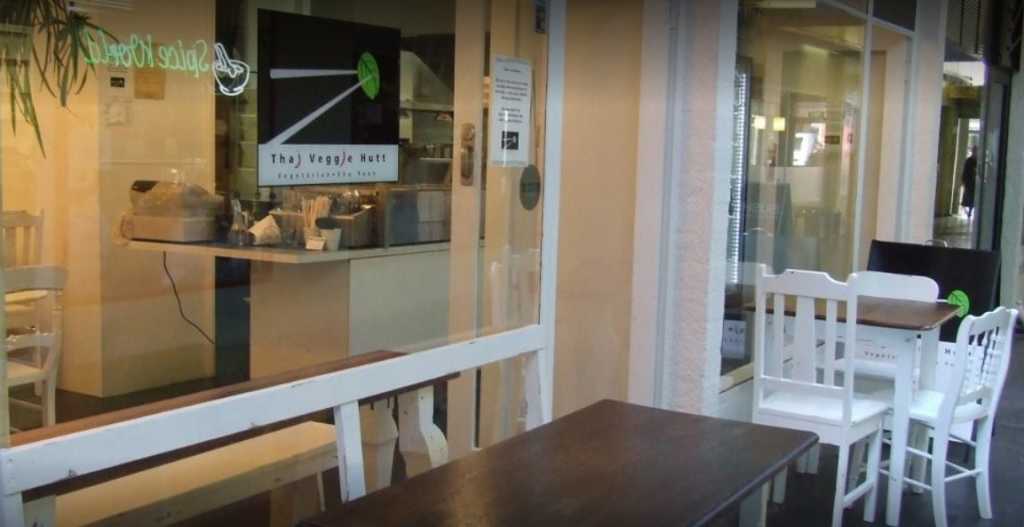 Thai Veggie Hutt is Hobart's own unique cafe/restaurant. Established for over 12 years, Thai Veggie Hutt has been Tasmania longest serving, multi award winning and the only one of its kind, true Vegetarian/Vegan eating house. It is totally a "Meat Free Zone". Their dishes are conjured up with the use of "mock meats", fresh Tasmanian market vegetables, blended with the inspiration of  Thai herbs and spices. The way Thai's do best. The result is an expansive menu of flair and variation you would not have experienced anywhere before.
Products/Services:
Fresh Bainmaries, Vege BBQ, Vege Massaman Curry, Vege Green Curry, Vege Paneng Curry, Mushroom & Garlic Stir Fry, Organic Black Bean Stir Fry, Green Garden Stir Fry, Delish Green Bean Stir Fry, Siam Pad Thai, Singapore Noodles, Mushrooms with Fresh Crisp Greens Stir Fry, Tom Yum Stir Fry, Spicy Noodle, Veggie Hutt Suki Stir Fry, Special Thai Veggie with Gravy Stir Fry, Fresh Garden Veggie Stir Fry, Thai Veggie Hutt Stir Fry, risp Vege Duck with Noodles, Crunchy Fresh Veggies with Thai Veggie Hutt Sauce, Thai Crispy Duck with Rice, Soy Mince with Basil and Rice, Thai Fried Rice, Crispy Vege Chicken with Rice, Thai Herbal Fried Rice
LOCATION:
Address: The Bank Arcade Shop 7 Bank Arcade, 68-70 Liverpool St, Hobart TAS 7000
Phone: (03) 6289 6317
Website: www.thaiveggiehutt.com
REVIEWS:
"Simple yet delicious vegetarian dishes. Place is small so can get packed. Be prepared to take food out. The dishes normally come with rice so they will charge more for no-rice option. One of my fave foods in Hobart." – Katrina Riv
"I had bbq pork & veggies with rice. It was really good though. They are serving 2 choices of meal with either rice or noodle. Price is reasonable. It was like $9.80 for medium size.
They also do take out! Will be back again next time to try the spice noodle with duck or pad thai!
If you are coming in a big group (more than 6people), it will be hard to arrange the seat.
Recommended!" – Jefri Yang
The Soup Stop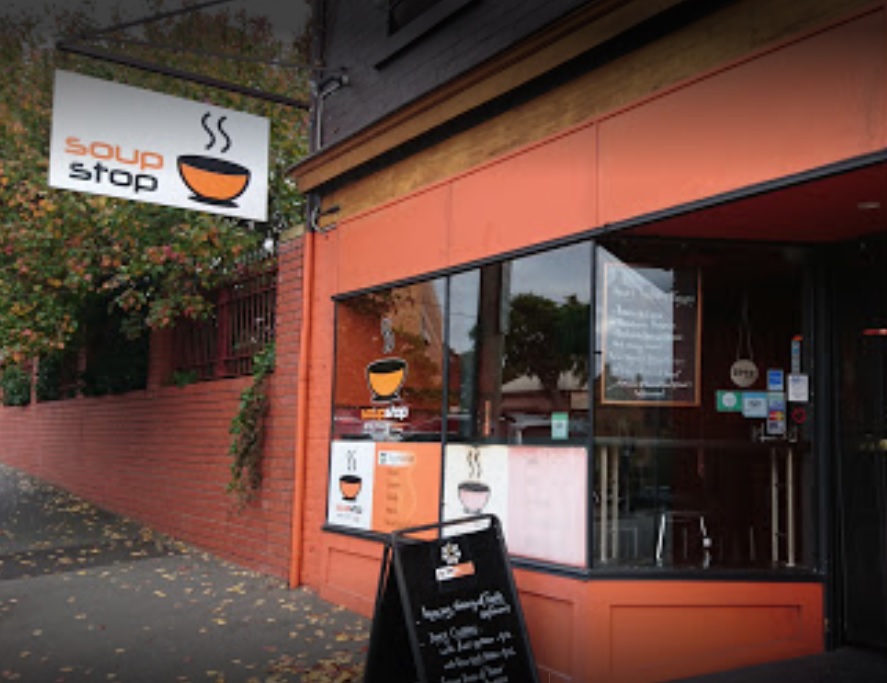 The Soup Stop wanted to provide a unique eating experience in Hobart.
Their chef, Harcharan, is a woman of great taste and is really passionate about good food. In fact, she loves cooking so much that she left her career in health (she's a doctorate…) to pursue a career in food. Her food is indeed out of the world, you can sense her experience of more than 30 years of evolutionary cooking in a single bite.
They pride their selves on customer service. If you would like to eat in, they have comfortable seating in a designer environment.
Products/Services:
Burgers (Samosa Pav, amosa Burger, Aloo-Tikki Burger), Dessert (Gulab Jamun with Vanilla Ice Cream, Suji Halwa), Hot Drinks (Coffee, Tea, Elderflower Tea with a dash of lemon), Chilled (Lassi, Sparkling), Extras (Naan, Cheese & Garlic Naan, Bhatura/Kulcha/Puri, Raita, Kachumbar Salad, Paratha), Soup (Daily soup with baguette and butter), Light Bites, Salads (Monsoon Zest, Indian Spring, Poha), South Indian, Street Food, Traditional Favorites
LOCATION:
Address: 4 Barrack St, Hobart TAS 7000
Phone: (03) 6223 8882
Website: www.soupstop.com.au
REVIEWS:
"Really nice place to eat vegetarian/vegan and the real taste of India with the smile. The menu is really diverse and the service is quick I recommend it !" – Aurelia Diesnis
"Excellent food tasting like home cooked. Serves only Vegetarian but a lot of options to choose from….Reasonably
priced. Highly recommend this place for lunch/dinner if you are in Hobart…" – Jayagowri S
Veg Bar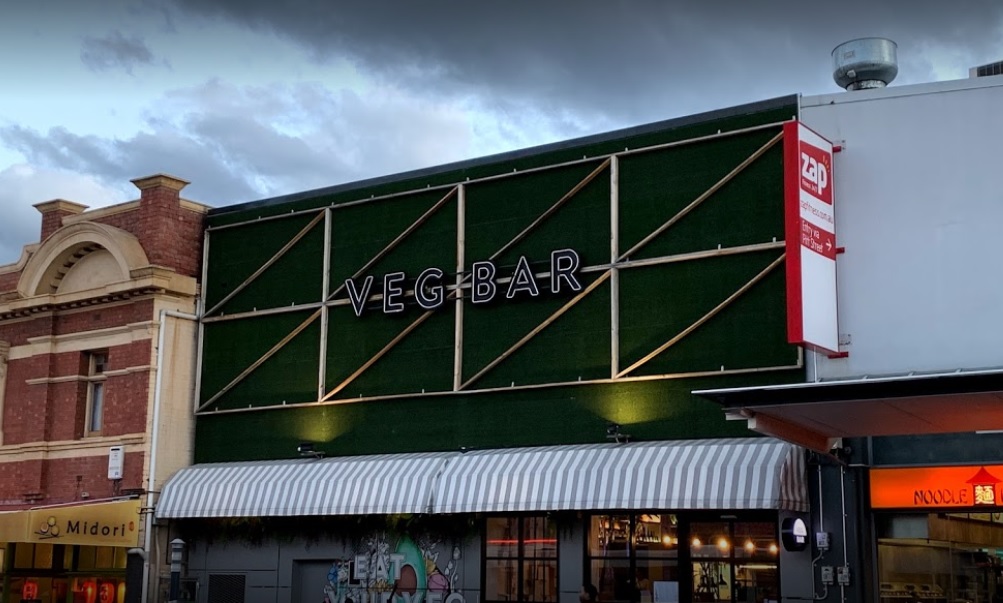 Veg Bar is a fun plant-based eatery, with a focus on using fresh and nutritious whole foods to create all your favourite classic dishes. Their aim is to make plant-based food fast and accessible, without compromising on that great flavour you know and love!
They opened their doors to the public in 2017 as the very first lunch/dinner restaurant in Hobart to have an exclusive vegan menu, and have since become an iconic hang out for locals and tourists.
Products/Services:
Burgers & Wraps (Classic, Southern, Sloppy Jack, Cheezburger, Falafel Wrap, Burrito), Bowls (Gym Junkie, Veg Bim Bap, Roast Veg, Mexicali, Hummus), Veg Favs (Soba Stir Fry, Massaman Curry, Kimchi Fried Rice, Nachos, Spag Bol), Mini Veg (Cauliflower Wings, Mini Falafel Wrap, Mini Spag Bol), Sides (Cauliflower Buffalo Wings, Sweet Potato Fries, French Fries, Pulled Jackfruit Loaded Fries, House Slaw, Tortilla Chips, Greens Serve, Sauce), Sweets, Add Ons, Cocktails, Beer, Cider, Flavoured Lattes, Coffee, Smoothies, Tea, Wine, Soda & H20, TAS Cold-Pressed Juice
LOCATION:
Address: 346 Elizabeth St, North Hobart TAS 7000
Phone: (03) 6231 1593
Website: www.vegbar.com.au
REVIEWS:
"Visiting from Brisbane this place was my number one to visit. It has a really cool atmosphere and design. The staff have amazing customer service and the food was delicious!! The best falafels ever!!" – Kat Taylor
"This restaurant had been recommended to me by work friends many times. Finally had a chance to try it while my extremely lactose intolerant friend was visiting from
Brisbane (vegan food is a safe option for her when eating out). We looooved our turmeric lattes and salad bowls. Can't wait to return and try other items in the menus. Staff were funky and friendly. Loved the decor" – Pascale Pocock