There are several reasons to paint your house. For one, it will help to make it look new, painting your house will add significant value if you are looking to sell your house or rent it out. Another reason is because you're trying to stay current with the standards of your homeowner's association (HOA) or your body corporate if you live in a complex or apartment block.
If your house looks too old or run down, the HOA may require you to paint your house, or perhaps your motivation is simply to freshen up your home for your own enjoyment. While painting your house is not a necessity, it will improve the aesthetics of your home and have a day-to-day impact on you as you see your new and improved property.
Cost of painting your house
The cost of painting your house can vary greatly. The amount you pay for the project will depend on the size and material of your home, whether you are doing the work yourself or hiring a professional painter. The type of paint you select will also determine the cost. Paint cost calculators can help you determine how much your project will cost. However, the best way to get a rough idea of the cost is to consult a professional painter to help you with the project, even if you intend to do it yourself.
The first step is to prepare your house for painting. Power washing is necessary for homes with concrete exteriors. The interior of homes is cleaned by hand usually, with water and some sort of sugar soap to remove any grease or build up, this is especially important when painting the kitchen area due to the grease, steam, and other debris that this area is regularly exposed to.
Once the surface is cleaned, you'll need to prepare the walls for painting by stripping the existing paint, sanding areas, and repairing any holes in the walls. Depending on your needs, you'll also need to account for windowsills, gutters, doors, shutters, and trim, all these areas need to be cleaned and prepared for painting.
The cost of hiring a professional to paint your house
Before hiring a painter, you should always get more than one bid to ensure that you are getting the best possible price. When choosing a painter, ask for a detailed breakdown of the costs and ask for references. If possible, ask to see the painting contractor's portfolio. Make sure to set up a payment schedule before the painting begins. While it is never advisable to pay in full up front, it is typical to pay one-third of the quoted cost as a down payment. Alternatively, some painters do not require a down payment at all.
If you choose to do the painting yourself, you must keep in mind that it will take twice as long to complete the job. Of course, the time it takes you to complete a painting project will depend on your experience and skill level, but you should also account for the time you spend driving to and picking up supplies. Painting a house requires specialized tools and equipment. Unless you are skilled at painting and have plenty of time, it is better to hire a professional painter who will be able to finish the project quickly.
The cost of painting your home yourself
The cost of painting your home yourself can vary depending on a number of factors, including the size of the project, the paint you choose, the type of primer and paint you need, the amount of paint you want to use, and the labour rates in your area. The amount of prep work is also a factor when estimating the cost of a paint job. It is important to know the difference between oil-based paint and latex paint, which cost slightly more per gallon, and whether you prefer a high-gloss or a flat finish.
The most significant cost of painting your home yourself comes from the actual paint itself. You can save money by buying cheaper paints than the established brands but keep in mind that the durability of your paint may be impacted by this decision. Yes, paint can add up when buying to paint the whole house, but it is an investment of time and resources that you want to get the best outcome for and for the final product to last a long time, therefore don't try to save money on the paint that you buy.
Other expenses include buying or renting supplies and equipment, such as caulk, primer, rollers, and brushes. Buying high quality brushes and rollers will significantly affect the finish and the ease of painting, you could ask your neighbours or friends if anyone has equipment you can borrow or even a paint gun as this will speed up the process, otherwise look at investing in buying the equipment yourself.
Other items you may need to rent include ladders and scaffolding, especially when painting the exterior of your home or if you have a multi-story home. A nonnegotiable is to purchase a drop cloth to protect your flooring, which you will thank yourself for in the clean up stage.
The optimal time of year to paint your house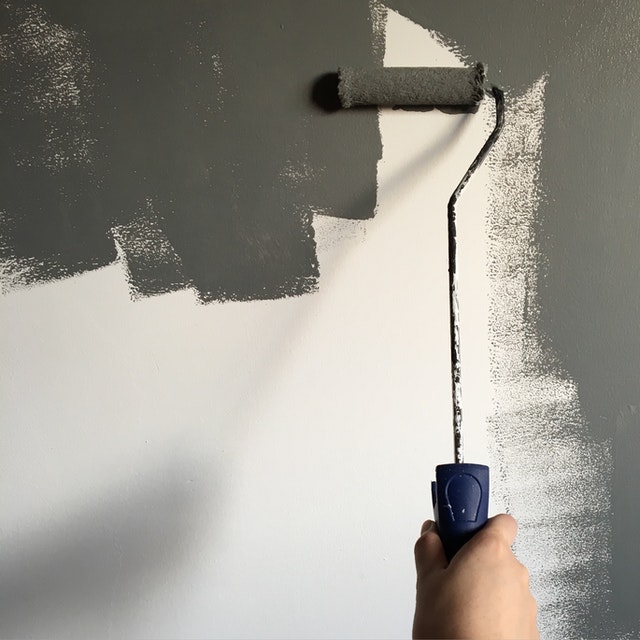 While the summer months are ideal for painting houses, some homeowners cannot wait until the end of summer to get their house painted. During spring or late fall, however, you can start the process earlier. Painting during these seasons can give you the desired effect.
Painting contractors know the ideal time of year to paint your house because the weather conditions are consistently favourable and the temperatures do not fluctuate significantly. The temperature and humidity not only affect the experience of the painting due to being too hot or too cold for the person painting, it also affects the drying time of the primers, paint, and any other coats.
It is still advisable to paint in the spring and fall to avoid these harsh elements, that is why painting contractors are so busy during these months! If you are painting the inside of your house, this is a less weather-dependent situation.
Conclusion 
As you can see in this short article, the cost to paint your house is a critical factor in determining whether you do it yourself or you hire a contractor to do it for you. One thing to note is that hiring someone to do the work for you will save you a lot of time and headaches and will inevitably lead to a superior finish.
By the time you add up the cost of the paint at retail prices, equipment including large items like scaffolding and paint guns, the cost may not vary significantly from hiring a professional. Take these into account when deciding how to go about painting your house.