Below is a list of the top and leading Theatres in Adelaide. To help you find the best theatre located near you in Adelaide, we put together our own list based on this rating points list.
Adelaide's Best Theatres:
The top rated theatres in Adelaide are:
⦁ Adelaide Festival Centre
⦁ Queen's Theatre
⦁ Thebarton Theatre

Adelaide Festival Centre

Adelaide Festival Centre is the heart of the arts in South Australia
Established in 1973, it is Australia's first capital city arts venue and hosts more than one million people annually. As well as presenting theatre, dance, music, and exhibitions, Adelaide Festival Centre creates diverse festivals to inspire, challenge, educate, and entertain. We welcome audiences of all ages, experience, and cultures.
They are committed to supporting and co-presenting some of the world's biggest touring musicals and work hard to ensure the delivery of shows that wouldn't otherwise be seen in South Australia.
They are home to: Adelaide Festival, Adelaide Symphony Orchestra, State Opera of South Australia, Australian Dance Theatre, State Theatre Company South Australia, Windmill Theatre, The Australian Ballet, and Brink.
Products/Services:
Festival Theatre, Dunstan Playhouse, Space Theatre, Her Majesty's Theatre, Banquet Room, John Bishop Room, Quartet Bar, The Star Kitchen and Bar, (A)lure Champagne and Seafood Bar, Malt Shove Tophouse Adelaide
Location:
Address: King William St, Adelaide SA 5000
Phone: (08) 8216 8600
Website: www.adelaidefestivalcentre.com
Reviews:
"Bass ticket line long but quickly through. Given clear instructions for correct door. At door staff efficient and with a smile. Seats wide soft and comfy.. Enjoyed." – Pam Sutton

"
We watched Aladdin from the box seats and thoroughly enjoyed it. Very easily accessible, great location and neat theatre. Props were just unbelievable for Aladdin, just shows you what they're capable of.

" – Jason Dangerfield

Queen's Theatre

Queen's Theatre is remarkable in that about half of the original above-ground structure still exists and there are significant below-ground remains. The theatre holds a special place in the historical development of Adelaide in both the 19th and 20th centuries.
Built by the Solomon brothers, the Queen's Theatre opened with a performance of Shakespeare's Othello on 11 January 1841. Tough times in South Australia led to the theatre being closed in a little over a year, on 28 November 1842.
Used as law courts until 1847, it reopened as the Royal Victoria Theatre in 1850, only to close a year later with the exodus of families from South Australia to the Victorian gold rushes. Following renovations, the Royal Victoria Theatre reopened in 1859 and closed again in 1868 after the Theatre Royal opened in Hindley Street.
For 80 years the site had various owners and uses, from the City Mission to a horse bazaar and sale yards – through to a factory and showrooms. It came under the ownership of the South Australian Asset Management Corporation and then Heritage SA in the 1980s, when a major archaeological excavation revealed the significant below-ground remains and artefacts.
The Queen's Theatre was reopened as a performance venue at the 1996 Adelaide Festival of Arts with the Australian Opera's The Magic Flute. A highlight of the various productions that followed the reroofing and floor resurfacing, was the launch of the 1998 Festival by Robyn Archer.
Products/Services:
Performance Art Theatre
Location:
Address: 30 Wakefield St, Adelaide SA 5000
Phone: (08) 8463 5444
Website: www.queenstheatre.com
Reviews:
"What a nice surprise! Nestled around skyscrapers this tiny little theatre still stands proud. We went there for a SA produce market and it was a great venue. It's great that it has survived and I had no idea it existed." – Joel Fiddler

"There is really great xx" – Willow Rose

Thebarton Theatre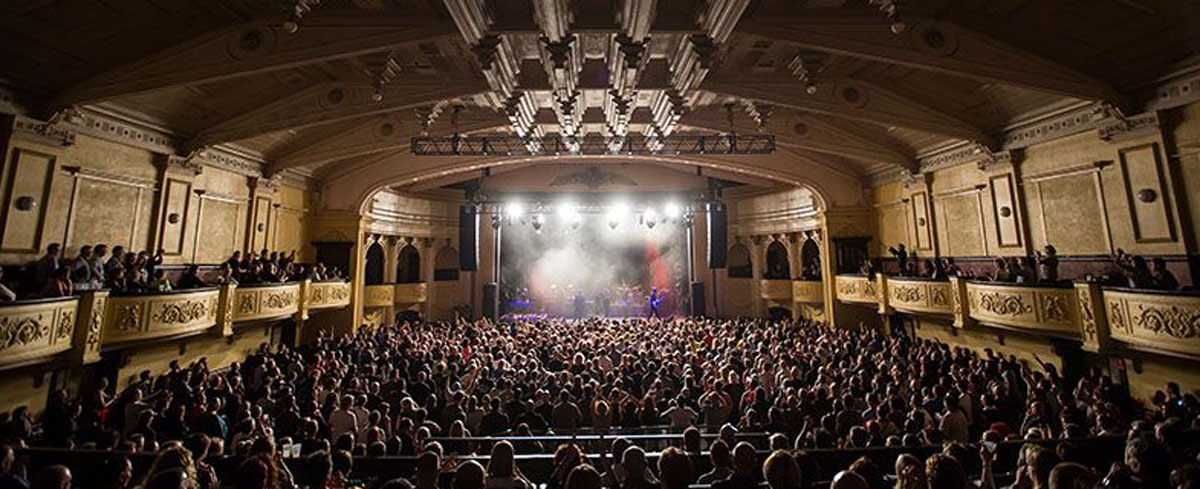 Thebarton Theatre was officially opened on Monday June 11 1928 by Mayor HS Hatwell Esq and at the time was considered the premier venue for concerts, films and theatre performances. Known as the Thebarton Town Hall and Municipal offices the building was built by the Thebarton Council at a cost of £30,000. The opening was a grand occasion with residents satisfied that this was a truly modern building with modern conveniences. It was in fact elaborate and luxurious featuring seating for 2,000 people, a large stage, beautiful proscenium arch and indirect lighting. The theatrical lighting installed in the theatre was regarded as an innovation with "all the colours of the rainbow thrown forth through the protruding cone and rosette ceiling." The hall was fitted with 2,000 lights, with only around 200 visible the remainder used for dissolving and dimming effects. As well as the state of the art lighting there was a full orchestra and a variety of seating arrangements and rooms for use. A large Assembly Room was used for functions and dancing, the administrative building included offices and the Council Chambers as well as the Mayors and Mayoresses rooms. Another room was set aside for the School for Mothers, a precursor to the Mothers and Babies Health Association. The Dress Circle provided spacious seating with the front section boasting luxurious armchairs with room for two people. Ten boxes to the side of the Stalls were also fitted with armchairs to create Balcony seationg on each side of the auditorium. Seating in the stalls was also designed for comfort with specially constructed chairs finished in gold leather.
Products/Services:
Venue Hire, Technical Details, Promoters Form

Location:
Address: 112 Henley Beach Rd, Torrensville SA 5031
Phone: (08) 8443 5255
Website: www.thebartontheatre.com
Reviews:
"

Great smaller venue and comfy seats. We were in a great spot. Would love to see more concerts there." – Barb Mclean



"The best APIA yet, sensational performances by Australia's rock royalty. Top marks to the stage team who kept the variety going with efficient stage changes to suit the performers." – Keith Carter