Decorating a small bedroom can be one of the biggest challenges when it comes to your home decor. For most people, decorating a small bedroom comes with the balance of both style and functionality, with the aim of creating a well-designed and beautiful space that is free from clutter and distractions. With that being said, small bedrooms usually require some careful consideration when it comes to creating a successful home space. 
The right decorating style can turn a small cramped space into the ultimate relaxing retreat, with practical storage solutions and stylish decor schemes. Even the smallest of bedrooms has the ability to turn into a stylish bedroom. There are many different tips and tricks that you can use to free up space and, with the right choices, you can incorporate useful storage solutions and functional areas into your bedroom design. 
With small bedrooms, careful planning and a dash of inspiration are all that's needed when it comes to maximising the potential of the space. With that in mind, let's take a look at some small bedroom decor ideas for you to fall in love with. 
Rethink the layout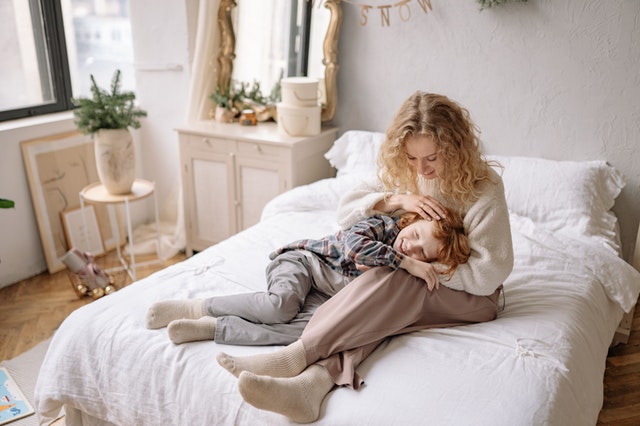 With small bedrooms, they will always benefit from a rethink of the layout. In so many small bedrooms, the focus is often on fitting as much practical furniture into the space as possible, but this just makes the room feel cramped and non-functional. So, take a step back and rethink. Position the furniture in a way that makes the room feel less overwhelming and cluttered and, instead, opens up the room to make it feel light and spacious.
You should also consider minimising the amount of furniture needed in a small bedroom. For example, if you use a set of drawers for storage, why not consider getting an ottoman bed with storage underneath? This can be easily arranged to suit your needs, plus it frees up the space that the drawers would have taken up! 
Build storage around the bed
One of the most effective ways to get the most out of a small bedroom is to invest in bespoke furniture that is fitted around the bed. Building wardrobes or shelving on either side of your bed helps to reframe a small bedroom, plus makes the most out of usually wasted space. This also allows the remaining wall space to be kept free of any large furniture pieces and obstructions that might be taking up valuable space. 
Once you've freed up some space, look to add mirrors or artwork to the other walls instead to give the illusion of the room being bigger and more spacious. When it comes to using the space around your bed for integrated storage and furniture, it's important to be mindful of not making the room feel claustrophobic with too much going on in the immediate space around the bed, plus the wrong colour and material choice can make the decor feel dated. 
To avoid this, look to paint the furniture or storage in the same colour as your walls so that it blends in seamlessly with the rest of your decor, giving the illusion of more space, or instead paint in white or light colours instead to create an appearance of light. 
Create a snug space
With small bedrooms, a lot of people focus on trying to open the room up and make it appear more light and airy. Whilst this is a good idea, you could always go the opposite way, too and look to make it into the ultimate snug and cosy room. If you have children or teenagers who like their own space and are in the box room, then this is perfect for creating somewhere where they can just relax and unwind. 
Focus on the bed space and making this and the decor as welcoming and comforting as possible. In terms of colour schemes, a nice deep blue or forest green can create feelings of calm, ideal for teenagers, which can be added to with soft furnishing choices and additions such as fairy lights, artwork and plants. For the bed, invest in comfy bedding and plush duvet cover sets, pillows and blankets to create the ultimate cosy space that they can just spend time in relaxing, whether it be watching a film or reading a book! 
Use clever decorating tricks to give an illusion of space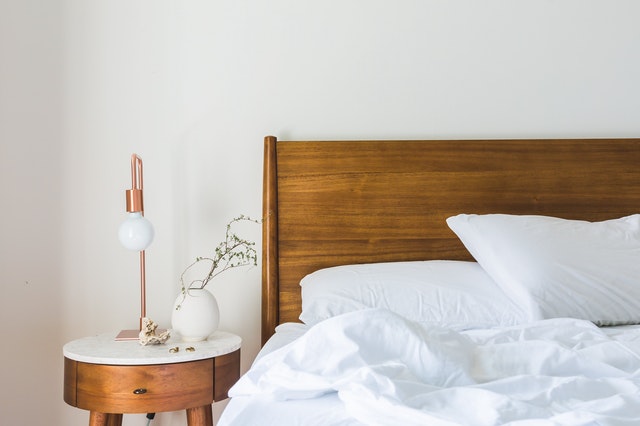 Paint is a wonderful solution for solving so many decorating and decor complaints. A splash of colour can instantly brighten and invigorate a bedroom space, which can make it feel more inviting and welcoming. Not only this, but it can be used in really clever ways to help combat wider aesthetic complaints, such as making small bedrooms feel more spacious. 
One way that you can do this is by using different paint colour combinations to create a border on the walls around the bedroom. This optical illusion creates a perspective for the walls and, by using a different combination of light, pastel and dark colours, you help to lengthen the walls and create the appearance of more space. 
Consider your furniture choices
If your small bedroom is used more as an office space or sleeping accommodation for visiting guests, then it's likely that the furniture choices you have in the room currently just aren't functional or right for the space. If not being used all the time, then many small bedrooms fall victim to being filled with furniture that is too big or simply not right for the function of the room. If your small bedroom is an office/guest bedroom hybrid, then the ultimate solution for this is a sofa bed. 
In terms of style and comfort, sofa beds have come on leaps and bounds in recent years and they can look amazingly stylish when they are both a sofa and a bed. There are many different varieties of sofa styles available to fit in with your small bedroom decor and, with the addition of soft furnishings, can be perfectly styled to suit your decor theme. You'll find that your small bedroom is instantly transformed if you choose to use a sofa bed instead of the classic bed and becomes much more functional.