This is how to make your small flat feel comfortable, roomy and livable
It can be a real challenge to decorate small spaces. If you aren't careful, you can overwhelm a small interior space with too many furnishings, making it look cluttered and unwelcoming. On the other hand, if you don't include all the essential furnishings in the space, you'll suffer for lack of functionality. The following are some ideas for maximising your small space to make it comfortable, functional and liveable:
1. Invest in furnishings that serve more than one function
When you live in a small space, it's ideal if you can find multipurpose furniture to include in your interior design scheme. Try incorporating any of the following sorts of furniture pieces into your décor to maximise the utility you get from every square centimetre of interior space:
Consider getting a sofa bed that seamlessly changes from sofa to bed and back again depending on your needs.
Take a look at secretary style desks. These can serve as both bookshelf and desk, eliminating the need for two separate pieces of furniture. Some secretary desks can also include file cabinets in their drawers. Assuming you don't have massive numbers of papers to file, this means that you can also dispense with maintaining a separate filing cabinet to keep your papers tidy and organised.
Check out ottomans that have extra storage space inside them. You can use the space inside these for storing infrequently-used items like your fancy tablecloths, extra blankets, card games or Christmas decorations. An extra bonus: Some of these ottomans, if placed carefully in your decorating scheme, can also double as end tables, too.
If you want to have a kitchen table or dining room table in your space, consider buying one that has drawers included in it. You could store a variety of items in the drawers such as placemats, cloth napkins or your serving utensils.
If you have children, consider furnishing their bedrooms with space-saving loft beds. You can find loft beds that also include dresser drawer space or a desk area underneath the bed. This would be a convenient way to maximise the living space available in a small bedroom – and it's an especially useful idea if you have two children sharing a small bedroom space.
Check out the new sofas and tables that each also include a charging station. These eliminate clutter and increase functionality in your living space.
2. Make sure the scale of the furniture suits the room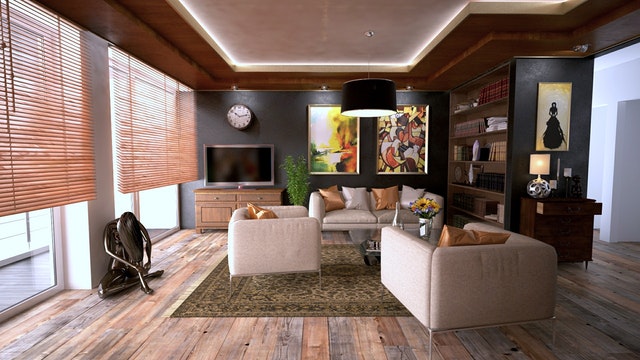 In a small-scale room, you absolutely want to avoid having gigantic furniture that will dominate the space. Instead, choose scaled-down, simple furniture pieces with slimmer silhouettes.
3. Install built-in storage
You can build storage structures right into your closets, pantries, kitchens and bedrooms. To start with, consider the spots where you would ideally like to have more storage space available to use. Then give some consideration how you would like your storage space to integrate into the existing space. A few possibilities: You could create built-in cabinets, storage benches or shelving units.
4. Take advantage of wall space
While it would be a mistake to clutter your walls with too many furnishings, it would also be a mistake to leave them totally bare. You can make the most of your living space by hanging a few well-considered items on your walls. You might want to try hanging wall shelves, mirrors, coat hooks, keychain organisers, wine bottle racks or other similar items on your walls. You might also want to consider a wall caddy organiser for storing things like recently received mail, remote controls or pens and other writing instruments.
5. Tidy up frequently
In a small space, even a few things that are left out of place can start making the environment look cramped and cluttered. For that reason, it's important to put things away soon after using them. It's also helpful to pay attention to the old adage: "Have a place for everything, and keep everything in its place".
6. Get one or more pantry organisers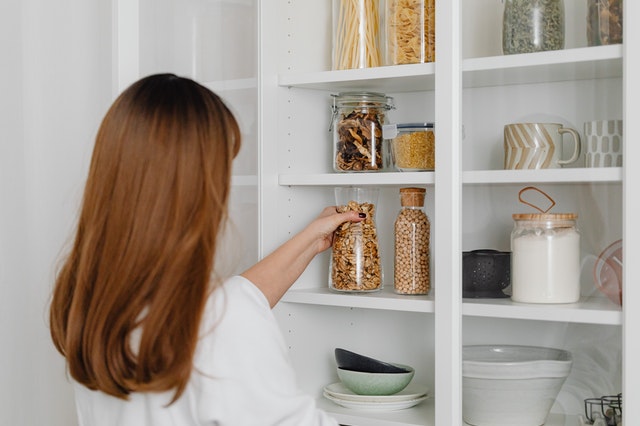 There are bunches of pantry organisers that are available for helping you to store and organise your food, beverages, pet food and other essentials at home.
If you typically have heaps of condiment bottles hanging about on your table, you might want to consider getting a lazy Susan to use for keeping them accessible and organised. There are also storage bins meant for keeping cans together in one spot. You could also grab some tiered shelving units for your cupboards; these would enable you to easily make use of the voids in your cabinets instead of having them empty.
7. Use back-of-door organisers
In many homes, the space around doors is unused. However, you could easily make use of the space by installing back-of-door organisers. There are over-the-door shoe organisers to install on closet doors, and there are also caddy-style over-the-door organisers you could use in your linen closet. Any interior closet door in your home could be used for hanging an organiser on.
8. Invest in inner drawer organisers
If your kitchen counters are cluttered with utensils, cutlery and various other sundries, it's a good time to consider implementing a new system for improving the room's organisation. One of the most popular systems for doing this is the humble drawer organiser. While it's low-tech and unglamorous, the drawer organiser still works surprisingly well.
If your place feels unbearably small, cramped and uncomfortable, the above-mentioned tips could potentially all help you to lose that too-small feeling. Each of these tips used on its own can help to create a more comfortable, appealing environment – and if you implement more than one of them, you're even more likely to appreciate the differences. If these tips are put into practice carefully, it is also quite likely that they will help your home to appear larger and more beautiful.