Below is a list of the top and leading Personal Trainers in Adelaide. To help you find the best personal trainer located near you in Adelaide, we put together our own list based on this rating points list.
Adelaide's Best Personal Trainers:
The top rated personal trainers in Adelaide are:
⦁ iNform Health & Fitness Solutions
⦁ Adelaide Personal Trainers
⦁ Life Personal Trainers

iNform Health & Fitness Solutions
https://www.instagram.com/p/BtALfLsD-aA/
iNform's origin story goes back to the first days of the millenium when good friends and academic colleagues, Max and Nathan, used to share an office at the University of South Australia. As they looked towards their future and possible careers they had an unshakeable feeling that they wanted to create an innovative and attractive way to provide health and fitness services to their community.
They set out to outline a business and place of work that they would want to go to every day. Their key foundational offerings to their clients were to be information that is easily understandable and applicable; and an exercise system that was based on quality evidence, and aimed to improve the quality of life of those they were lucky enough to help.
Products/Services:
Exercise Physiology, Personal Training, Health Coaching, Group Classes
Location:
Address: Kensington Rd, Norwood SA 5067
Phone: (08) 8431 2111
Website: www.informhealth.com
Reviews:
"
The staff are knowledgable, passionate and fun to work with. Perfect for overcoming injuries, reaching fitness goals, or just maintaining your physical health. Highly recommend!

" – Isabel Michelle

"
The staff are knowledgeable, fun and dedicateddedicated. Exercising with their guidance is easy and actually enjoyable.
" – Tim Wissman
Adelaide Personal Trainers

https://www.facebook.com/adelaidepersonaltrainers/photos/p.10161486624550637/10161486624550637/?type=1&theater
Adelaide Personal Trainers is a personal training and fitness business that is all about finding you the right personal trainer to get results in the fastest time possible.
It is their experience from working with their own clients and through years of observation while training amongst other trainers, that not all personal trainers are going to be suitable for all clients and personality types.
While every good trainer should be able to accommodate a wide variety of training styles, someone who has a more specific goal or training regime will need a trainer with more experience in that area. A good example is a runner or someone training for a marathon whether it be a half or full-marathon. That client should be matched with a trainer who has years of personal experience in that area, and as they also have a genuine interest in that field will more likely be a good match to their particular needs.
As trainers themselves, they know exactly what to look for when searching for potential trainers.
Products/Services:
Personal Trainers, Nutrition
Location:
Address: 69-71 Melbourne St, North Adelaide SA 5006
Phone: (08) 8378 1379
Website: www.adelaidepersonaltrainers.com.au
Reviews:
"
Clayton was able to give me a variety in my exercises tailoring each session to circuits that I can easily replicate at home and that suited my busy schedule with kids. My strength and fitness have definitely improved over a short period of time." – Shadi Ibrahim
"
I would highly recommend Clayton to anyone looking for a professional, friendly personal trainer in Adelaide. We train as a family group which means we all have different goals. Clayton understands each of our goals perfectly; from my teenage son who wants a challenge to myself who wants to workout but not to the point of exhaustion. Clayton is a wealth of information and our sessions are always interesting, balanced and fun.
" – Michelle Cullen
Life Personal Trainers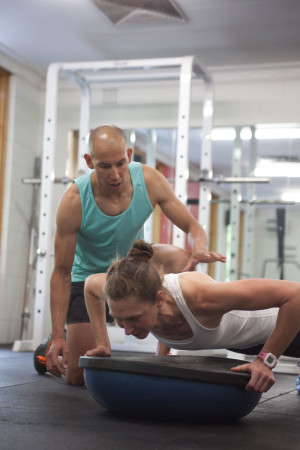 Life Personal Trainers was founded by Kristin and Tanya Lewis in 2001.
Kristin is the Managing Director of Life PT and has previously been a national level road cyclist, captain of Norwood Cycling club, board member of Recreation SA and member of the Fitness Australia Business Council. After many years in the fitness industry, Kristin is still as passionate as ever about sharing the benefits of exercise with others. To see how Kristin 'walk's the talk', see the Life Personal Trainers Strava account at the base of this page.
Tanya is a personal trainer, dietitian and sports dietitian, former board member of Sports Dietitian Australia and Sports Medicine Australia (SA) and now divides her time between business commitments and her young family.
Products/Services:
Personal Training, Dietary Consulting, Pre/Post Natal & Core Health, Active Kids & Teenagers, Corporate Services

Location:
Address: 1/224 Hutt St, Adelaide SA 5000
Phone: (08) 8227 0722
Website: www.lifept.com.au
Reviews:
"With out doubt the most professional group of personal trainers you will find in Adelaide. Highly recommend the team at Life." – Cindy Koehler