The real estate business is all about people. Sure, we're spending our time buying, selling and renting homes. But at the core, it's really about the people. There are the folks who are buying their dream home, selling their houses, renting out their investments, and moving into their new property.
And then there's your team of salespeople and property managers, your most important assets. Which is why outsourcing can seem like a scary proposition for a lot of real estate business owners.
But outsourcing can have enormous benefits for your business and for your team.
Become more agile
Let's face it, real estate is not known for being the most adaptable business. But in a time of increased costs and lower profit margins, that has to change.
The number one thing everyone knows about outsourcing is that it's cheap. What that translates to in real life is that there's no barrier to hiring staff. If there are roles that you'd like to try out but thought you couldn't afford, outsourcing is the answer.
For a small investment, you can finally test if certain roles and tasks will be beneficial for your business. That could be taking on someone fulltime to handle your social media in a cohesive way, or managing SEO to boost your site's ranking. You can even relieve the admin burden on your internal team by taking on a real estate virtual assistant.
Basically, you can try out new ideas, discard the ones that don't work and keep the ones that boost your biz.
Accelerate your profit
At the end of the day, you're a business owner. And that means you want to see a nice healthy profit at the end of each month.
You're probably thinking, how can taking on more staff increase your profit? First off, you'll be reducing your internal expenses by moving low-value tasks offshore. Secondly, you'll reduce your overheads by not having to pay for things like computers and desk space. Thirdly, you'll have a local team that is able to focus on generating leads. And that translates to more money coming in.
Yes, building real estate outsourcing into your plan is an investment and needs time, resources and cash. But as a business owner, you'll be able to look at the return on that investment over time and see it increase. Small investment, bigger profits, boom.
Boost your local team's productivity
Your sales staff are spending a lot of time sitting at their desks replying to emails when they could be out meeting with potential sellers. What an absolute waste of their talents.
Outsourcing is about more than taking on new roles like social media and marketing. Real estate VAs help your local staff by looking after low-value but essential tasks like emails and scheduling, drawing up contracts, and filing documents. These are tasks that are cutting into your staff's valuable time. It's not what you're paying them for. Taking on offshore team members will help boost your local team's productivity, giving them the time to focus on what they're good at – selling homes, managing landlords, talking with people. Basically, bringing in the cash.
Create a real estate utopia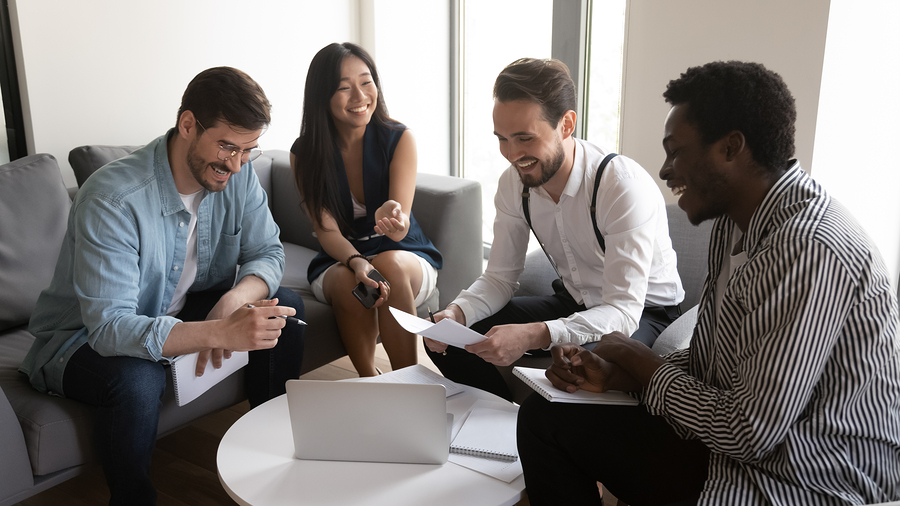 Once you take the burden of these tedious tasks off your staff, not only will they be more productive, but they will be happier. We all want happy staff.
Your team will be left doing the things that they love to do. You will have created a real estate utopia.
I love having a happy office. Staff who feel valued get more done, they enjoy their work, and they will stay with you longer term. They won't feel like they're stuck doing menial tasks. It's not what they signed up for.
People who love listing will be out there listing, not doing paperwork. Property managers will be doing what they enjoy doing, talking to owners and helping landlords manage their property. They can actually resolve issues quickly rather than being bogged down in lease renewals and tenant emails.
There are probably tasks in your office that everyone hates doing. Imagine if they got done without any complaints? You can stop chasing down outstanding reports or missed deadlines. Happy staff, happy you.
Improve your customer service
Word of mouth is critical in the real estate industry. That means you have to be offering the best customer service. It's easy for buyers and sellers to think that all real estate agents are the same. Stand out from the crowd by having proven excellent customer service.
Having offshore staff dedicated to your team means that emails are answered immediately. Not in two or three days, but right away. Facebook messages and reviews are responded to quickly, appointments scheduled when the customer is still online, plumbers are booked in a matter of moments, complaints and issues are dealt with swiftly.
Why be just another real estate business that's all talk? People want immediate customer service. They want you to be online when they are. Often, that's out of hours or when your staff are busy. Outsourcing means all of your leads and potential customers are given VIP treatment right from the start.
Accelerate your advertising
We real estate folk love making beautiful ads. Whether it's good old fashioned print and paper, sales boards, market listings or our own website, the more gorgeous the better.
But making those assets isn't cheap. Sometimes it's easier to skimp rather than splash out on quality design, especially in the rental department. But come on, you don't want to make something that looks like you did it in Word.
With outsourced graphics pros, you can have all the fabulous artwork that your brand deserves. Take the guesswork out and tailor each ad to its specific medium – print, online, and social media.
The fact is, outsourced staff are highly educated professional people. They have degrees in marketing, computer science, graphic design and other relevant backgrounds. Low cost doesn't mean low quality.
There are even more benefits than I've listed here. So stop hesitating and start looking into outsourcing right now.