O'Sullivan Legal is a highly successful law firm operated by chief practitioner Ben O'Sullivan. Ben is a veteran of the family law system and started his firm shortly after practising at a leading Sydney law firm.
Website: www.osullivanlegal.com.au
Address: Suite 15, Level 2/123 Clarence St, Sydney NSW 2000
Ben is an expert when it comes to family law and he combines this expertise with his strong understanding of personal finance which is aided by his degree in commerce and retail industry background. His expertise has been recognised several times in publications like the Sydney Morning Herald in which he has been relied upon to break down complicated family law issues.
Ben's combined family law and personal finance expertise makes him a highly sought after family lawyer, especially for divorcing couples where there are a lot of assets at stake. If someone fears their partner is hiding assets from them, Ben is able to figure this out and help them get what they deserve.
Divorce is notoriously complicated, especially when there are children involved. The process can be even more confusing when property settlement and child custody become intertwined.
This is why it's so important to have a talented family lawyer on your side so that they can help you to understand your situation and identify an ideal solution. Unless you are a lawyer yourself, you will need the help of an expert like Ben O'Sullivan to navigate this difficult legal situation.
Many parents going through a divorce have a misunderstanding about the nature of the law and how issues are handled. For example, child custody isn't about allowing 'fair' time between both parents – it's about ensuring the best interests of the child.
Also (mainly because of American pop culture), many people believe that the division of marital assets is always a 50/50 split. This idea of a numerically even split is neither the starting point nor the ultimate objective of the legal system.
Several different factors are taken into consideration when deciding on what a fair division of assets would be. Such factors include custody of children and the ability of the parent to earn an income.
Because of the obvious complexity of family law, it's clear that it's really important to have a talented representative on your side that will be able to explain everything to you in plain English. Ben O'Sullivan is able to do this for you, as he has made clear in his various TV and print appearances.
Ben is also able to offer assistance with cases that are even more complicated than just asset division and child custody – such as when there is domestic violence. O'Sullivan Legal is able to ensure that both you and any children are completely taken care of at every stage of the process.
O'Sullivan Legal Reviews:
Google Reviews: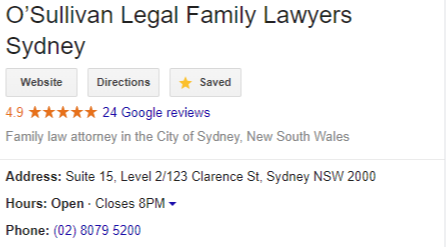 "Highly recommend them. Ben handled my divorce with good outcome. He helped with custody of my son. Ben is thoughtful and efficient and got on board quickly. Defiantly 5/5"
"I know now Ben was also good value for my money by keeping his time spent on me to the minimum to achieve the legal goal and every minute accounted for."
"This is the best family law firm in the town. They are very helpful and handle all cases in a professional way."
"Ben deals with family law matters day in day out and as a result, he is up to date with family legal news and changes. This is important because the other side may not be well versed in family law."
True Local Reviews: