Kennards Hire
Kennards Hire are known within the industry as being one of the most respected and reputable companies and have worked in accordance with  The Hire and Rental Association(HRIA). Kennards Hire has won HRIA Hire Company of the year on numerous occasions, including in 2001, 2008 and 2014. Furthermore, they are a lifetime member of the Australian Hire and Rental Association.
Kennards Hire focus on putting their customers' needs first and strive to make the hiring process as simple as possible. However, this isn't the only thing that sets them apart from the competition; they are known for their innovation and for being involved in many industry firsts.
As with any company, growth is important and this growth requires new ideas and technology. Baseplan software is a fully integrated business management tool specifically designed for the hire and rental industries. This system allows branch managers to get access to all the information they need and therefore creates a more organised and structured business. This means that employees are better informed and will be able to give customers more accurate information.
Kennards Hire were also leaders in the industry with the use of QR codes; they introduced the technology in 2013. The use of QR codes allows customers to scan the equipment tag and view information such as:
Service history
Certification
Operating manual
Safety checks
Users guide
Furthermore, the company were the first to introduce a live hire website to Australian and New Zealand customers. This means that customers can live hire through the website and the equipment will be available to be collected from the chosen location, or delivered to a chosen address.
Regardless of how big or small your project is, making use of a hiring company could be the best option for you. Instead of wasting money and resources buying the equipment you need, consider hiring it for only the amount of time you require it.
When you hire through a trusted company, you can feel confident knowing that you will receive the best customer service and will only be offered the highest quality products on the market.
Everything you need to know about equipment hiring companies:
Whenever you undertake a project, regardless of how big or small, it is important to ensure that you have the correct equipment. Having the right tools for the job not only makes the process much easier, but will also mean that you will be left with a higher quality result.
However, oftentimes, people don't own the necessary items to complete their desired task. This is especially true if you are completing a DIY project at home, or are completing a job that you would not usually do. In this situation, you have three options: use what you have, go out and buy the items you need, or hire the tools.
It should come as no surprise that using the tools you have is not the best option as it will make it much harder or impossible to complete the task. However, buying the tools is costly, especially if you know you will only use them once. This is why hiring equipment from a reputable company like Kennards Hire is often the most cost effective, easy and accessible option.
What is an equipment hire company?
Equipment hire is a service industry that provides machinery, tools and equipment. It is possible to rent any product, regardless of how big or small from large vehicles to hand held tools.  Essentially, these companies make it easy to borrow tools for a set period of time.
What are the benefits of hiring tools?
Hiring tools can be beneficial to almost anyone, from those who are doing a small DIY project at home, to professional tradespeople working on small to medium size projects, to those running large construction sites. Regardless of the size or scale of your project, it is possible to hire the equipment for it.
Some people may argue that buying the desired tools is the better option. But hiring has many advantages. The benefits of hiring tools instead of buying them include:
It will save you money. If you know that you are only going to use the tools for one particular job, hiring is the better option. It is far cheaper to hire the tools than it is to buy them. The investment of buying the tools is only worth it if you know you will get lots of use out of them.
It saves you space. It's no secret that tools and equipment take up large amounts of space. If you hire the items, this will not be your concern, you will have the freedom to use them and return them meaning you don't need to find ways of storing them.
There are no repair and maintenance costs. When you own something, all the responsibility is on you, this means that as it wears over time, you will have to replace parts and ensure that it is in good working order. When you hire tools, this is not your concern; you use the tool for as long as you hire it for and then hand it back to the hiring company. This will end up saving you money in the long run.
It gives you access to the newest equipment. Tools are updated all the time and each time a new model comes out, it makes the job much easier and is more efficient. But it is impossible to always have access to the newest model; unless you decide to hire. It is a hiring company's job to ensure that they have up to date tools, which means you don't need to struggle with old or run down tools when you can instead get access to newer models.
It allows you to try the tools before you buy them. If you are a tradesperson and are looking at buying a certain tool, it is important to know exactly which one you want before purchasing. Hiring the tools beforehand will give you the opportunity to try before you buy.
Get advice from staff members. Sometimes it can be hard to work out what tool is the best for the job, this is why staff members at hiring companies are experienced and knowledgeable. Instead of guessing, allow the specialists to help you choose the best tools for the job.
What can I hire?
The point of a hiring company is that they can provide you with the necessary tools to complete the task you have planned. Therefore, it is possible to hire almost any type of tool or machinery that you need.  Some of the most common items to hire are:
Cleaning and floor care
Heating, ventilation and cooling
Ladders and scaffolding
Landscaping
Lighting
Safety
Tools
Site equipment
Traffic management
Trailers and vehicles
Earthmoving
Concrete equipment
Lifting and materials handling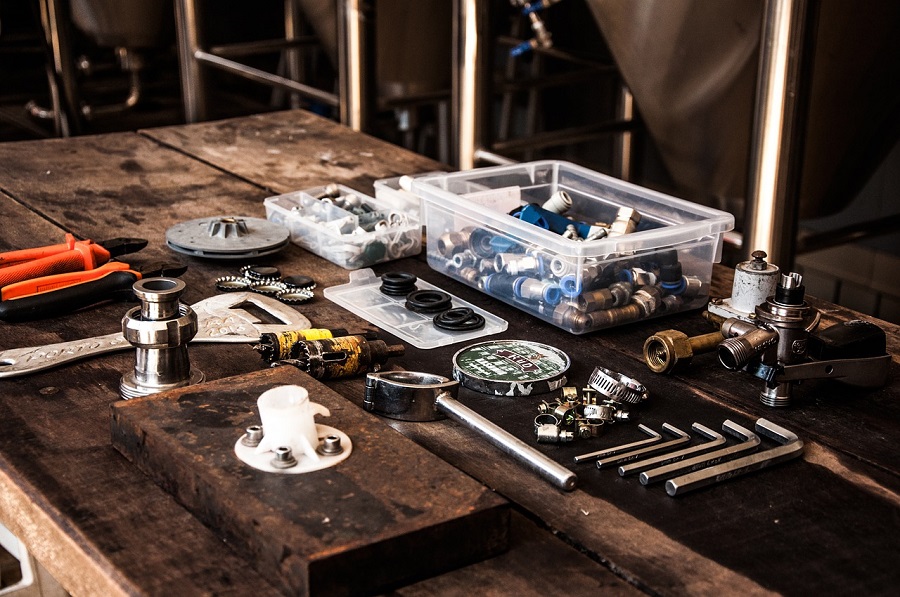 Who can hire equipment?
One of the main things to remember about hiring tools is that it is a service that's available to everyone. Regardless if you are a first time DIY-er, an experienced tradesperson or builder running a construction site, this service can be useful for you.
It is important to remember that this service is not exclusive to professionals and can in fact be used by anyone in need of tools. If you are unsure about what items you may need, don't hesitate to ask advice from the experts! Staff members that work at hiring companies are specialists and will be able to direct you to the most suitable piece of equipment for your project.
How do hiring companies work?
The system of hiring tools is relatively simple, suppliers provide companies such as Kennards Hire with their products which are in turn hired out to members of the public. This system benefits everyone as suppliers can showcase their newest products and people in need of tools and machinery have access to the most up to date technology.
If you need access to certain tools, a hiring company may be the best option for you. It is incredibly easy to get access to these products through the use of a hiring company. All you need to do is visit a branch or go online to book whatever items you need. You will then be able to choose how long you have the item for and if you would like it delivered to you or if you can pick it up.
The aim is to make equipment as readily available to everyone as possible.
Where can I hire from?
While there are several hiring companies across Australia, Kennards Hire is one of the top in the industry. In fact, Kennards Hire is Australia's number one supplier of high quality hire equipment.
Kennards Hire has over 170 branches across Australia and New Zealand meaning there is bound to be a branch close to you. Furthermore, they also offer an online platform that allows customers to order the items they need without even leaving the house.