Humans and dogs have been friends since around 15,000 years ago as believed based on 1914-archeological find the Bonn-Oberkassel dog in Germany. This was the first discovered proof that dogs were to humans more than just materialistically useful, but also companions. Today, this bond is much stronger and dogs are regarded as family members. 
So it's no wonder that many owners are co-sleeping with dogs, but is it a pawsitive or a negative habit? 
Let's start with the pros:
You will feel protected
Dogs are excellent companions and will chase away the loneliness which often leaves us vulnerable. Sleeping with a dog brings an extra level of protection that will make you feel safe and sheltered. This will help you sleep better and be more rested during the day, especially if you live alone. A survey at the Mayo Clinic found that a greater number of dog owners saw sleeping with their pet as an advantage.  
You get more snuggles with your partner
If your dog crowds the bed, that means you will be snuggling more with your partner. This will bring more intimacy to the relationship and bring you closer together. Cuddling gives people a sense of nurture and comfort, so sleeping with your dog may help your relationship more than you are aware of. 
They keep you warm
No matter how good a cover you have, you can still lose it at night especially if you are a restless sleeper. This can be pretty uncomfortable, especially in the winter or with air conditioning on since the lower back and your stomach are especially sensitive to the cold. It's a good thing that these are the favorite spots for dogs to snuggle by you, so you will always feel warmer when sleeping with your pooch.
Wake up with kisses
Is there anything better than waking up with kisses and a happy-to-see-you attitude every morning? With dogs, this is a normal routine and you will start your day with smiles. Since dogs are the creatures of habit, they will know when to snuggle based on your alarm tone or sounds you make when waking up. This will surely give you high oxytocin levels early on and boost your mood, energy levels, and productivity for the day.   
They improve your sleep
If you suffer from anxiety, depression or have problems to fall asleep, dogs will make it all better. You will feel safer and calmer which will improve your quality of sleep. Otherwise, since dogs sleep well on and off the bed, it's all about whether you feel better if you have them close to you.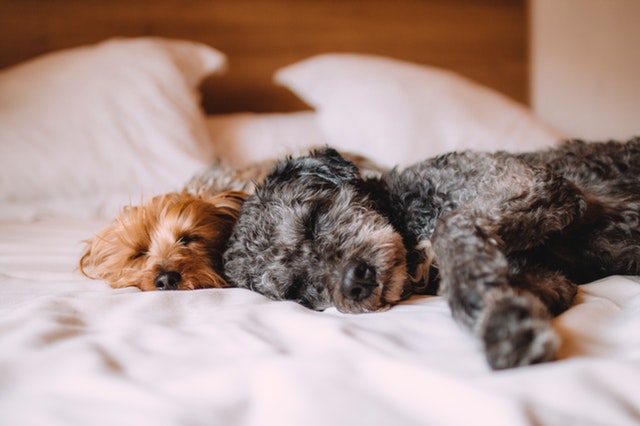 Unfortunately, there are reasonable cons
Their fur could carry allergens
During the day, your pooch's fur picks up allergens, dust, and dirt. So people suffering from asthma, allergies and compromised immune system shouldn't allow their pets in bed. To limit the exposure, you can comb them thoroughly every time you come back from the walk and bathe them more frequently with an appropriate shampoo.
Their hair gets on the bedding
Even the breeds that are advertised to not shed their fur, also leave some hair behind. Those that leave a considerable amount of hair will do so all over the furniture, your clothes, and the bedding. To avoid this, not only should your dog not sleep with you but also keep them off chairs and sofas. There is a pawsitive thing in all this – your house will always look great since you will declutter regularly and keep it tidy. 
They crowd the bed
If you have a smaller bed or share it with your partner, having a dog sleep with you may limit your space. This is especially important if you have a large dog who can take over the whole bed, leaving you cramped up. So start training your dog to sleep their own bed the moment you bring them home, to avoid such problems. 
It can be too hot to sleep
Dogs like to snuggle close to you when they sleep since you are their pack member. And since they have normal body temperature higher than human, it can be too hot to sleep. If you feel guilty for not allowing your pooch to sleep with you, get them one of the orthopedic dog beds which are extra comfortable. Some models will keep them all snuggled up and be their cozy soothing escape. 
They tend to snore 
Dogs tend to snore and if you are a light sleeper, this can be troublesome. Unlike humans, you can't tell them to turn to their side or use various means to prevent snoring. So, the best solution for both of you is to sleep separately and snuggle in the morning when they wake you up for walks. 
Final thoughts
Co-sleeping with dogs is something every pet owner should consider even before they bring their furry companion home. Whether it is a pawsitive or negative habits depends entirely on you and the way it makes you feel. Just know, your dog will feel comfortable in their bed if you train them to sleep their early on.