Instagram is making solid efforts toward improving their service to combat cyberbullying.
The social networking platform has been criticized for failing to provide measures that address online bullying. On Monday, it has launched new features to deal with the problem.
Instagram, a Facebook-owned app, announced that it was testing out the new features back in April during the F8 developer conference. Now it has officially released its AI automated feature that encourages users to think twice before posting an offensive comment.
How you may ask? An example is when a user types out "You are so ugly and stupid," the user will be notified and asked, "Are you sure you want to post this?" See the screenshot from Instagram below: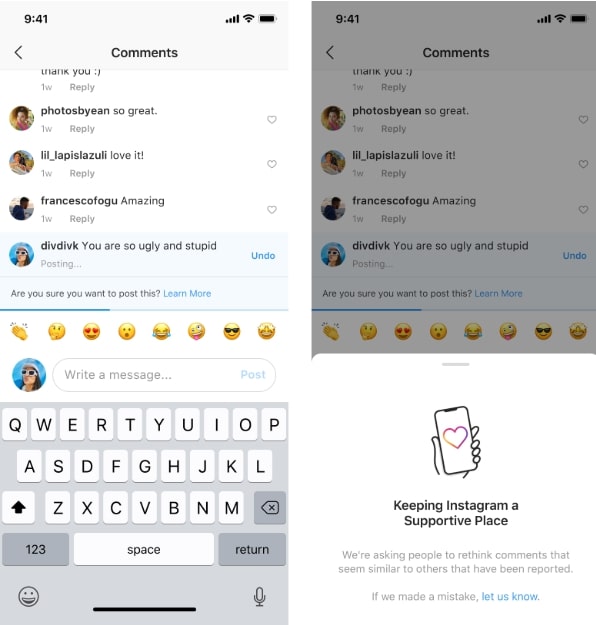 The release of the latest feature was announced last Monday on Instagram's blog and promoted through Instagram's official Twitter account. See the Tweet below:
Updates from the head of Instagram @mosseri about our commitment to lead the fight against online bullying ❤️ https://t.co/Co2rgsuJvt pic.twitter.com/tlngJftizT

— Instagram (@instagram) July 8, 2019
In the blog post, the CEO of Instagram, Adam Mosseri, wrote:
"We are committed to leading the industry in the fight against online bullying, and we are rethinking the whole experience of Instagram to meet that commitment."
"We can do more to prevent bullying from happening on Instagram, and we can do more to empower the targets of bullying to stand up for themselves," Mosseri added.
Mosseri claims that initial tests of the new AI feature prompted some users to change their comments before posting them.
Another tool that the company is currently testing out inline with their anti-bullying efforts is called "Restrict". This prevents you and others from seeing comments posted by bullies without them getting notified that their comments are restricted. The tool also keeps bullis from being notified if you've read direct messages from them or when you're currently active on the app.
Mosseri says of the new tools, "These tools are grounded in a deep understanding of how people bully each other and how they respond to bullying on Instagram, but they're only two steps on a longer path."