Ever since the introduction of television and satellite channels, the need for video entertainment has always been increasing. It has evolved from one form to another over the decades. In the Internet era, the latest manifestation of video entertainment is OTT video. Video-on-demand has capitalized on the rich media experience of today's mobile devices, the blazing Internet speeds, and the steady availability of good quality video content.
Much like television, even these video-on-demand mobile apps give people a much-needed break from their hectic work and strenuous lifestyle. OTT has grown well outside the confines of being an entertainment medium, and it presents itself as a lifestyle app and has an amazing business opportunity with the possibility of learning humongous profits.
The Global Market… Of The Present & The Future
Statista has predicted that the global market for OTT video streaming will breach the $171 billion mark by the end of 2021. It is expected to grow at a staggering CAGR of 10% in the next four years and the extrapolation would mean that the market would be worth about $250 billion by 2025.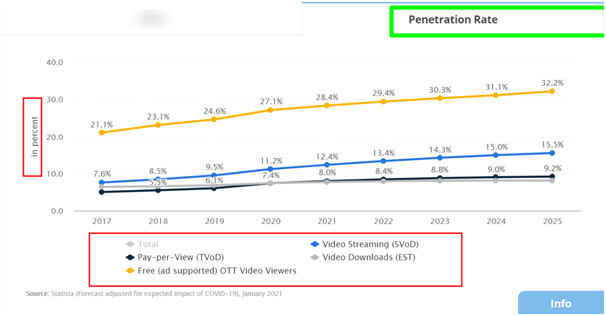 Factors like the demand for quality entertainment at any place and the growing smartphone penetration are expected to positively contribute to this huge market potential. In addition, consumers have also become global in terms of their watching habits: shows that were once thought to be capable of doing good business only in the United States garnered a huge fan following in India if the content was good!
The Different Business/Revenue Models
OTT is far from being monotonous. The diversity not only lies in terms of the content but also in terms of the business models available for monetization.
Perhaps the most prominent business model that most OTT platforms use is the subscription model. The subscription video on demand (SVOD) is probably the best business model you can choose if you have a huge repository of content that is loaded and ready to stream. This is one of the reasons why big names in the market like Netflix, Hulu, and Disney+ use this revenue model. As you may have inferred from the name, the customer is expected to pay a monthly or an annual subscription fee to access your content. In most cases, the subscription entitles the customer to all the contents available on the platform.
The next business model is the transactional video on demand (TVOD) model. This business model is quite similar to how video rentals used to work before the Internet error but in the digital space! With this business model, your customers can purchase video content for watching for a specific stretch of time. Some SVOD businesses have augmented their offerings with TVOD content, so they can sell some premium content for an additional price!
Although this business model might not completely fall into the OTT category, the live pay-per-view is slowly catching up. You can charge your customers a one-time fee for exclusive live events. The event could be either a question and answer session with the cast and crew or even a concert by an elite band. Just like TVOD models, some SVOD platforms sell interactive premium content using this model.
The Preparatory Steps
Considering the diversity and the sheer market size of the video on demand, it is only natural that an aspiring entrepreneur wants to capitalize on this space. However, before embarking on your OTT journey, there are a few important pointers that you need to take note of.
Ensure Good… Rather Great Content 
It is to be remembered that people depend on videos for entertainment and the quotient of entertainment that people get depends on the quality of the video content. The video content has a direct influence on your brand muscle and profitability. Therefore, it is strongly recommended that you have a steady source of quality content. You can choose to operate on a specific niche, so you retain at least a small segment of the audience.
There are different ways to ensure the availability of content. You can choose to license already existing content and even collaborate with promising creators. If you intend to follow the Netflix model in every way, you can possibly consider reducing your own content.
Work On Your Audience

The OTT is getting crowded with every passing day. Therefore, you will need to find a way to attract an audience to your platform. There might be instances where you have an already existing set of audiences on a platform like YouTube or Vimeo. You can consider capitalizing on that space by asking your subscribers to pay for the final episode or to support you by buying the final episode.
Shows like IndieFlix and Black and Sexy used this business model to get into a paid subscription model.
Identify Your Niche

We have already seen the importance and the relevance of having your own niche. While this might heavily limit the number of subscribers and consumers, it compensates in terms of the quality of consumers and the number of hours consumed.
You can study the market and find out the best-suited niche for you to launch your own app like Netflix.
Have A Content Calendar In Place

Most people do not download an OTT app because they want to watch a single show or a sporadic number of shows… Unless you comply with the craze and quality of Sherlock Holmes or Game of Thrones. Therefore, the content calendar is vital to the survival of your OTT application.
It is to be remembered that subscriptions are the primary sources of revenue for an OTT business and the longevity of the subscription directly influences your profit.
Understand The Pricing Influences

Research from KPMG has concluded that customers already have a price range in mind when they start evaluating streaming services. Pricing should be handled with a pinch of salt. It is important for any business to find that pricing fine-point where it will be profitable for the business but, at the same time, will not be a deterrent for the customers.
Pricing plays a vital role in your customers deciding to subscribe to your OTT platform.
Now That You're Live…

After you have completed your research in terms of content, audience, and pricing, all that is left for you to do is launch your own OTT app. While technology, on the surface, might seem like a challenge, it has been adequately addressed by white label solutions. With the availability of Netflix clones, you need to concentrate only on the content, the operations, and the marketing. However, there are a few more things that you always need to stay focused on.
Make The Platform Customer-Centric

For your app business, it all comes down to the number of people who are willing to download your app and stream your content. Therefore, the platform should be customer-centric and customer-friendly. You should keep your customers in mind when you design your content and pricing strategy. Customers also love the flexibility. You can give customers an option to pay by the month or choose annual subscriptions at a discounted rate. If you can go the extra mile, you can even give them weekly trials and quarterly subscriptions!
Brew Up A Good Marketing Strategy
Marketing is of vital importance when it comes to OTT platforms. While the usual marketing strategies like search, social, and word-of-mouth will remain evergreen, there are a few marketing avenues that are specific to OTT video streaming. The first of them is the free trial. If you have a large repository of videos, you can consider giving people a 30-day free trial. You might want to consider limiting your free trial stretch according to the number of videos that you have.
It will be surprising to note that Netflix still relies on YouTube for marketing. While Netflix might be known for premium content, YouTube still reigns supreme when it comes to the number of users and the number of hours watched. It is quite likely that a promo will fetch more viewers on YouTube than on Netflix. Therefore, a good video marketing plan should also be in place with the teachers and promo flicks.
Understand Viewer/Fan Pulse

Customers experience collective mood swings! At a certain point in time, they are quite likely to consume a certain type of content. It is important to understand the pulse of your customers, so you can give content in line with their needs and increase your viewership.
It is to be remembered that customer pulse can instantly sway and can even be altered by external factors. The good news is that with good content and by keeping customers hooked to your tap, you gain considerable control over your customer pulse… An art that Netflix has mastered!
The Technology Challenge… And The Solution

We have already seen the relevance of white label solutions and how they can help in jumpstarting your business without much ado. It could be quite cumbersome to build your video streaming app from scratch. There are possibilities of glitches that might interfere with the basic functions of the app.
When you go for a white label app like Netflix, you can be assured that there will be no such interferences. The degree of customizability also ensures that the app it's reflective of what you have in your mind for your business.
Conclusion
Yes, we admit that video streaming apps have made quite a name for themselves worldwide. But that's not the beginning and the end definitely. There are many more OTT services that are doing extremely well. Remember, filling the gaps is the primary step to make a groundbreaking success.