In the current technological era, there is no shortage of applications to ease the working of humans. Be it medical sector, educational field, food, or communication – every sector has dedicated technical apps for almost every user need. So is the case with email applications. With powerful email management capabilities, email clients come in all shapes and sizes. Whichever client provides better accessibility, performance, and productivity, users select or even switch from the old ones to it.
In this article, we will focus on one such switching of email client in detail i.e., migration from the complex Lotus Notes to the more reliable Outlook application. When a user or organization decides to switch to another email platform, then only transferring the emails is not enough. It is equally important to move contacts, calendars, and other mailbox items as well. Hence, we will include some DIY techniques for the same in this article. Keep reading to know more.
Understanding The Data Files of IBM Notes & Microsoft Outlook
Although emails may appear to be the same in every email client, the files that stores these email messages differ a lot. Each email application uses its own mailbox storage file format with the most popular being MBOX format used by Mac Mail and several other email applications.
IBM Notes saves all its data in NSF file format, while MS Outlook uses PST files for the same. Both these file formats have the capability to store emails, contacts, calendars, tasks, and journals. By importing NSF to Outlook, users can access Lotus Notes data in MS Outlook. Unfortunately, there is no integrated option to do so. But in the next section, we will be explaining the best manual workarounds and alternatives for the same.
Import NSF to Outlook – Moving Emails, Contacts, Calendars
This section is divided into two main phases. Firstly, the manual method to move emails, contacts, and calendars separately from Lotus Notes NSF to Outlook. The second way is to use a professional tool that has the flexibility to export emails, contacts, calendars, tasks, and journals from NSF to Outlook PST at the same time. The step-by-step sections are as follows:
Manual Method to Transfer NSF Emails to Outlook
This method uses a mediator in the form of a CSV file format to import emails from Lotus Notes NSF files to Outlook. The steps are as follows:
I. Export the Emails from IBM Notes in CSV file
Run the IBM Notes application and open the NSF database file in it.
Now, go to the menu bar and select File >> Export option
A new window will open. Choose the location to save the exported file. Make sure to change the Save as type to Comma Separated Values option.
Finally, name the file as per preference and Export it.
II. Import the CSV file data into MS Outlook
Start the Outlook application and move to the File menu button.
Here, opt for Open & Export, Import/Export in a sequential manner.
Now, from the list, choose an option similar to Import from another program or file.
Proceed to select Comma Separated Value (Windows) option.
Find the CSV that was exported by IBM Notes and continue.
Set the other parameters such as field mapping and hit the Finish button.
This concludes the process of importing emails from NSF to Outlook.
Manual Method to Import NSF Contacts & Calendars to Outlook separately
For Contacts:
In the Lotus Notes application, click on Contacts option.
Then, select the Export Contact option from the More menu bar.
Now, select All contacts in this view followed by All fields.
In the Save to field, browse and select the directory to save the contacts.
Name the target file accordingly and Export it in the CSV format.
With this method, users will have all the contacts as CSV files. Now, they simply have to import this CSV in Outlook using the exact same steps as given in the upper section i.e., Import the CSV file data into MS Outlook.
For Calendars:
In Lotus Notes, open the Calendar by clicking on the Calendar tab.
Now, click on File >> Export option.
This time, select Calendar file(.ics) as the save as type.
Export All documents to the preferred location.
This will export the Calendar data in ICS file format. Now, we will be importing it in Outlook email client.
Now, launch the Outlook application.
Opt for File >> Open & Export >> Import/Export from the menu bar.
Choose the option Import an iCalendar (.ics) and continue.
Browse and Open the ICS file exported earlier by Lotus Notes.
This is how a user can import emails, contacts, and calendars from Lotus Notes NSF files into Outlook platform.
Technical Limitations of Manual Method
It is clear from the above-stated methods that this is a hectic and time-consuming method. Some other hidden cons regarding the given manual solutions are as follows:
The requirement of exporting each mailbox item separately.
Not feasible for exporting a large amount of NSF data to Outlook.
Data of only one NSF file can be exported at once.
Risks of manual mistakes and errors.
Emails after migration may have missing email attributes and properties.
The manual process is too lengthy and counter-productive. And due to the limitation of one NSF file data transfer, it is not feasible for organizations. Thus there is a requirement of an alternative solution.
Flexible Solution to Import All NSF mailbox Items into Outlook
By using a professional solution, users can decrease the conversion downtime drastically. A few quality tools even provide users with the option to export all the NSF mailbox items i.e., contacts, calendars, emails, tasks and journals at the same time. SysTools NSF to PST Converter is one such application. It does not just migrate the user's data but does that with the utmost accuracy. It preserves everything from attachments, headers, inline images, and formatting of emails during the conversion. Users can also try this tool for free via its demo version.
Simple Steps to Import NSF to Outlook using Tool
Run the SysTools Lotus Notes converter tool and browse the NSF file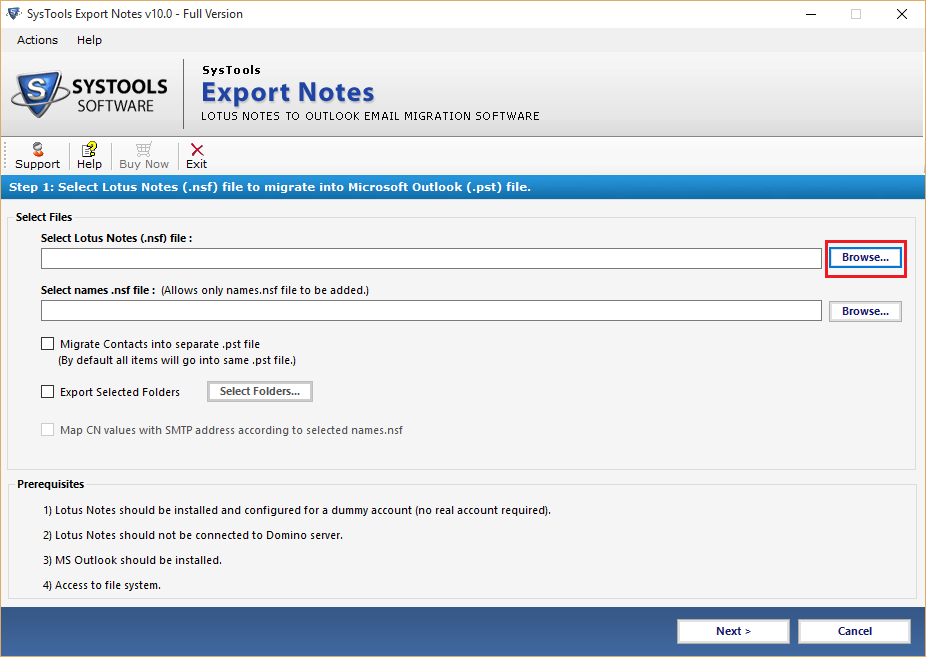 2. Select the category of mailbox items to export: Emails, contacts, calendars, to-do's and journals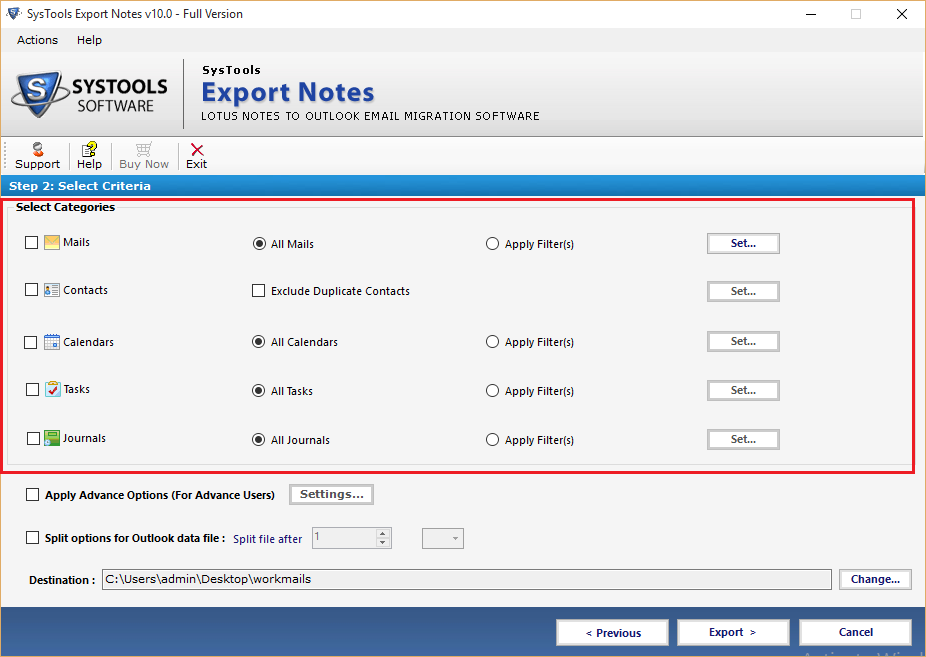 3. Apply filters and Advance Settings as per requirements.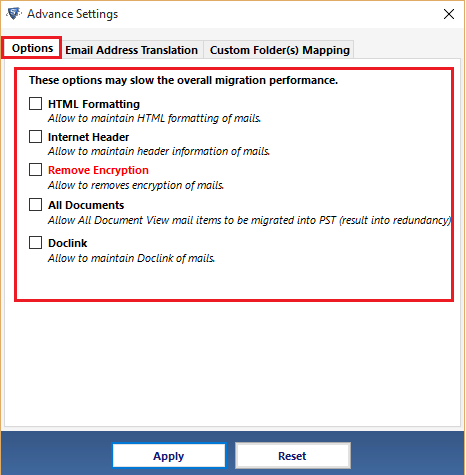 4. Export the NSF file into Outlook PST format.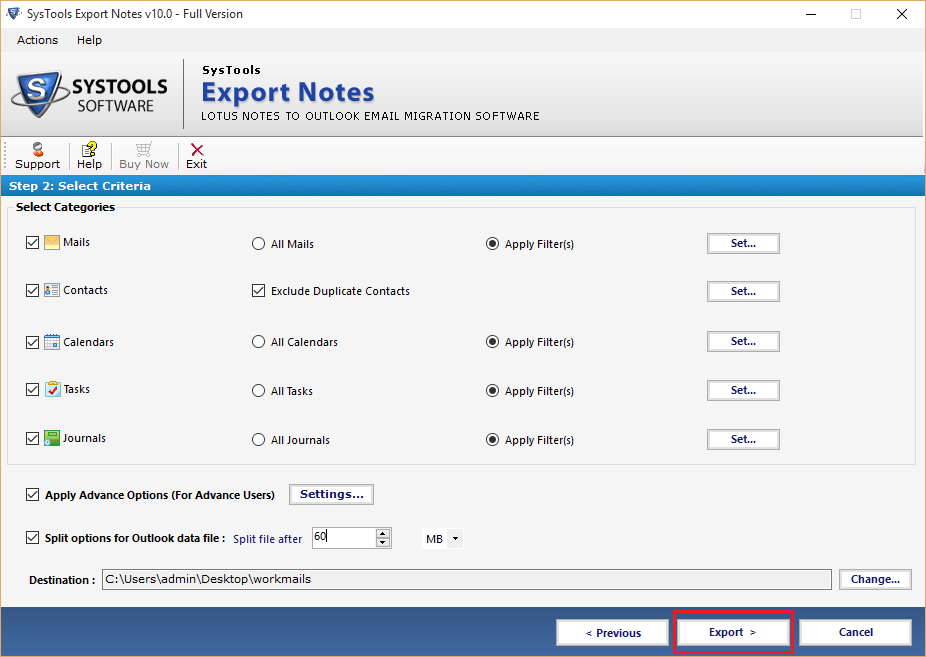 Now, users can simply import this PST file in MS Outlook without any hassle. Thus, being able to access all the NSF database contents in the Outlook platform.
Conclusion
This article is all about importing NSF to Outlook PST in order to access the database of Lotus Notes in Microsoft Outlook platform. Since, for any user, contacts and calendars are as important as the migration of emails, we have included methods to transfer them as well. However, since the manual methods constitute a complex and lengthy process, a professional solution is also included. Users can try this tool for a reliable and error-free Lotus Notes to Outlook migration.