Apple MacBook Pro (15 inch, 2017) 
Still competitive in 2017, Apple has updated its game by introducing new updates to its Apple MacBook Pro which have made it much more convenient and useful than its previous types. Unlike before, the new Apple MacBook Pro contains the powerful components and features it had never had before unlike its other rivals. It contains a quick and strong Core i7 processor and a standard SSD for fast application loading times.
What you will find in the 2016 MacBook pro are other subtle and significant features that have given it its edge. The laptop itself is even slimmer and much lighter. It weighs around 1.8 kilograms, which is even lighter than its 2015 model.
The retina of 2,880 by 1,800 remains the same, and the laptop itself comes with four Thunderbolt 3 ports. Negatively, this means that if you'd like to access a standard USB 3.0 Type A port, you will have to purchase an adaptor.
The new MacBook features Apple's latest touch bar. It replaces the physical function keys such as f1 and f2 with a touch screen that changes and manipulates according to the program you use. However its current functioning is limited. The battery power on an Apple MacBook has been optimized for those unable to charge, lasting on average around 11 hours.
If you are considering a new laptop or have a Mac laptop that you believe is too outdated, the new Apple MacBook Pro 15 inch is extremely worthwhile considering.
HP Spectre x360 (13 inch, 2017) 
The latest HP Spectre x360 13 inch is a modern laptop with a very slim and gorgeous design that allows it to remain competitive. The aluminium body of the Spectre and the polished sides give it a sleek look.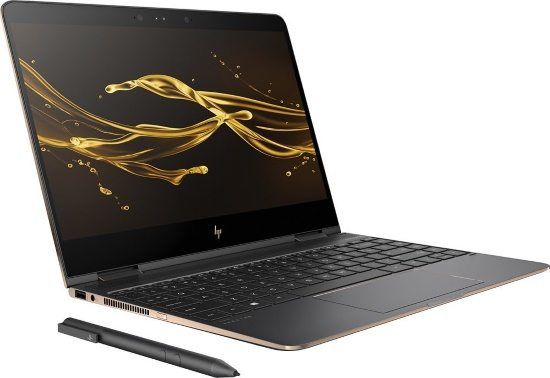 The retina display of the HP Spectre is a full-HD display with a resolution of 1,920 by 1,080, as a result for any creative user it is a very attractive feature. The spectre also offers a new Intel Core i7 processor that is equipped with an SSD that is able to compete with, if not beat many of its competitors. Unlike many other laptops the Spectre does accommodate for a variety of ports with a USB 3.1 Type-A port, whilst also at the same time two of the modern USB-C ports that can support Thunderbolt 3.
It is important to note that the battery life is on average 10 hours which is significantly lower than its competitors, but that would be due its components and retinal display that uses most of the battery.
Negatively, the HP spectre offers no SD or microSD card slot to accommodate other users. The hinge of the laptop itself has been noticed frequently by users as being too flexible and could be stiffer itself.
Microsoft Surface Pro (2017)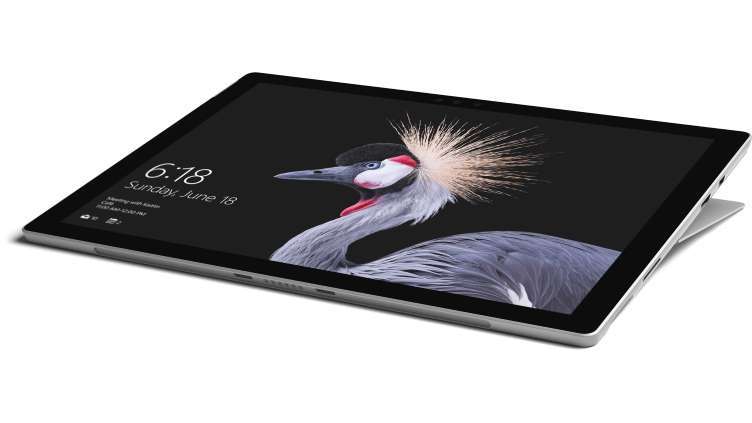 The Microsoft surface pro is a 2-in-1, contemporary and sleek detachable-hybrid, allowing users to choose between a laptop and tablet at their convenience.
The current surface pro weighs only 0.8 kilograms alone, but around 1.1 kilograms with the type cover. As previously, the surface pro maintains its very smooth and sleek outlook, with round edges and even thinner design. The resolution of the 12.3 inch surface pro is 2,736 by 1,824 which offers a strong retina display, and as a result the graphics look natural.
What the surface offers is insane efficiency and value for the price of the hybrid. The raw model is a simple 4gb of RAM, 128GB SSD and an Intel Core m3 processor. On the other hand, for the high end surface, you will begin to see 16GB of RAM, a 512GB SSD and an Intel Core i7 processor.
Negatively, the Microsoft surface pro has limited ports that are available. There is no accommodation for the USB-C or Thunderbolt 3, and of what it does has it a limited USB 3.0 port and mini display port.
What you will discover in the latest design of the Microsoft Surface Pro is a much optimised laptop in its foundations. It offers features that are extremely competitive with other laptops but at a well value-orientated price. For the creative minds that do require hard-core specs for their laptops, the surface offers very high end options.
Dell XPS 13 2-in-1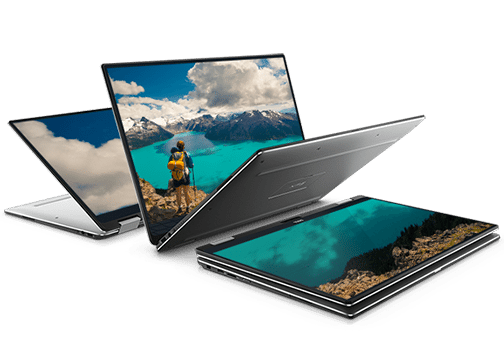 The latest Dell XPS 13 2-in-1 is a laptop contender in extreme flexibility yet monster performance.
Its aluminium lids and carbon fibre palm rests make for a very thin yet quit laptop. It is configured with full HD support and a touch screen resolution of 1920 by 1,080. It is the perfect laptop retina display for users preferring to primarily use video.
On a performance basis, the XPS offers a strong Intel core i7 processor alongside 8GB of RAM which creates very powerful performance for a hybrid laptop. It is able to tackle extremely difficult and intensive tasks at ease. Impressively, the XPS has a battery life of close to 12 hours, which is suitable for all productive individuals.
Negatively, similar to the Apple MacBook Pro, the port availability is limited as there is no accommodation for USB Type-A ports.
Unsurprisingly, the new Dell XPS 13 is a great hybrid laptop which maintains a very sleek design and smooth outlook. Its retina display with an attractive resolution is a great feature that offers extra screen space for all prospective laptop users.