Whether built outside in the garage, in a spare basement room, or in a secret passageway behind a bookcase, the man cave gives you the freedom to express your true self. It provides space to enjoy a game of pool with the guys, a cheerful football evening, or quietness for pursuing different hobbies or getting your work done.
The benefits of a man cave are limitless, but before you commit to building one for you, make sure it includes these essential items.
Big screen TV
Not any TV will do – your man cave needs a big screen HDTV or even 4K Ultra HD set. Such a TV is the centrepiece of every man cave. While it by no means should be centred in the middle, the TV should get the place of honour. The crisp picture that these TVs provide is essential for the viewing experience, whether you're looking to re-assemble your Call of Duty clan or throw regular movie nights. Before jumping to by the biggest one you can afford, consider the size of your space. A 99-inch TV in a tight man cave may feel like sitting in the first row in the movie theatre. On the other hand, if your man cave incorporates several different areas, consider placing a few smaller HDTVs around the place.
Comfortable seating
You may have a huge television, but it wouldn't do it right if your couple it with an old couch and surplus chairs from the house. While blanket parties on the carpeted floor are better left for girl caves, true man cave seating should feel and look kingly. If the space permits, consider theatre-style leather or plush armchairs, while many 'cavemen' choose comfortable lounges or modular recliner sofas. When looking for these bigger pieces, make sure there's enough separate seating so people don't feel crowded on one piece of furniture. If you'd like to use your man cave for late work and client calls, as well as to relax and get away, a comfy recliner is a must. Even if you fall asleep in one of those, there's little chance you'll wake up with a stiff neck.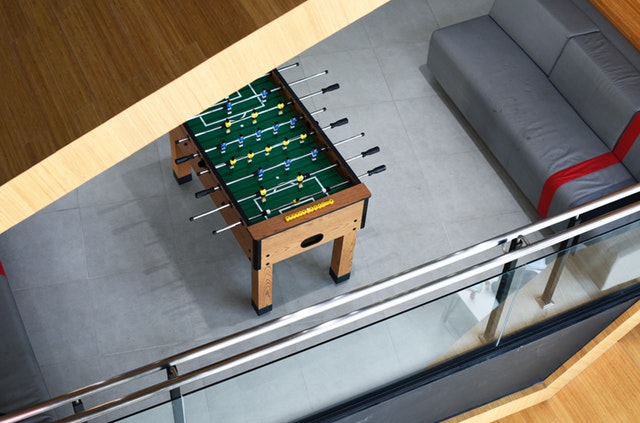 Lighting
If your man cave is centred around the TV, you need to make sure there isn't too much glare on the screen. Recessed lights are an excellent choice in this case, as well as wall sconces – both of which dimmable so you can set the level just right for watching sports or films. If you plan for a bare area, track lighting on the ceiling behind the bar and a lamp or two on the bar itself will be more than enough. For the game area, you need to choose an option that makes the area well-lit but not too bright so it strains the eyes.
Surround system
A great TV gets you only halfway to turning your man cave into an ultimate entertainment hub. Built-in TV speakers are perfectly fine for binging the early seasons of NCIS with the missus. However, when it comes to lightsabre duels and Wookiee growls, nothing short of surround sound will do. A quality surround system is essential for giving your cave a clear audio component, whether for listening to music or immersing in cinematic scenes. In other words, if you can't feel the explosions shaking your walls, there's something wrong with your choice of speakers.
Bar and beer tap
One of the purposes of having a man cave is to avoid having to walk upstairs or across the hall to get a cold one from the family fridge. Not only will the man cave bar or fridge come handy when the guys come over, but also for those occasions when you plan to host a family event or a party in your new man cave. If you can't afford or fit a full bar, a glass door fridge will suffice – hey, a man must keep his eye on the stash. Whatever your drink of choice, without beer your man cave is just a cave. Even if you're a sworn liquor guy, you still need this man staple. Apart from stacking a few rows of bottles in the fridge, you can really raise the bar by installing a kegerator – a fridge that fits a beer keg and a CO2 tank to keeps the beer carbonated and fresh. The whole setup ends with a tap on the countertop – ready to pour your favourite domestic or imported.
Game night
Chances are that when the first man cave was built it had either a pool table or a poker table. While today having a pool table can raise the badass level of your cave straight to 10, back in the day it was only a means of playing a game of 8 ball. Having an official poker table would be a fantastic addition that allows you to host whole family games, while a dart board can become the favourite way of making wagers.
A man cave is probably the only room in the house where you'll have complete control of the design. While every guy will furnish his cave by his preferences, these six essentials are something that very few caves can go without.