How good would it be to have a beach, but it's in your backyard, and there's no sand? You've been through countless hot Summers thinking this, and now you've finally decided it's time. Time to become a build a pool. Welcome to the club, it's fantastic.
Okay, the weather app says it will be hot on Sunday, so can we get a pool by then? The cool water, cascading over your body, relaxing poolside in the sunshine, breaking it up with a quick dip to cool off.
But hold your horses, is it even possible to get a pool by Sunday? That's only four days away! How long does it take to install a fibreglass pool? Construction on them happens in a factory, right? Doesn't it just get plunked in the ground, and we're good to go?
We wish it were so simple. There is quite a bit more to pool installation, even for fibreglass pools. But fear not, this article from Master Pools will be your one-stop guide about the timeline on fibreglass pool installation.
Planning Phase – 1+ weeks
Planning is usually the lengthiest phase of the journey. During planning, you need to consult with anyone else who will use the pool regularly. As they say, you should measure twice and cut once. Once the pool is complete, it's much harder to alter physical aspects than when it's in the drawing-room. It's no use installing a spherical 2x2m pool if your predominant use for it is swimming laps.
Creating a mind map can be a great way to catalogue everything you want for your backyard oasis. Don't put limits on your dreams, people often overestimate their constraints, plus it's way easier to edit down your ideas later to factor in cost and space.
The planning phase can be in consultation with builders, landscapers anad/or draftspeople. They might have some valuable ideas or input about how to make your dream pool a reality. When you have what appears to be close to a final draft, it's time to submit this to your local council building authority to attain a building permit.
The waiting time for building permits depends heavily on which municipality you fall within. It's always good to get this process underway as soon as you can so that you can start building sooner.
Selecting a builder – 1-7 days
Once you have a plan in mind, it's time to select a builder if you haven't already. When selecting builders, it's wise to choose a local or someone with experience in the area.
This is because they'll be familiar with local issues, like soil, council regulations, or other problems that you might not have thought about that are specific to your area.
It might seem somewhat obvious, but you'll also need to choose someone who is licenced and registered to be a pool installer in Melbourne. If you're unsure, you can check a builders registration status here.
While not essential, choosing a builder who is an MPBAA member could also be helpful. Pool Builders in Melbourne must agree to an ethical code before joining. This means they are more likely to do right by you and complete the job to a higher standard.
As an added precaution, you will need to appoint a building surveyor. They ensure that your builder has completed the job to code and that the pool is safe to use.
You can choose to have a municipal building surveyor or a private one, but, you must appoint them yourself or through a representative. Your builder is legally unable to enlist one for you.
If you choose to appoint a municipal surveyor, you notify the council via your building permit application.
Organising a Site Visit – 1 day.
Having a site visit is essential for both you and the builder. Firstly, it gives them a chance to see the site and assess any problems that may arise during the build.
It also means they can give you a better indication of how much it will cost depending on soil quality, site access, and other factors. It also means the builder can picture how everything will come into place from their end.
Secondly, it provides you with a chance to ask questions about the project. The builder can offer landscaping advice and can recommend some that you could consult about adding extra features to your backyard.
If all the parties are happy with the proposed build and prices have been agreed upon, it's time to sign the contract with your chosen builder. Don't feel pressured that you need to do this right away.
It's always worth reading over and even having a few different builders perform site visits to have confidence that you're choosing the right person for the job.
In the contract, make sure that every element has been discussed and agreed to. There's nothing worse than getting halfway through a project and having to argue with the builder over something that should have been decided before the building started.
Planning – allow 1 month
Your pool builder needs some time to submit your plans to local councils after you sign your contract. They also need to order your pool equipment and arrange delivery of your shell and any relevant excavation equipment. Depending on your pool they may also need to arrange other tradesmen like electricians to help connect your equipment. This varies from household to household so be sure to ask your builder during the quoting stage.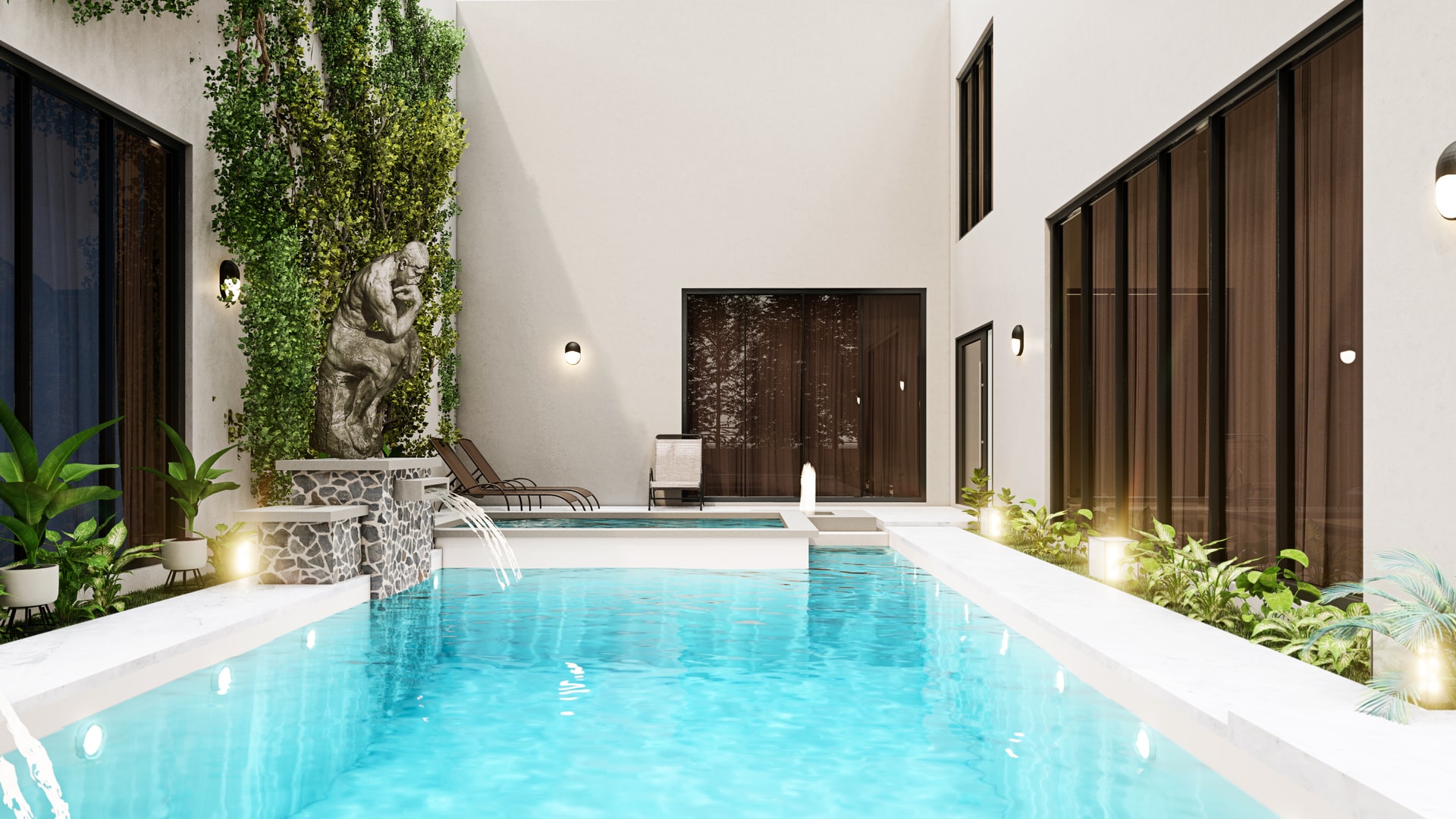 The season you start the process – variable
If you want to be certain that your pool is ready by Summer, then you should probably start your planning in Autumn. Summer is the busiest period for pool builders in Melbourne and they can get booked up quickly.
Because of the increased demand that the spring and summer months bring, everything takes longer, there are long waits for the fibreglass pool shell, for labour, surveyors, materials, the list goes on.
It's easier organising it all in Autumn, in order to have your pool built and ready to go for summer. By being organised you'll beat the heat in more ways than one.
The Actual Installation – 2 days- 2 weeks (weather dependant)
Usually, this phase may take only a couple of days, but this is weather-dependent.
The builder needs to excavate and prepare the area for the pool shell. The amount of time this takes depends on what your soil is like and whether they have appropriate site access.
Once the area has been appropriately prepped, the next step is to drop in the fibreglass shell of your pool. Following this, they hook it up to the heating unit, chlorinator, filter and any other item that needs connecting.
Then they cement it in, and it gets filled up with water. Around a week later, they perform a site visit to ensure that everything is sound and running appropriately.
The building surveyor will not sign off on the project until fencing has been installed and deemed safe. Failure to install safe fencing by the final inspection could result in a fine, so it's wise to complete it before this.
So you've built a pool!