Brands are everywhere in modern commerce. Even in the current turbulent times, the importance of branding and increased branded search are rising trends. According to McKinsey, 57% of Australians who tried a new shopping behaviour during COVID-19 have changed brands they like and buy from. A better value and availability became key drivers for Aussies to switch the retailer.
Thus, working on my client's brand has become more important for me as a freelance business consultant. The very first thing people do when they want to buy something from a specific brand is typing its name in the search box, and here's when SEO comes in.
While this article focuses on branded search, mind that I don't ignore non-branded keywords as they are also important for SEO efforts. They are! However, branded keywords are often neglected in SEO, and they should be a priority if the brand search volume is more than 0.
So, let's dive into how I perform the branded search and help to optimize the site for my clients from branded keywords.
What is branded search?
While we're all tied to our homes, we have more time to explore brands and their values. People make fewer on-the-go purchases and take their time to get to know brands better. They search for brands they've heard of and compare their products, offers, and social impacts.
And that's where many eCommerce brands are lagging. Let's consider the search query "[your brand] reviews," for example. Would my site be in the top search results for this? Would I want it to be there? You bet I would. People looking for reviews of some brands appear to be hot leads, who already know about it since they want other people's opinions. People typing in such branded search queries are most likely one step away from conversion, and relevant pages on the site may guide them into it. So, let's discuss how to make the branded search a part of SEO strategy.
When somebody makes a search query using a brand or product, it is called branded search. Anything like "[your brand] reviews," "[your brand] alternatives," "[your brand] customer support," or simply "[your brand]," etc.
Such searches are uber important since they're "high intent," i.e., the potential customer is very close to conversion — he or she is already aware of the brand and is most likely comparing it to others or needs confirmation to choose this exact brand. For further conversion of such searches, marketers need to land visitors on pages with information that will prove this client is the one — considering the price, quality, or brand values compared to his competitors.
Once I see branded queries appearing in the Google Search Console — Performance — Queries page, then it is the right time to start optimizing the site. I always control this part with startup clients as I don't want the competition to steal their almost-there conversions via well-optimized (and biased) pages called "[your brand] alternatives."
1. Making keyword research
While Google Search Console is a great tool for many SEO tasks, it is just not enough to properly research keywords. There is a horde of more specialized tools, but I usually use SE Ranking and its Keyword Suggestions tool. It shows traffic volume and keyword difficulty, as well as competition rate, CPC, and many other important factors. Plus, it can offer similar or related keywords to expand the semantic core. So, I'll take this service as an example in this article, but my colleagues use any other alternative that also does great research.
So, we need to analyze a brand as an example, and I will use Klipsch for our sample research. Just go to the Keyword Research section in the SE Ranking, type the brand, and select geo.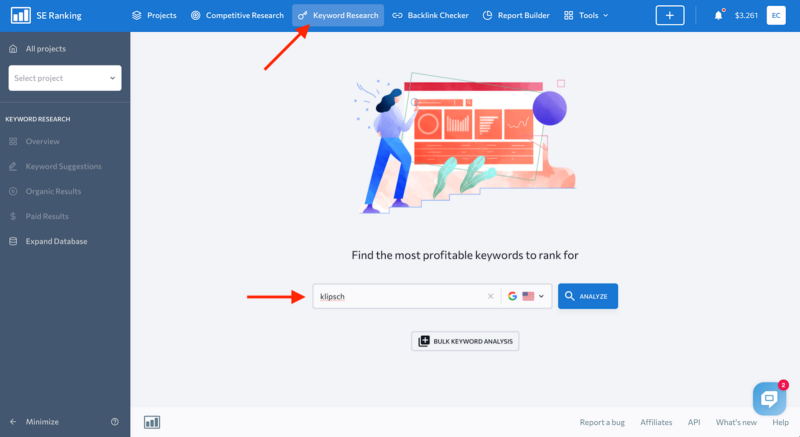 The first section I always check is Keyword Suggestions. This is where you'll see all the more-or-less popular search queries that contain the brand name.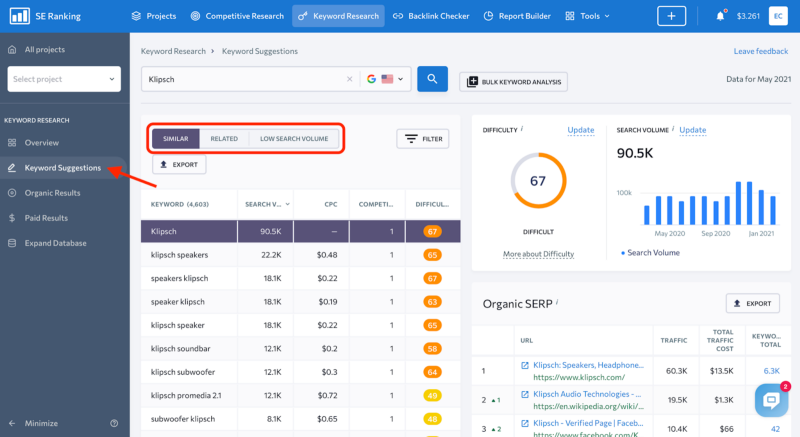 There will be three sections there: Similar, Related, and Low Search Volume:
Similar: these are the search queries containing a brand name and some other words in different forms.
Related: the search queries having the same page ranking in Google and also close meaning.
Low Search Volume: the search queries with a brand name that are rarely used in the search.
Once I have a list of keyword ideas I'm interested in, it's about time to evaluate them looking at the following metrics:
Search volume: shows how many Google searches for this keyword there are monthly.
CPC: the price the marketer needs to pay to get traffic from this keyword via the paid campaign.
Competition: the number of advertisers having ads set up for this keyword.
Difficulty: the internally calculated evaluation of how difficult it would be to get into the top 10 search results for this keyword, with 100 being impossible and 1 being really easy.
My task here is to find real gems — brand keywords with high search volume and low difficulty that will bring my clients lots of traffic with minimal effort.
We're not done with analyzing brand keywords. There are also three other notable sections that are worthwhile to explore:
Organic Results — shows an estimation of how much traffic these pages are getting from branded keywords and how much this traffic could cost if received via a PPC campaign.

Paid Results — shows the advertisers and their ads targeting that branded keyword.

Expand Database — this section may come in handy if the brand is a little less known than Klipsch, so the system might not have enough data. Then I add the search queries of my interest, and these keywords will be put into processing query so I'll get the data once it is completed.
I also often use the Bulk Keyword Analysis feature. It may be useful when I want to analyze not only the main brand but, say, a list of product names too.
Then I export keyword data into Excel spreadsheets to organize them for further work and add some data from other sources, like Google search suggestions that appear when entering the brand name, from People Also Ask SERPs, or from Google Search Console. In the latter case, open the Performance report, click on "New" to add a new filter, choose "Query" from the drop-down and type the brand name.
2. Organizing branded keyword queries
Now that I have a list of branded keywords. It is better to systemize them in some way:
Prioritizing them by volume/difficulty. The most obvious high-priority group is the ones with high search volumes and low difficulty. Then I can decide what is the better fit for my client's SEO strategy and budget — to go after high-difficulty but high-volume keywords or to go after the low-volume/low-difficulty group.
User intent breakdown: there are several search intents, i.e., informational, navigational, commercial, and transactional, to break down keywords according to the intents and matching pages. The goal here is to make it so that if a person types something like "Klipsch speakers," they will see the catalogue, not the blog articles about speakers.

Keyword clusterization/grouping: see if there are some keywords that produce very similar SERPs and, therefore, can be covered by a single landing page that relates to these "clusterized" or "grouped" keywords. SE Ranking has a Keyword Grouper tool to help check if keywords group. Here's a sample outcome of the first 50 of the keywords from keyword research in the previous section, and we see it grouped them into 14 groups: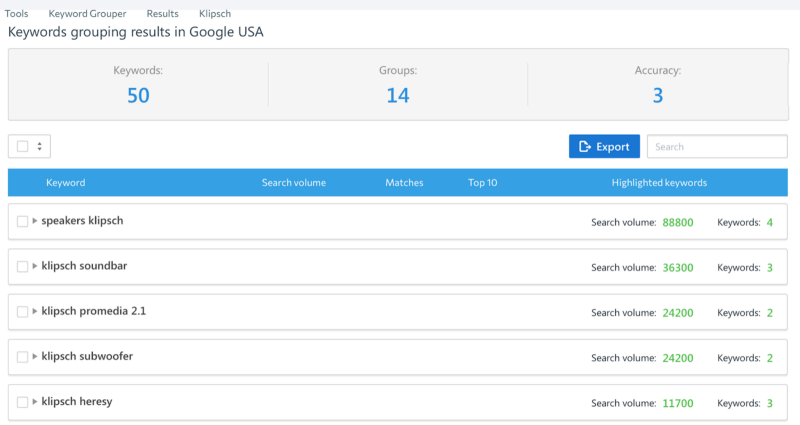 3. Optimizing for branded keywords with SEO
Now that I have a list of prioritized, intent-grouped, and clusterized brand keywords, I start optimizing content for them:
I check which pages come up in the SERP for these keywords right now. If there are some well-performing pages, adjust content on them to make the ranking higher or make the pages more intent-specific to improve conversions. Remember that customer search queries tend to change over time, so if the page starts losing positions, consider refreshing it.
It sometimes happens that there are no well-ranking pages in the SERP, so I start making them! A good starting point is to check the competition's high-conversion pages for similar keywords with their brand and make a plan on how I will outperform them by offering better content or my unique view on the particular topic. Google rewards websites with an expert opinion and lowers the value of those who rewrite the content or provide outdated information.
The advantage of third-party review sites and catalogues, like TrustPilot or Yelp that they are ranked high for competitors' brand keywords. I always recommend creating profiles there, add info, answer user reviews, and get more brand mentions from such sites that are always well-ranked in the SERP.
SERM techniques. I manage the reputation of the brand by monitoring the search results for the brand keywords. If necessary, I can work with the sites that are well-ranked for my queries, as well as improve the information shown in the SERP by adding more positive reviews and explainer articles with brand keywords instead of negative ones.
I always pave the way for conversions: while the whole point of my article is that branded keyword searchers are hotter leads than the others, still, it would be naive to hope they will convert without any push or incentive. When my clients make a landing page for a branded keyword with commercial or transactional intent, I check they have typical "selling" elements: clear CTA; current discounts/sale offers if there are any active; countdown timer (if the offer is time-bound); customer reviews; comparisons to the competition (when allowed by law).
Sitemap: when done with producing content, add new pages to the sitemap.xml file (often it is done automatically by the site's CMS/plugin) — this will help speed up content indexing by search engines. The faster my clients rank in the top ten search queries, the more conversions I expect them to receive.
Knowledge panel: if the brand has got some significance, it may appear in the so-called "knowledge panel" in Google Search. Ensure it always contains up-to-date information by logging into Google My Business and filling it with relevant info. If I deal with a highly competitive market, brand info could become a decisive factor in making purchase decisions.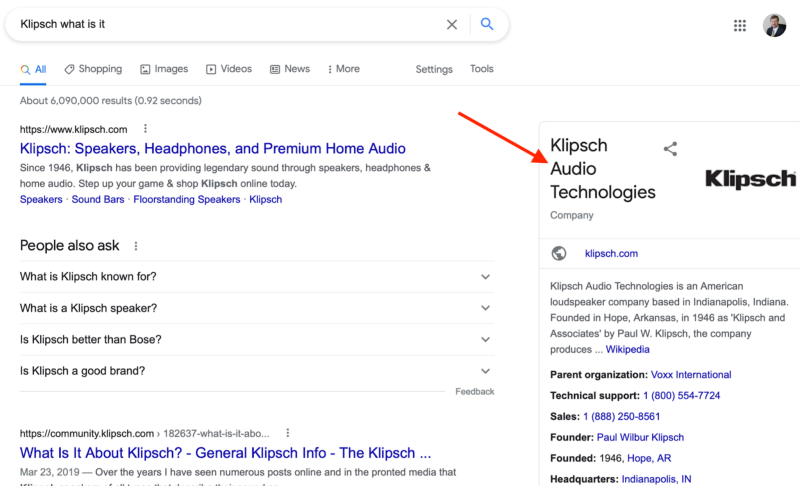 Ranking for branded search keywords: SERP ranking can change and often quite radically. It can be in response to the competition producing similar pages or due to some technical issues. Marketers need to keep an eye on it to fix problems when spotted and keep conversions at a high level.
Summary
Branded search keywords are often neglected in SEO as some think that the search engines will rank their branded site well without any SEO efforts. This is not always the case, and people typing the brand name in the search box are the ones who are very close to converting. So driving them to the site should be a priority.