Digital marketing is evolving fast. If you are a marketer or a business owner you need to be updated with the latest and new ways to engage your target audience.
People are keen on trying something new, something that can impact their lives and thus your marketing strategy should cater to their changing needs.
If you are looking for some fresh ideas for your business, stick around! We have compiled a list of interesting marketing trends that can help you shape up your marketing strategy for 2019.
Let's explore what digital marketing can offer in 2019!
Digital marketing trends for 2019 that are worth your attention
#1 Artificial intelligence
If you use the internet, you must have come across conversational chatbots, self-driving cars, or some kind of recommendation system. Those are all AI systems or Artificial Intelligence.
Till the last few years, digital marketers were hesitant to incorporate artificial intelligence into their strategies. But, today it has almost taken over the world. Artificial intelligence (AI) is helping in simplifying data-based experiences while improving the online user experience.
If you are not aware, artificial intelligence can really work wonders for your business. Utilising the data from various social media platforms and blog posts, it can analyse consumer behaviour and search patterns.
This, in turn, can help you understand how users find your business, what are their interest areas, behavioural patterns online. In fact, 84% of enterprises believe investing in AI will lead to greater competitive advantages.
Not just this, artificial intelligence can also offer firsthand information and tips to users by starting a conversation on a human. It can even prevent errors, help with daily applications, support flawless online interaction, level up user experience, assist in reaching your target audience, forecast the sales and refine your advertisement patterns.
Restaurants, food ordering services, flights & hotel booking services are the major winners for using AI efficiently.
With so many features to offer, 2019 is surely going to see a good number of companies incorporating artificial intelligence in their business. What do you think?
#2 Chatbots
Chatbots are part of AI system which is majorly disrupting many industries. Industries like healthcare, finance, transportation, and education have seen a major transformation by using chatbots.
This technology can make interactions easier, direct and prompt. It is considered to be one of the most advanced and promising ways of communications between humans and machines.
The most interesting feature of the chatbots is that they learn from people's past interactions while becoming intelligent and smarter over time.
If we talk about the customers, they prefer interacting with chatbots as they find them more responsive and accurate. Above all, they never lose patience. This virtual assistance can offer your customers an outstanding customer service, that to 24 hours a day.
This also means, considering chatbot for your business can help you focus on other important things.
For instance, Uber uses chatbot technology to communicate with its customers. This makes it easy for passengers to hire cars, with integrated Facebook Messenger or via Google Maps.
They can choose the type of ride, make a request, track the location of the car, know the estimated time to reach and even make payment.  This not only enriches the user experience but as a business, you are able to focus on other things without investing time in managing these activities.
#3 Social messaging apps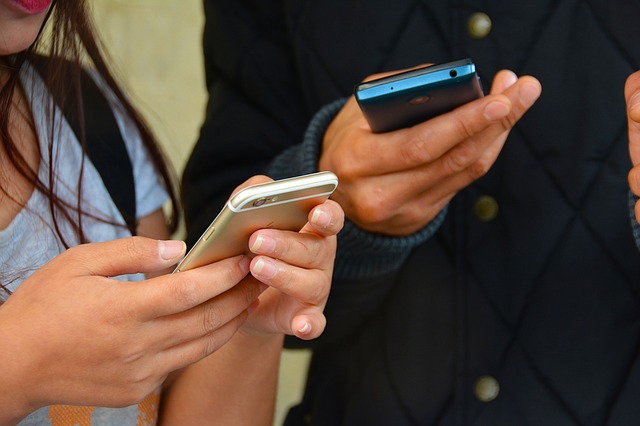 Clearly, the world is getting more social. Just take a look at these numbers showing growing engagement on social media:
These statistics clearly reveal the growing popularity of social messaging apps for business reasons.
People are spending more time messaging each other, so why not market your business where your potential customers are hanging out?
Social messaging apps allow personalisation; hence you can use them effectively (with a powerful pitch and a personalised touch) in a way that you are able to establish a direct connection.
For example: If you have an event coming up, send the event notifications to your target audience on Facebook Messenger or any other social messaging platform you wish. Unlike email, it won't go under spam and will directly make your audience read your updates.
#4 Influencer marketing
Influencer marketing, like the name says, is a hybrid of old and new marketing tools where the idea of celebrity endorsement is placed in modern-day marketing campaigns.
Paying the influencers for your brand endorsements rather than marketing directly to your target customers can yield better and significant returns.
Well, this idea really works! Influencers can be anyone from the celebrities to well-known bloggers and journalists. All you need is that they should be an influencer in your industry with popularity among your target audience.
For instance, if you an online store selling beauty products – a beauty or fashion blogger, popular in your country can be a great fit for your influencer marketing campaign. So, next time the blogger posts a video, picture or a blog – they can subtly plug your products in or give a discount code to shop from your store.
This kind of marketing actually builds a longer relationship with your customers and organically reach your target audience.
#5 SEO and content marketing
Most of us are already following this trend religiously – after all, it is one of the most tried and tested marketing techniques – that can never go out of fashion.
SEO and content go hand-in-hand. You can create rich and useful content for your target audience and market it through various search engine optimisation strategies.
Research on how your prospects are consuming and engaging with content. Find what is generating interest and offer them the best content in that niche. Also, encourage them to take action with a strong CTA.
Meanwhile, you should continually analyse and measure the results. Set realistic goals that you can keep achieving at every stage.
If you don't have an SEO expert along, it is recommended to outsource the expertise that can closely monitor and strategise your online presence. This will, increase your visibility on search engines, which will ultimately contribute to boosting your overall sales. Allocate a separate budget on it to ensure that you get a noticeable improvement in the rankings.
Even though marketing today is not free, SEO and content are still one of the most affordable strategies. The cost of SEO in Australia vary a lot with as low as $99 to as high as $5000 – but you don't need to break your bank to get a great SEO service.
Though there are many ways of investing in search engine optimisation, if you are adamant on getting an instant ROI, go for a monthly retainer model of pricing and avoid long contracts.
Stay abreast with the latest trends & never miss an opportunity
So, don't miss the bus and start aligning your marketing strategy around these latest marketing trends.