Maintaining a sanitary office is vital to your business success because your employees need to work in a clean and productive environment. Most businesses tend to have a professional and external cleaner handle this since they find it easier than hiring full-time help.
Why Does A Professional Cleaner Serve Your Business Well?
A professional cleaning agency serves your business in the best possible way because it doesn't interfere with your day to day operations by coming in after hours and on weekends to clean all areas of your office.
The cleaner keeps the office as spotless as possible, so your employees can focus on what they do best for your overall productivity and profitability.
Choosing The Right Cleaner For Your Needs
With so many players in the market, how do you choose one that is best for your business? Here are some ways to ensure you make the right choices:
Shop Around For Quotes
There's no one size fits all policy when it comes to office cleaning, so you're likely to get different quotes for different services from different players. Here's what you need to do:
Share your office cleaning requirements with at least three companies in your area.
Compare the services offered with each quote.
Consider which company is offering you the best service, along with value for money.
A good company will ask to visit your office to inspect it properly before arriving at an accurate quote. This is important because many companies offer a flat quote at the start, and include additions later, which you may not have budgeted for in your finances.
Make Sure The Company Is Properly Insured
While you probably have workers compensation, you certainly don't want to get penalised for someone else's mistake on your office premises.  A good cleaner is always adequately insured, so that you are not held liable in case of any accidents.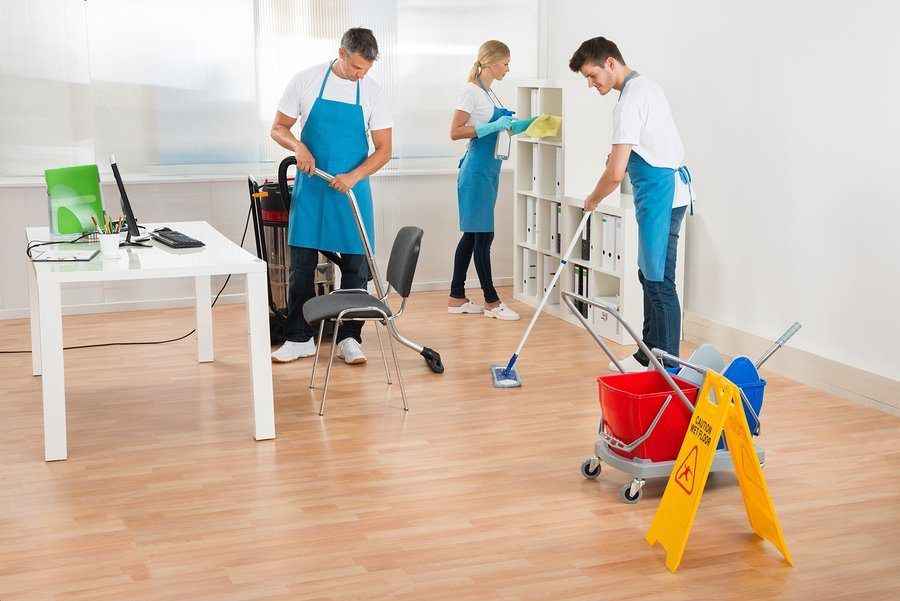 Ask for proof of insurance.
Make sure you inspect the documents provided to you.
Find out whether the company has any prior accident histories if possible.
Watch out for any operators who don't have insurance because you could be putting your business at risk for no reason.
Go Through The Contract In Intimate Detail
The contract between your business and your cleaning company is crucial because it details the exact scope of work – or at least it should. Here's what you should do:
Scrutinise the contract to ensure that no services are missing.
Watch out for hidden costs that may be present in the contract.
Make sure you're not locked into any services for a pre-determined period of time.
Check for a trial period so that you can exercise your right to rescind the contract in case you're unhappy with the service.
Your contract should be balanced and should not weigh in favour of either party, so make sure you study it thoroughly to avoid paying for services you don't want or need.
Get References From Other Businesses
The company's experience in cleaning offices can make a big difference to you, so make sure you examine the level of experience it has before deciding to hire it for your office cleaning task.
The best way to know that you're getting a reliable cleaner is by getting references from other businesses in similar industries like you. Follow these actions:
Ask whether any businesses have worked with cleaning companies for specific needs.
Get honest feedback about their performance and choose wisely.
Find out more about the services provided by the company, and whether there are any hidden costs.
Ask for indicative costs for cleaning from other businesses so you know you're paying industry rates.
References mean that you're not engaging in some fly-by-night operator you found on the Internet. Instead, you're relying on tried-and-tested companies who have successfully worked with other organisations like yours.
Choosing the right cleaning company for your business isn't quantum physics, but it certainly should not be taken for granted either. You will need to make sure that the company you choose is the right fit for your business. These strategies have been developed to help you do just that.