For every parent, decorating a nursery is a serious deal. You want your baby's first room to be beautiful and cozy. This is something that also puts great pressure on soon-to-be parents. You want everything to be perfect, so you don't care if you spend a fortune decorating the room.
The truth is, your baby won't remember this first room, and in a couple of years you'll be redecorating it again anyway – so why spend a fortune? You can easily create a beautiful nursery without spending a great amount of money.
The trick is in decorating and details. So, how to do this? Here are the top 10 tips on how to decorate a nursery.
1. Seek inspiration
Decorating a nursery is a creative process that will require some inspiration. Thankfully, the internet is full of wonderful ideas, that can even be overwhelming at some point. 
However, in order not to get overwhelmed while seeking inspiration for your baby's nursery, try to stay focused and look for things like the specific theme and design of the room, colours, even some small details that you find interesting.
Once you have all the inspiration you need, you can narrow down the exact theme you want to go with, design, details, colours, and so on.
2. Create a mood board
Don't get too carried away and start buying paints, and furniture. First, start by creating a mood board that will give you a visual of what the room will look like. A mood board can help you figure out whether or not you like everything you've put together and if you want to change something.
It's easier to change colours on the mood board than to repaint the whole room if you realize you don't like the colour. The mood board can also help you keep focused on one theme and not stray away from it.
3. The fabrics, textures, and prints
Sometimes finding a fun crib bedding can inspire the whole nursery design. This is why experts and designers recommend finding fabrics, wallpapers, or other furnishings before settling for a paint colour.
For example, finding a perfect wallpaper for an accent wall can inspire the rest of the room – the colour, the fabrics, décor, and so on. So, don't paint the walls until you've gathered all the soft furnishings – bedding, wallpaper, curtains, carpets or rugs, and so on.
4. Keep things simple
It's really easy to get overexcited when decorating your baby's room. It's completely normal that you want only the best for your child but sometimes it's best to keep things simple.
Why buy an elaborate, designer crib that costs a fortune when in just a couple of years your child won't need it? You can find many affordable cribs or any furniture that is made of quality materials and that will last you a long time. 
Also, don't go buying furniture that you won't need. In a baby's room, the only furniture you really need is a crib, a changing table, and a rocking chair or an armchair of some sort. That's all you need, or at least that's all you need to start with. 
5. The focal point of the nursery
Now's the time to decide on the focal point of the nursery. Just like in any other room of your home, you can choose a wall that will act as a focal point. You can decorate this wall with wallpaper, you can paint it in another colour, and then you can set the crib against it. 
If you don't want a wall to be the focal point of the room, you can opt to dress a window and make it a focal point. This is up to you but make sure you do choose a focal point because this will act as an emphasis point around which you build the rest of your design.
6. Crib bedding
There are so many cute pillows that you could decorate your baby's crib with, however, try to refrain from overly decorating the crib. 
Try to stick to crib essentials only – crib mattress, mattress pad, cover, sheets. Finding cute baby blankets or quilts, crib bumpers, and a sleeping bag is ok and all you really need for your baby's crib. No need for pillows, toys, or anything similar. 
We must add that pillows can be a hazard and you should avoid laying your baby in a crib full of cushions or pillows. Many cases of sudden death during infancy are caused precisely by pillows.
If you really want to decorate the crib with pillows, you can, but take them all out when you're laying your baby down for a rest.
7. Storage space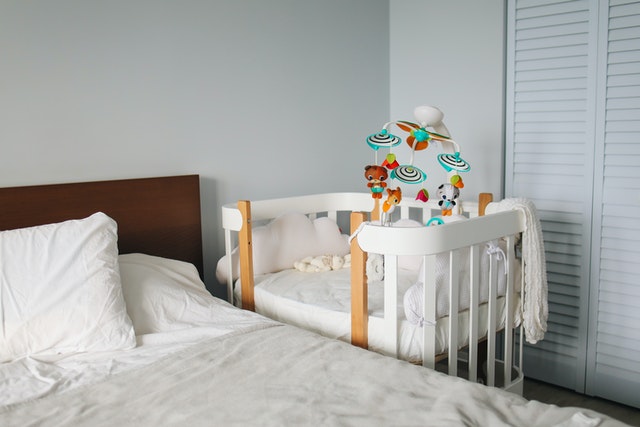 In addition to the nursery essentials – the crib, changing table, and a rocker, you'll also need some storage space. Having enough storage in a nursery is important as you'll need to store all the baby clothes, diapers, bibs, blankets, and later on toys, stuffed animals, books, and so on.
For nurseries with a lot of space, this shouldn't be a problem. But with smaller nurseries, being creative with storage options is always a good idea.
If you don't want to take away from floor space, think about vertical storage – shelves, pegs and hooks can all help you create more storage in the nursery. 
8. Accessories and decorations
As final touches, the cherry on the top if you will, we have to accessorize and decorate. This is probably the best part of every room decorating process. If you've kept things simple and minimal up until now, this is the time to go all out. 
You can enhance the room with adorable artwork pieces. There are a million different nursery artworks that can be show stoppers in the baby's room. You can create a gallery wall with many smaller frames and cute prints or you can choose larger pieces.
On the other hand, you can use open shelving to display books and that can also act as nice décor pieces. Displaying toys and stuffed animals on shelves is another idea.
A different, yet equally good idea would be adding a plant to the nursery. Plants are always a good option when you don't know how to decorate a room. They are affordable and can make quite an impact in any room.
9. Adaptable décor
When decorating a nursery it's important to keep in mind that babies grow up fast. This is one of the main reasons why you shouldn't spend huge amounts of money on decorating this room.
Instead, try to create an adaptable nursery that will grow with your baby. Choose a theme that can be adapted in a couple of years, timeless decor pieces, and simply make this room easy to redecorate in the future.
10. Nursery safety
Of course, we must also mention the safety of the nursery. Another very important thing to consider when decorating your baby's first room is safety. 
Place the crib away from the windows, cover the outlets, keep cords out of reach, don't put pillows and toys in the crib when the baby is sleeping, and so on. Design and decorate the nursery with safety in mind!
Decorating a nursery can be overwhelming – there's no doubt about it. With so many beautiful themes, options, and design ideas it can be easy to get carried away and over-do it.
Our best advice when trying to decorate your baby's room is to keep things simple and don't break the bank. Be flexible with design so that you can adapt it as the baby grows, and always decorate and design with safety in mind.