Below is a list of the top and leading Cardiologists in Gold Coast. To help you find the best Cardiologists located near you in Gold Coast, we put together our own list based on this rating points list.
Gold Coast's Best Cardiologists:
The top rated Cardiologists in Gold Coast are:
Gold Coast Heart Centre
Cardiac Dynamics
The Cardiac Centre
Gold Coast Heart Centre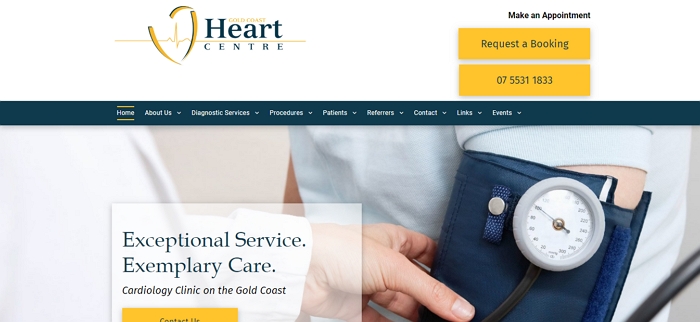 Gold Coast Heart Centre. Source: Screenshot from www.gchc.com.au
Gold Coast Heart Centre provides cardiac treatment and cardiac investigative services across the Gold Coast and northern New South Wales. Their professional team is led by seven cardiology specialists with clinical expertise. They are dedicated to ongoing education and the advancement of cardiac techniques.
Their team consists of cardiac sonographers and technicians. These people are trained professionals who work collaboratively with their administrative team to ensure that clients receive a high standard of professional care and service. They work closely with their client's general practitioner to provide medical continuity.
Products/Services:
Consultations, Diagnostic Tests, Cardiac Procedures
LOCATION:
Address: 14 Hill Street, Southport QLD 4215
Phone: (07) 5531 1833
Website: www.gchc.com.au
REVIEWS:
"The centre's team were amazing! Thank you for everything you all have done for me. Thanks!" – B. Marcus
Cardiac Dynamics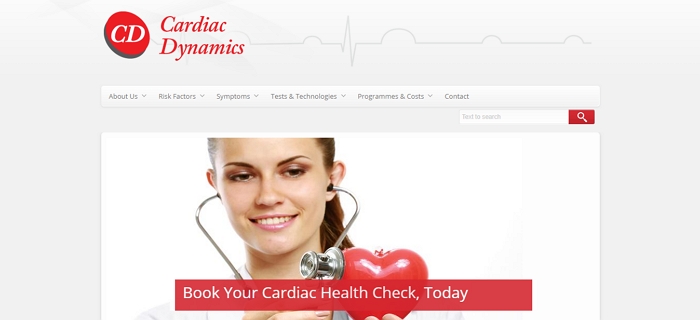 Cardiac Dynamics is an investigative facility dedicated to the early detection and management of heart and vascular disease and related risk factors.
Established and managed since 1977 by Dr Geoffrey Adsett, now in association with Professor Rohan Jayasinghe, and Dr. Anchita Karmakar, Cardiac Dynamics is now bridging the gap between GP and specialist care.
They can accept patients with or without referral, so there is no long waiting time. They are able to streamline the assessment process and provide more people with timely solutions to their cardiovascular cares and concerns.
Products/Services:
Automated Office BP, ECG (Electrocardiograph), Echocardiography, Exercise Stress Test, Holter Monitor, Pulse Wave Analysis, 24-hour Ambulatory BP
LOCATION:
Address: 8/2431 Gold Coast Hwy, Floor 1, Mermaid Beach QLD 4218
Phone: (07) 5578 6866
Website: www.cardiacdynamics.com.au
REVIEWS:
"Great staff and good service. Flight of stairs to get the heart pumping before getting in the door." – Pauly U.
The Cardiac Centre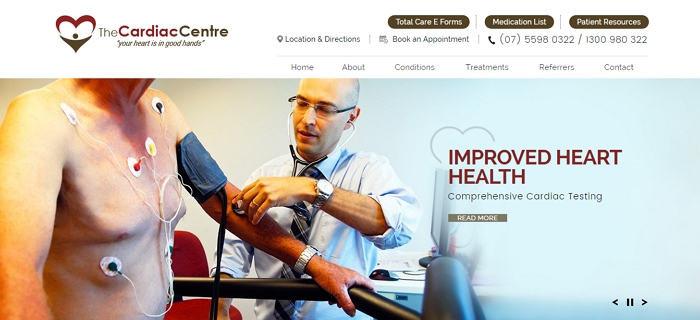 The Cardiac Centre is recognized as a leading cardiac treatment and investigation centre in Queensland. They are dedicated to the prevention, investigation and treatment of cardiac disease.
Dr. Guy Wright-Smith, Dr Shailesh Khatri, Dr John Meulet, Dr Stirling Carlsen and Dr Ben Hunt operate their practice under the umbrella of The Cardiac Centre. The Cardiac Centre has rooms at Hope Island Central, Hope Island, Pindara Private Hospital, Benowa, John Flynn Private Hospital, Tugun and Ballina Day Surgery, Ballina. All doctors have admitting rights to the John Flynn Private Hospital, Pindara Private Hospital and Gold Coast Private Hospital. The Cardiologists co-operate to offer a 24-hour cardiology service to the Gold Coast and northern New South Wales region, 365 days a year and have been providing 24-hour emergency angioplasty for treatment of cardiac infarcts since 1999.
It is their aim to work with their referring practitioners by meeting their individual requirements and providing their patients with the highest standard of care in a timely, compassionate and informed manner.
All their Cardiologists are involved in the education of medical students, nurses and General Practitioners. They are actively involved in continuing education to remain at the forefront of modern cardiac science.
Products/Services:
Exercise stress test, Echocardiogram, Stress Echo Consultation, 24-hr Holter Monitor, Event / Loop Recorder, 12-Lead ECG – Reported, Tilt Table Testing
LOCATION:
Address: Suites 507-510, Level 5/29 Carrara St, Benowa QLD 4217
Phone: (07) 5598 0322
Website: www.cardiacdynamics.com.au
REVIEWS:
"I just had an ablavtion with Dr John Mulet and he was fantastic. Can't recommend him enough. A great surgeon, great bed side manner and a good guy. Thanks" – Tony Haywood