The world of hosting and different servers can sometimes get a little confusing, particularly for those that aren't particularly tech savvy.
VPS essentially allows for its hosting plans to provide virtual machines to individuals and businesses. The idea of VPS and how it works can be compared to shared hosting, where a computer server can service multiple websites. The difference with the virtual servers is that each account can have its own resources and operating system.
For example, when it comes to shared hosting, individuals will need to share the resources that are connected to one computer. This limits the amount of resources that are allocated to each individual, and this can change and fluctuate depending on the number of people on the system at one time.
With VPS hosting, you don't need to worry about splitting resources or having a limited access capacity. It allows individuals a more stable hosting system. In simple terms, it allows for guaranteed resources, it's faster and more reliable.
Most people are familiar with programs such as workstation or Microsoft Virtual. This can be similar to a VPS set-up. This type of software will allow an individual to virtually run another operating system in conjunction with an existing one. Individuals use this type of system on their personal devices to conduct testing on software, without needing multiple computers in order to carry this out.
When it comes to the Australian VPS landscape, it's important to know which ones will give you what you are after for your specific purpose.
What are the best VPS hosting services in Australia?
Below is a list of the top 3 VPS hosting companies:
Here are some top VPS hosting servers in Australia that you can take a look at
#1 VPS Blocks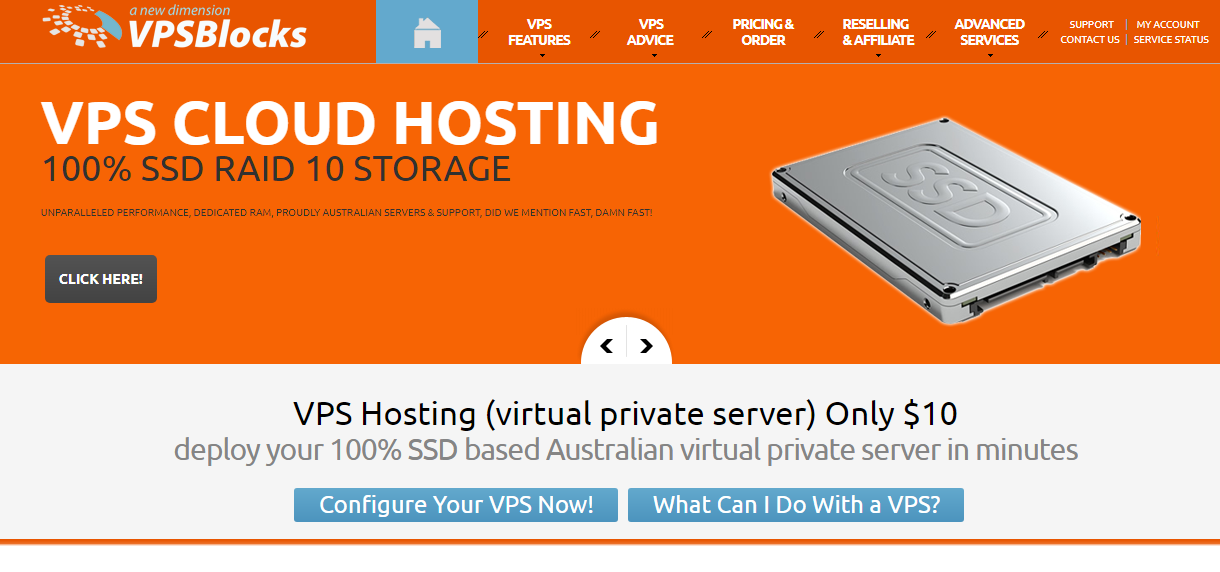 VPS Blocks is catered to tailoring their services for any need that clients may have. They offer CentOS 6 or 7 + cPanel (or Plesk) operating systems that are perfect for hosting multiple websites. If you are after another operating system, VPS Blocks has an extensive list with pricing on their website.
As using a VPS can be quite technical any questions or queries you may have, VPS Blocks are happy to help. Having an expert on hand to talk you through any misconceptions or worries can really put your mind at ease.
A great feature that VPS Blocks has is their customisation page. You are able to choose everything you need including the operating system, number of CPU cores, the dedicated ram size, the SSD disk capacity, the SATA disk capacity, the size of your bandwidth and the payment option (monthly, semi-annually or annually).
The customisation tab gives you an on the spot estimation of the cost with the option to be able to download a quote immediately. The quote also states any extras that are available and their relevant costs. The lowest plan advertised is $10 a month which is considerably lower than a lot of the competition in Australia.
The standard storage method with VPS Blocks is RAID storage. RAID storage means that when a disk fails, it can be easily replaced with the data being rebuilt into it. The data is rebuilt without any effect on your own VPS system. The RAID systems can withstand multiple disk failures before the entire system has to shut down.
VPS Blocks also has many extra safety features implemented to make sure that using their service is as easy and convenient and possible. An effective measure in place is the Self-Healing Failover procedure. The process is in place so that if a node (or physical machine) goes offline for any reason, that all is not lost. The system detects any fault that appears and acts immediately.
The virtual machines that are connected to the node are automatically directed to another node that is online and brings the whole system back online. This advanced infrastructure allows VPS Blocks to run a VPS clustering without any consequences.
They also offer limit scheduled maintenance which allows for your VPS to be migrated to another physical server system or commence any repairs and maintenance without affecting your service.
That means that everything remains online during these procedures making the transition as easy as possible. If maintenance is required of a physical machine, the VPS can be migrated while the repair is being done with no impact on the server.
While the last two services mentioned are extra they are affordable and essentially pay for themselves in the long run due to their convenience and the benefits that they provide.
They also offer 30% Discount for new clients!
#2 Network Presence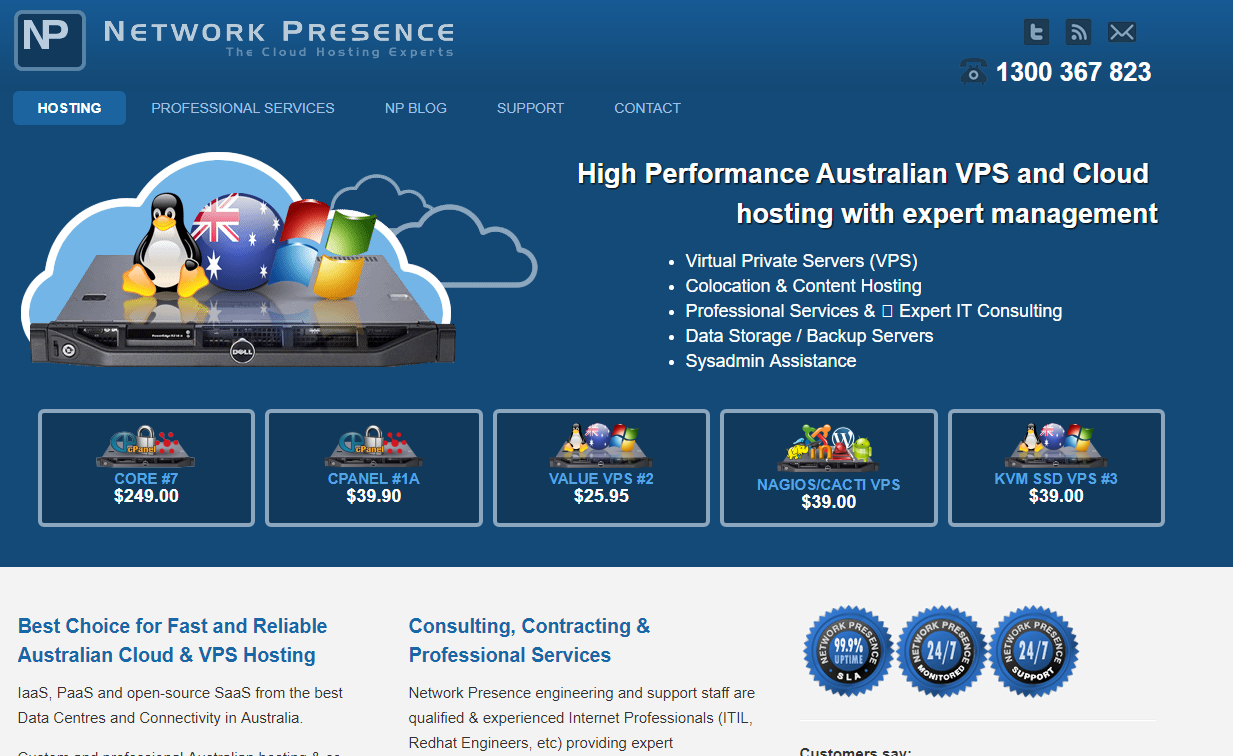 Netword Presence – is one of the bests VPS hostings in Australia based on the price and performance.
When you look for VPS hosting servers, you will want one that is known for high performance and reliable. This service provider is known for having the best data centers and connectivity in Australia. This includes IaaS, Paas and open source SaaS. With a super-fast speed, they are one of the leading choices.
They allow for custom hosting and collation for Internet and cloud server. They go above and beyond, with a 99,99% Uptime SLA over the past 12 months.
In terms of fast and reliable support, they pride themselves on having local Australian support staff. They are on call 24/7, allowing for quick and professional technical support when required.
They allow you to take control over your web hosting activities by using their "industrial strength" VPS system and networks. At wholesale prices they are known to be one of the cheapest servers of this nature in Australia.
They are known for their high-level performance systems, root access and the ability for self managed systems. Their servers provide a strong connectivity from the eastside of Australia.
You have the option between paying by the hour or having a 24/7 runtime. This all includes a large amount of bandwidth, RAM and disk space. If you require a VPS plan on a Windows Server 2012 or a 2016 64-bit Operating System, this can be done on a SPLA monthly plan.
Their plans include the following:
Big CPU
This plan is ideal for businesses, developers and individuals who are looking for a CPU that has the resource to keep up with high demand. It also comes with reliable and high-speed disk storage and bandwidth.
Although each plan has the same in terms of CPUs, the high-end options have more priority on their CPU and therefore their processing abilities are stronger.
SSD Disks and its strong memory capabilities make this option a viable choice for many individuals and businesses especially with multiple websites. It also comes with more resources for those that require a high level of VPS processing. It can also have the option of additional services, such as extra RAM or disk space.
This option has high-speed CPU cores, and comes with around 4GB RAM. It also allows for unmetered network bandwidth from Sydney or Canberra.
For a cost effective price that is hard to find anywhere else in Australia, you can receive SSD VPS Disks and more. It is available in their Sydney POP, which is known to be one of the most reliable data centers in Sydney.
This option is for individuals that are looking for additional resources than just an average web hosting service. This is the option that people chose for a quicker and flexible plan where they need to manage a number of different hosting accounts and domains. With the capacity for a large amount of storage and with very fast network speeds, it also has a very strong infrastructure with high-level network capabilities.
This option is known for having a high level of responsive VPS and at the cheapest price.
This plan is the most popular among small business operators and anyone who is looking for a high performance from their RAM, disk storage and bandwidth.
This is the option for anyone who is looking for strong storage performance. It also features fast disk storage, as well as bandwidth.
The Value SSD VPS now comes with runtime charging, which gives individuals the ability to buy the VPS at a lower recurring fee. They only need to pay the cost when they run their VPS.
 #3 Entity Data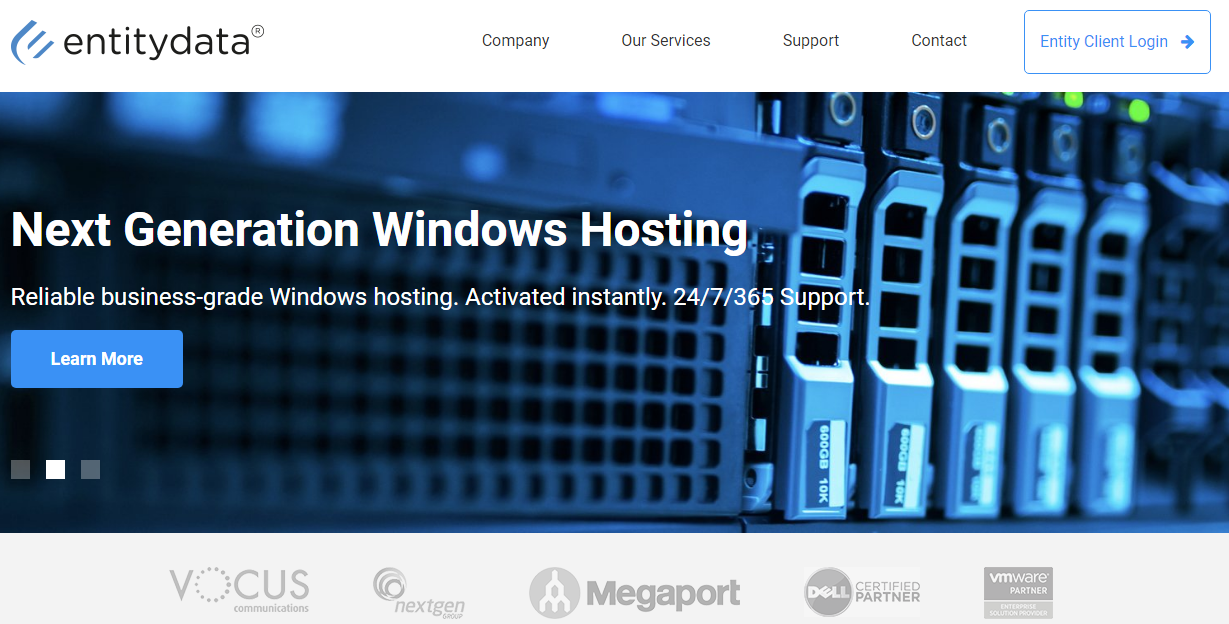 Entity Data is one of the oldest hosting providers in Australia and they've been in the business of virtual servers since 2007. Entity Data has an extensive range of services and cater to all requirements from small business up to enterprise and even government hosting. Entity Data is a more premium hosting provider focused on quality and they can be a little more expensive than some other options.
In 2017 Entity Data rolled out a new SSD VPS hosting service designed to challenge some of the more budget providers in the entry VPS hosting market.  Entity Data's Velocity SSD VPS platform is extremely fast and built entirely on Samsung enterprise SSD disks powered by Equallogic. Entity Data go as far as to guarantee customers a minimum of 10,000 disk IOPS for each VPS which is something no other Australian VPS provider is offering. They also guarantee 99.999% availability of your VPS and the SLA backing that up can be downloaded from their website.
Velocity SSD VPS offers both Linux and Windows and Windows + MS SQL with pricing starting from $33 per month for a Linux VPS and $48.00 for a Windows VPS.  They offer 24/7/365 support and you can order the VPS unmanaged or fully managed for a hefty $80 per month extra.
Entity Data also have a higher-end server environment available for larger business which is their Managed VMware Cloud platform. While far more expensive than their entry level VPS service it has very advanced features and can be ordered with many excellent security addons including Firewalling, Intrusion Prevention, Multi-factor authentication, Load Balancing, VPN and more.
Other High Performance Hostings:
#4 Digital Pacific
Digital Pacific provides both self-managed and managed VPS plans. They are all about giving individuals the right service for their VPS management level, and what the customer will feel the most comfortable with.
With their self-managed plan, you receive a VPS that comes with a high-level of security protection in Sydney from around $24.95 per month. This plan is popular among businesses and individuals that are looking for a dedicated hosting provider, yet don't want to fork out the money for a physical server. This option is for those that have a higher level of skills when it comes to VPS, and feel they have the confidence to manage it mostly on their own.
Their self-managed plans start from around $58.25 per month and come with the same high-level of protection as the self managed plan. This option is for those that don't have the time or the skills to manage their own VPS solution.
#5 Crucial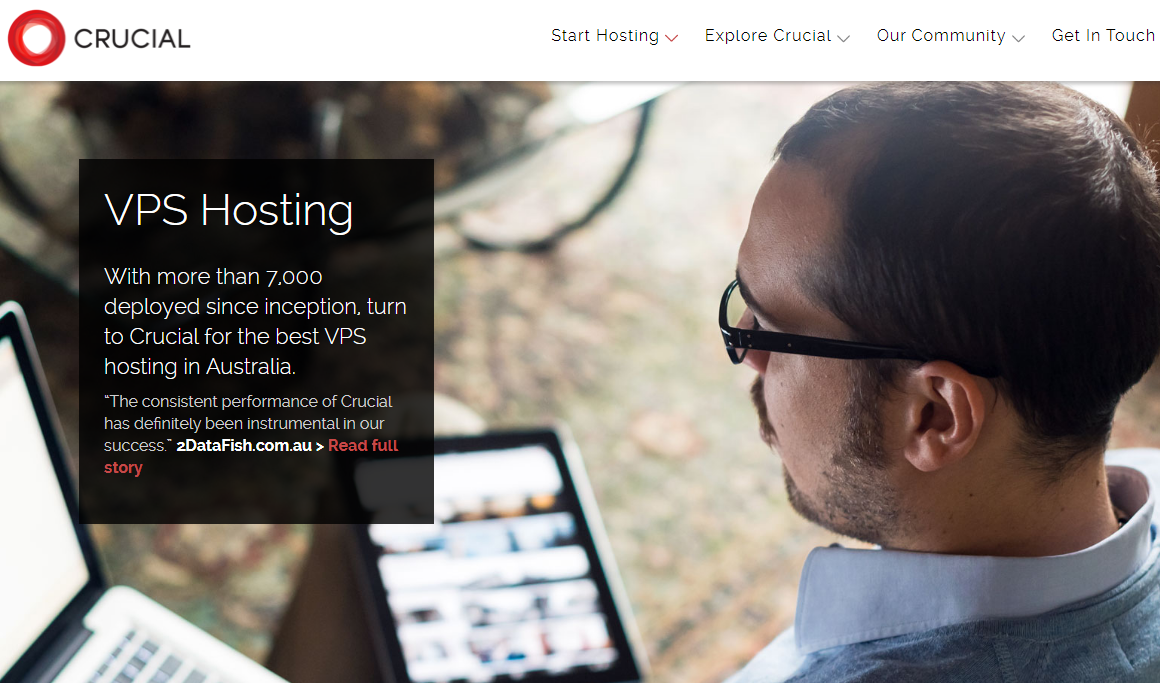 Crucial has tailored three different VPS solutions for each individual and businesses skill level, confidence and hip pocket. They provide themselves on having a consistent performance. They have over 7,000 VPS solutions running since they started operations.
They are locally run and operated, including it's support staff and experts, who provide around the clock support every day of the year. They also have a 99.9% uptime guarantee, which allows for a reliable and fast experience.
Here are their three core VPS solutions.
This solution is for those that want to be more hands on when it comes to their server. These individuals will have a strong knowledge of VPS servers and exactly known how they want to configure their plan to their needs.
This plan is for those that have the know how to managing their hosting, particularly a strong understanding of how to navigate a control panel.
This solution is for those that either don't have the knowledge and skill set to manager their own server, or would just prefer to let the experts handle it. This is ideal for businesses and individuals that are too busy to manage their server plans, and would rather get on with focusing on other components of their business.
So….
At the end of the day, when you are looking for the perfect Australian based VPS hosting servers, you want to find one that is reliable, provides high-speed and has local and professional 24/7 support.
Cost is something to also consider and look at carefully. Some VPS providers can seem like they all provide the same plans for the same cost, but there are providers that can giver you an all-round best solution for the cheapest cost.
When looking at VPS servers in Australia, take a look further at the ones mentioned above, and have a clear understanding of whether you would prefer a managed or self-managed solution. Sometimes packages may not state outright how their plans are managed and little bit of investigation might be needed.
VPS hosting servers are a great option for many business and individuals that don't want to share resources like a shared network. This can be unreliable and fickle at times, and is also dependent on the number of computers and users configured to the system.
So, if you want a way of allowing your server to run multiple machines and have its own operating system, as well as be rebooted independently then give VPS hosting a try. With guaranteed resources it will be one of the most cost effective hosting plans you will have signed up to.