As tattoos become more and more popular and it is quickly becoming a hallmark of fashion to wear your favourite designs on your sleeve (pun intended).
There are loads of designs readily available and you can always have your own designs tattooed. If you've been hunting for your next artist, look no further. Here are some of the best tattoo parlours in Australia!
Hibernia
If you're after a diverse range of artistic approaches to help you decide on what kind of tattoo to get, this Sydney located studio might be for you. Hibernia has 7 artists, all with their own unique style, and all of who are willing to spend as much or as little time as necessary to create beautiful masterpieces that you'll love forever.
For a more personalised yet friendly environment, they go by appointment only which is perfect for when you're considering getting larger pieces that may take multiple sessions.
On top of the talent and skill at Hibernia, this Heritage listed building boasts high arched ceilings, good tunes, and those awesome large windows that let in lots of natural light, adding to the seriously chill vibe that the cosy, private parlour already has.
Valley Ink
There's more than a few reasons as to why this quaint little tattoo parlour is highly regarded by Brisbane dwellers. The current team of 6 at Valley Ink have an amazing eye for line work, as well as black & white realism.
Although they mainly go by appointments, walk-ins are definitely welcome, making it all the better when you're feeling like jumping on a sudden spontaneous streak. For extra convenience the studios hours run as late as 8pm most nights, extending to 12am on Friday night and Saturday night.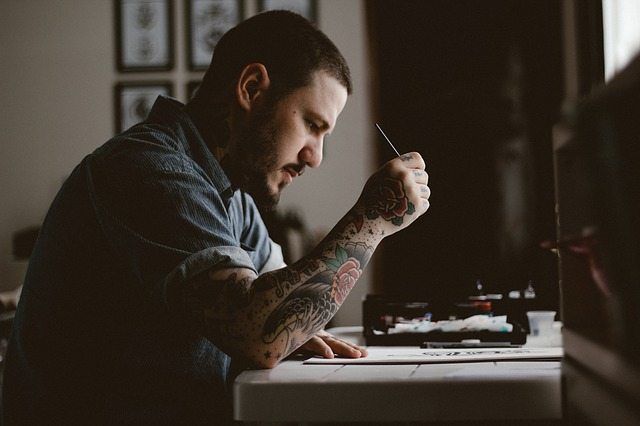 Just to add a new level to the whole experience, the studio is located right smack-bang in the middle of the recreational heart of Brisbane, conveniently doubling as a bar- meaning if at any point you get restless or you simply want/need a break, you've got the option of some good food and drinks.
Chapel Tattoo
This well established studio opened in Melbourne in 1994. Being owned and run by 3 exceptional artists, Chapel Tattoo has quickly become one of the most respected and highly trusted tattoo parlours in all of Australia.
Hosting at least 13 unique artists, all committed to the pure quality and outcome of their work, you can rely on this studio to either provide you with an extensive range of already existing designs, or bring to life the exact vision you have in mind.
Chapel specialises in a variety of different techniques, from high-detail realism to American, Japanese, Eastern and Tribal styles. Not only are the artists here skilled in what they do, they are all really laid back and bounce off of each other which sets a friendly, welcoming environment. Appointments and consultations are usually how this studio operates but they will never turn away walk-ins.
Third Eye Tattoo
Open 7 days a week, Third Eye Tattoo specialises in a huge variety of different styles including traditional, Japanese, portrait & realism, script, geometry and sacred art.
In addition, they are also highly reputable in Melbourne for their cover-up work, so for those of you who are regretting your spur of the moment decision a few years ago to get that good old, classic 'Mom' with an arrow tattoo – Third Eyes' got your back.
The artists here are all friendly, brilliantly creative and have a flair for originality, working closely with their clientele to ensure the desired result is up to standard. You can book in for a consultation to work with the artists here to create custom pieces or alternatively, walk-ins are welcome and existing designs are also available for choice.
The Black Mark
The Black Mark really prides itself on providing the best possible results for their clients. To enable and ensure the quality of the tattoo they're creating for you, The Black Mark tattoo studio will only go by appointment, not accepting any walk-ins for the reason that they prefer to focus solely on one individual's piece at a time.
The dedication to one piece at a time allows for the creation of a truly unique, one of a kind tattoo. For this same reason, they do not take phone call bookings and all consultations are made by email.
Not only do the artists here supply a top quality result every time, the studio itself is beautiful! The hard-wood polished floors, rustic furniture and greenery make you feel right at home and the artists do not fall short of the same.