Everyone loves to travel and everyone loves to spend money. But saving up for a holiday and buying the luxury items we enjoy can often be at odds with each other. Luckily there's a way to do both simultaneously.
With many credit cards offering Qantas Frequent Flyer points per dollars spent, it's easier than ever to work towards your next getaway. It's a perfect way to get peace of mind knowing that the money you're spending is earning points that can make a future holiday more affordable.
Here are the most common credit cards:
Name
Click to apply
Earn Rate
Fee
Benefits
Min salary p.a.
Qantas American Express Discovery Card
www.americanexpress.com
1 point per $1
$0
Qantas Points
$24,000
ANZ Frequent Flyer Black Card
www.anz.com.au
1 point per $1
$425 p.a.
Qantas Points

2 American Express Airport Lounge entries each calendar year6

2 Qantas Club lounge invitations each year

$75,000
American Express Qantas Ultimate Card
 www.americanexpress.com
1 point per $1
$425 p.a.
Qantas Points

2 American Express Airport Lounge entries each calendar year6

2 Qantas Club lounge invitations each year

 $65,000
ANZ Frequent Flyer Platinum
 www.anz.com.au
1 point per $1
Qantas Points

Overseas Travel and Medical Insurance

Interstate Flight Inconvenience Insurance

Rental Excess Cover

 $35,000
Bendigo Bank Qantas Platinum Mastercard
www.bendigobank.com.au
0.6 point per $1
$149 p.a.
Qantas points
 $60,000
NAB Qantas Rewards Premium Card
www.nab.com.au
1 point per $1.5
$250 p.a.
Qantas Points

Overseas Travel and Medical Insurance

 $60,000
Since Qantas Frequent Flyer is the most popular flight rewards program in Australia, it's easy to see why so many lenders are competing to provide the best value offering for customers hungry for savings. These credit cards come in a range of shapes and sizes offering different point earing rates, annual fees and complimentary perks.
But which card is the best deal for you? There are a variety of choices with their own benefits and it can be hard to quantify the best possible deal. Most of it will depend on your income, ability to repay debts and spending habits.
Despite the varying factors that determine the value of each rewards card there are a few ways we can narrow down the top picks.
It's also important to know which tips and tricks will help you maximise the amount of points you earn so that you are getting the best possible value for using a rewards card. The following details the best credit cards for those seeking to build-up their frequent flyer points and the best way to maximise their usage.
The Qantas American Express Discovery Card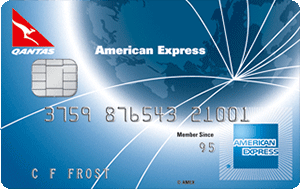 For those people who enjoy earning frequent flyer points but want to avoid annual fees then the American Express Qantas Discovery card is the perfect choice. There is great value here for people who are spending an average of $2000 each month. You can apply for it here: www.americanexpress.com
With 1 point for each dollar spent and no cap on the amount of points that can be earned, it's easy to rack up a large amount of reward points. You'll also earn extra points when spending money on selected Qantas products and services within Australia. With no annual fee to take a chunk out of your yearly rewards it's no wonder this card is so popular.
Additionally the Qantas American Express Discovery card provides fraud, purchase and refund insurance while allowing you to request up to 4 supplementary cards with no annual fee. You can also save money with any existing card debt as this card has a balance transfer rate of 0% p.a. for 12 months.
It's also easy to make 'tap and go' payments since the card is compatible with apps like Apple pay, Samsung pay and Android pay.
The Qantas American Express Discovery card is a low maintenance option for anyone with the ability to easily pay off their full balance each month. With a minimum income requirement of only $35000 it is highly accessible to most working people. It also automatically credits points to your frequent flyer account so there is no need to spend time trying to keep track of how your rewards are adding up.
This card really is designed for people who are going to use their card frequently and are clever about their debt management. If you can keep track of a few important factors and make good on your repayments then this card is the one of the best value offerings on the market.
The ANZ Frequent Flyer Black Card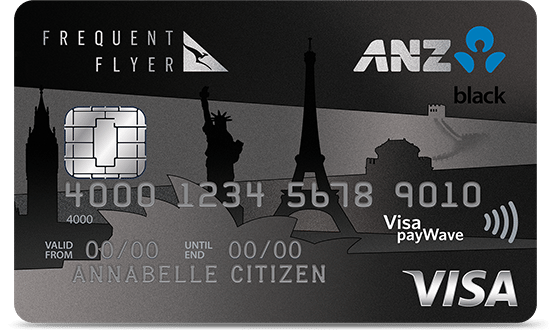 The ANZ Frequent Flyer Black card is another popular choice with Qantas rewards lovers. With an immediate 75,000 bonus points available it's certainly a tempting choice for those who want a quick boost.
A relatively steep $425 annual fee is forgivable when you consider the amount of perks associated with the card. Free Qantas status credits, overseas travel insurance, medical insurance, interstate flight inconvenience insurance and 2 Qantas Club Lounge invitations per year make this an ideal card for big spenders who are already travelling frequently.
You'll earn 1 point for every 1 dollar spent for the first $7500 each month but only 0.5 points for every dollar spent after that.  There's a 12 month extended warranty for most major purchases so frequent shoppers can have some peace of mind. This includes 90 purchase security insurance for theft, loss and accidental damage of products.
There are a lot of Visa entertainment options giving card holders access to special events, merchandise and several home entertainment products. Bargain shoppers will enjoy the best price guarantee scheme that helps to track down the best price on purchases made in Australia.
Like the AMEX discovery card, a high interest rate with a large amount of interest free days means that this is most suitable for people who know they can reliably pay off their monthly fees. It should be noted that there is a 3% foreign exchange margin for overseas purchases.
With a minimum earn of $75000 required to be eligible, this card is definitely targeted towards the big players. For those who are spending large amounts each month, can reliably pay off their debts and will frequently travel, this card offers a comprehensive list of perks that this type of person will enjoy.
The American Express Qantas Ultimate Card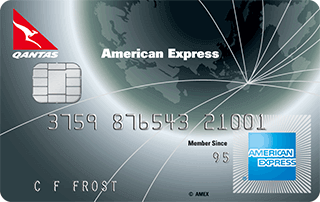 AMEX cards are offering some of the greatest value for frequent flyer points lovers as the larger lenders wind back their rewards programs. The AMEX Qantas Ultimate Card has the best possible points earn rate on the market with 1.5 points earned per dollar spent.
Like the AMEX Discovery card this has no cap on the amount of points that can be earned each month. There is a $450 annual fee but this is offset by the $450 of Qantas travel credit that is given each year.
With complimentary travel insurance, refund and purchase protection alongside a neat 55000 bonus frequent flyer points it's easy to understand why this is considered one of the greatest value traveller cards on the market. To get these bonus points all you'll need to do is spent $1500 in the first 3 months of having the card.
To apply you'll need an annual income of at least $65000 making this card sit in the middle between the AMEX Discovery and ANZ Black cards. Like the other cards this is only a highly rewarding offer if you know you can pay off your monthly debt on time, otherwise the high interest fee will negate its overall value.
This card offers a whole heap of great incentives that almost seem too good to be true. To get the most value out of it people will need to be sure of their ability to make repayments and use their credit card for every purchase they make.
The ANZ Frequent Flyer Platinum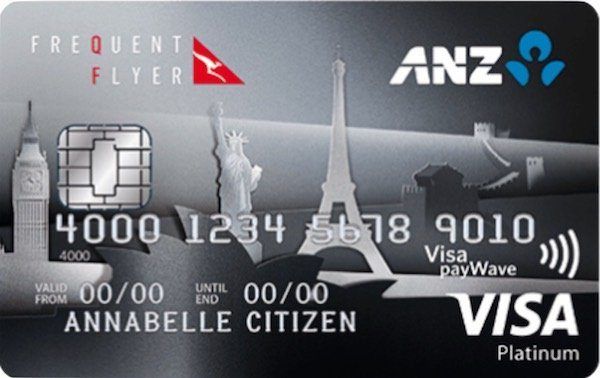 This card sits a little lower down the rung than the other offering from ANZ but offers respectable frequent flyer points earnings with a lower annual fee that is waived in the first year. It offers free Qantas Frequent Flyer membership and complimentary travel insurance, extended warranty and purchase protection as well as access to a concierge.
Earning only 0.75 points per dollar spent up to $3000 and 0.5 points after that, this card does not provide the same points earning value as its AMEX Discovery counterpart. Repayments are 55 days interest free for those who can pay off their debts each month but has a steep 19.99% interest fee for those who can't.
One of its main offerings is 65000 bonus points for customers who spend $2500 in the first 3 months. However this offer is only available to new ANZ card customers.
Ultimately this card is best suited for those who want to enjoy the added perks of rental car cover and the various insurances that are provided. In terms of its core numbers it's not the best offering here as there are simply more attractive trade-offs available. It is still better than most reward point cards so it has earned its place in this list.
The Bendigo Bank Qantas Platinum Mastercard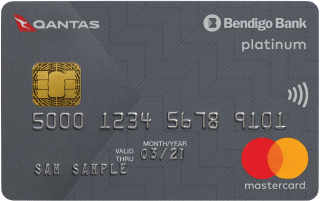 At $149 p.a. this card boasts one of the lowest annual fees for Qantas frequent flyer rewards cards and shows that this offering is clearly aimed at Qantas customers looking to save money. With an uncapped point earning rate of 0.6 per dollar and a very generous amount of interest free days this is a high value rewards card when you take into account the low annual fee.
The Bendigo Bank Qantas Platinum Mastercard has the benefit of being accepted at nearly every retailer making it easier to rack up the points. The card also offers 180 days complimentary travel insurance, free frequent flyer membership, extended warranty on purchases and 90 purchase protections.
The NAB Qantas Rewards Premium Card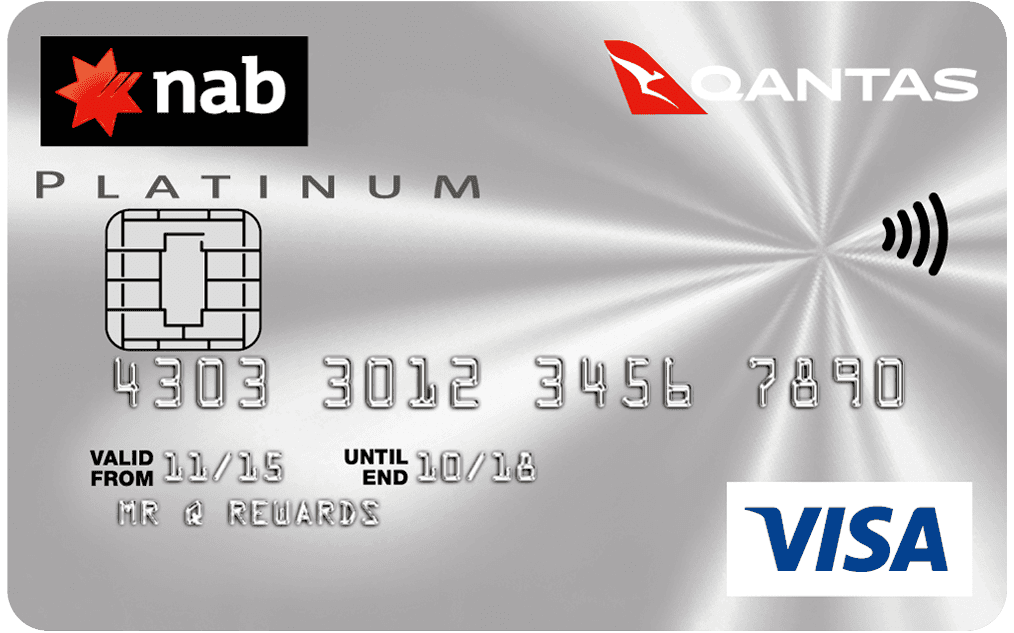 This offering from NAB offers a cool 25000 bonus frequent flyer points as well as good value points earning for those spending $3000 per month. The card offers 1 frequent flyer point for every $1.50 spent up to $3000 and then 1 point per $3 until $6000.
The $250 annual fee is low in comparison to other reward card offerings but becomes less appealing when you consider that the rewards earning rate is cut in half after $3000 spent and will cap at $6000. For these reasons this card is not ideal for large spenders who want a steady rate of points earnings.
This card is of good value to those who want a reasonable points earning scheme with a good amount of complimentary perks included.
How To Get The Most Out Of Rewards Credit Cards
No matter what rewards card you have decided to go with there are some important spending habits to adopt in order to get the most out of it. There's no such thing as too many frequent flyer points and you'll be surprised at just how many you can earn in a short amount of time.
Use The Rewards Card For Every Purchase
People sometimes tend to believe that their credit card is only suitable for large purchases like expensive dinners, electronics and home appliances. In reality there is really no reason not to use it for everyday purchases especially if you're trying to maximise your frequent flyer points.
Tap-and-go systems like PayWave and PayPass make it more convenient to use a card for quick, small purchases than to carry cash around. Even though these purchases may seem small, they will all quickly add up to a large amount of points being earned.
Be careful to watch out for credit card surcharges to make sure the extra spend is worth the points you'll be getting. Because of the hefty interest rates of frequent flyer rewards cards you'll need to make sure you make your repayments in full so as to avoid fees that will negate any potential rewards.
Avoid Using BPAY
The majority of lenders won't reward any points on BPAY transactions so avoid using it for your online banking. Paying each bill manually with your rewards credit card will make sure the payment is considered as a regular transaction that is eligible for earning frequent flyer points.
Setting up a direct debit with you rewards card is a great way to save time especially if you have a number of recurring costs like gym memberships and health insurance.
Pay For Public Transport With Your Rewards Card
It's also convenient for time saving and points earning by setting up cards like Opal to automatically top up their balance from your rewards credit card. This allows you to relax knowing that your commuter card will always have money on it while earning frequent flyer points at the same time.
Certain cards like American Express won't be accepted online in order to complete an auto top up. An easy workaround for this is to simply use the rewards card to top up manually at service stations which offer the service.
Use American Express Via Paypal
While the majority of major online product and service providers will accept AMEX cards, some others will not. Since AMEX cards offer some of the most generous point earnings per dollar spent, you'll want to make sure it's used as often as possible.
The thing is, many of these online retailers who don't accept AMEX cards will accept PayPal. You can set up PayPal to withdraw from your AMEX rewards card so you are still earning points for those transactions.
All of the credit cards featured in this article have different strengths and weaknesses. Each offering attempts to offset its low value features with high value ones and which one is best for you will depend on a variety of personal factors.
Big spenders are going to find themselves most rewarded by the more exclusive cards as their rewards are heavily targeted towards those who enjoy a lifestyle of frequent travel. The more modest offerings are harder to decide between as they are highly competitive in the point earnings they offer and it will require some monitoring of your spending habits to get the most out of them.
We have also outlined some clever strategies to make sure that you are constantly earning points no matter which card you are using. If your goal is to accumulate frequent flyer points through credit card spending then it's best to take advantage of this system at every opportunity.
By now you should be well informed on the details of each rewards card that is available and be able to make a decision that works best for your individual circumstances. These cards are of great value when trying to earn frequent flyer points but only when you understand your ability to make repayments and whether or not the complimentary rewards are of value to you.
****
The information contained on this page is general in nature and does not take into account your personal situation. You should consider whether the information is appropriate to your needs, and where appropriate, seek professional advice from a financial adviser.
The information included in this article was taken from the internet in 2017 and it shouldn't be considered as advice. The terms on which these credit cards are described in this article might not be accurate now. In order to get the most accurate information, you should seek professional advice from a financial adviser.