The interior of our home defines us as much as the clothes we wear or the music we listen to. As furniture is a luxurious product it must be crafted reliably and professionally. If you want that piece of furniture to really define you, custom made is the way to go.
In the Sydney region alone there are many different providers and services for custom made furniture. The research for the perfect service could take eons; luckily we've got the list to help kick start your dream interior into becoming a reality.
Who are the best custom made furniture stores in Sydney?
| | | |
| --- | --- | --- |
| Business | Website | Specialty |
| Desired Living | www.desiredliving.com.au | Leather sofas |
| Eclipse Furniture | www.eclipsefurniture.com.au | Timber dining tables |
| Nathaniel Grey | www.nathanielgrey.com.au | Custom timber |
| Made 2 Custom | www.made2custom.com.au | Entire room projects |
1. Desired Living
Desired Living specialise in removing the frustration from the furniture shopping experience. Their high quality and affordable leather products are backed with their ground-breaking customisation system to create the perfect piece of furniture for everyone's desire.
Creating that perfect interior area can be stressful and frustrating for a lot of people. Desired Living is happy to be involved in the decision making process, offering live chat options for any help or even an opinion.
The customisation system that is implemented on the website is quick, easy to use and most of all it's fun. This little handy tool makes the process so much easier. Rather than asking the manufacturer for dimensions, quality or colour, everything is listed for you and is customisable to your preference.

Their push for affordability, doesn't sacrifice quality is what puts Desired Living above the rest. As they have minimal brick and mortar presences they are able to pass those savings directly onto the consumers. Their products are at a huge discount compared to the variety that you see in stores.
Removing the middle man also helps drive down the cost of these high quality products, but what they offer that the competition does not is their buy now pay later scheme.
As custom made furniture is a niche industry, many aren't in the position to offer an interest free purchase. This method of payment assists a lot of people to secure their dream sofa.
How can Desired Living be even better? After mastering the craft of leather sofas, Desired Living expanded into other living room furniture and even bed heads to bring the complete experience to the consumer.
Their coffee table and TV cabinet selection is a sight to behold. The selection of modern designs with their high quality leather fit the needs of everyone.
The sofas aren't the only things that are completely customisable either. Desired Living offers their easy to use customisation on all their products ranging from difference in colours, to layouts and dimensions.
To top it all off, Desired Living takes 8-12 weeks to create and deliver your work of art. They deliver Australia wide even offering free delivery insurance to ensure that you receive your piece of furniture in the same condition that it was sent. They only use the most professional furniture removalists.
If you're looking to express your living room with high quality custom leather products then Desired Living is the place to go. If you just can't get enough of their custom furniture online, they also offer showrooms to get a first-hand look at their products along with many photos on their website.
2. Eclipse Furniture
So you've finished with your living room and need to add more you to your house, the next place is the dining room. Eclipse Furniture offer a huge range of beautifully made custom timber dining table, chairs and even a little something for the bedroom.
All of the timber products that Eclipse creates are 100% Australian made, eco-friendly and have a durability guarantee on them. Eclipse wants you to actually use their products; they aren't just there to look pretty. They're meant for family use and will be a wonderful addition to all the memories and activities surrounding it.
The timber that is used is primarily from a private sustainable property where they use a portable saw mill to get that perfect cut of timber. Another great thing that Eclipse does is restore existing timber and making it into a work of art. Usually sourced from old houses or furniture, is then transformed into one of Eclipse's products.
Eclipse is big on you seeing the furniture for yourself. The Sydney showroom is open for an average of seven hours each day throughout the week and is even open on Sunday. A big benefit from Eclipse is their digital showroom tour.
Eclipse has set up an online tour of their showroom so that you can "walk around" and look at the furniture without actually being there. It's a great feature to have if you are strapped for time and want an authentic look at the products on offer.
The colour and grain of the timber can be just as important as the size of the piece of furniture you are looking for. Eclipse offers a range of different types of timber to accommodate with everyone.
Additionally if there's a type of grain or pattern you want, the staff will be happy to assist you and make sure you get the perfect piece of timber for your perfect piece of furniture.
When you do business with Eclipse you know you are in good hands. They have been in the industry of timber craftsmanship for over 25 years and offer a wide range of customer testimonials to back up their claims and products.
They have so much attention to detail for every step along the way. From the selection of timber to the oil finishing, nothing is overlooked by Eclipse.
3. Nathaniel Grey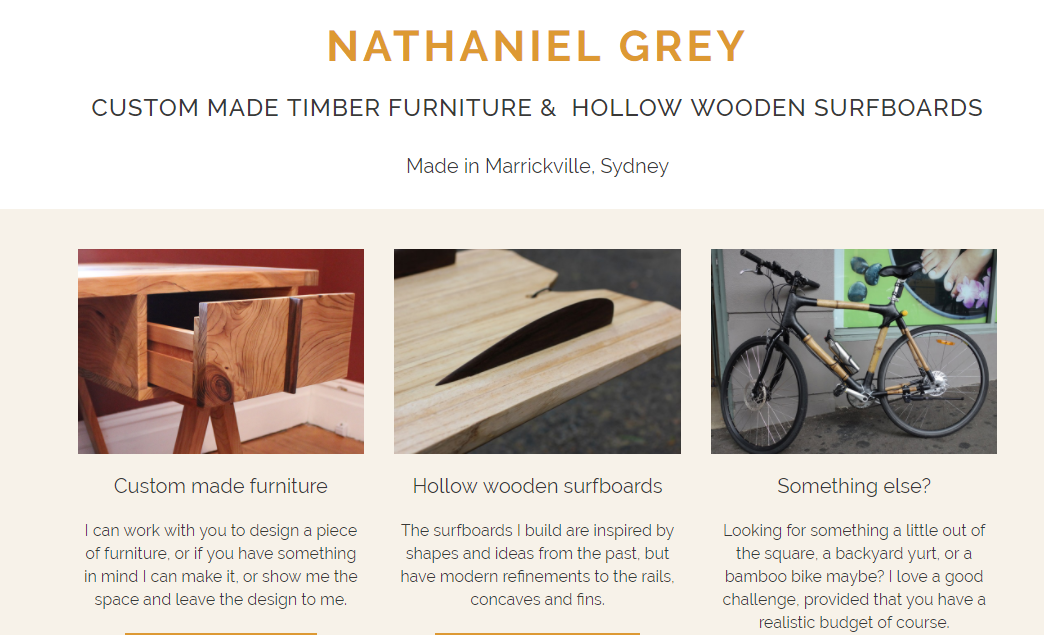 Nathaniel Grey is the master craftsman of timber. His skillset isn't just limited to furniture in this case either. Nathaniel Grey is always up for a challenge and can create hollow wooden surfboards to even bicycles with timber.
A timber surfboard or bicycle is definitely a talking point for anyone that spots it in your household, but the eye catching furniture doesn't stop there. Nathaniel Grey offers a large selection of furniture for many rooms of your household including bathroom vanities and cabinets to handcrafted lamps.
If you have something in mind Nathaniel Grey is happy to work with you in the designing process even to the point where small area needs to be fitted, he will personally go and measure the space to ensure that it will fit. Or if you're stuck for ideas and just want some furniture he is happy to take the design process himself.
His style of work is inspired from Japanese and Danish furniture and architecture; and also industrial style furniture which give a real originality to the products made.
All of Nathaniel Grey's work is accompanied with photos and past projects from previous clients. These mini testimonials that showcase previous clients finished products show the genuine side of business that Nathaniel Grey brings. If you need a quote, he lists his mobile number and email, eager to talk to you about the project you have in mind.
Nathaniel Grey also has an Instagram account and Pinterest page where you can see some previous creations or even the building process itself. The social media accounts reinforce the authenticity of the products and the service that he provides with an interesting glimpse into how the furniture is created.
His passion for surfing and crafting are translated into his products. The quality of the products provided is held of utmost importance from Nathaniel Grey. He only works with plywood and timber to ensure that the furniture is durable and has the least impact on the environment as possible.
4. Made 2 Custom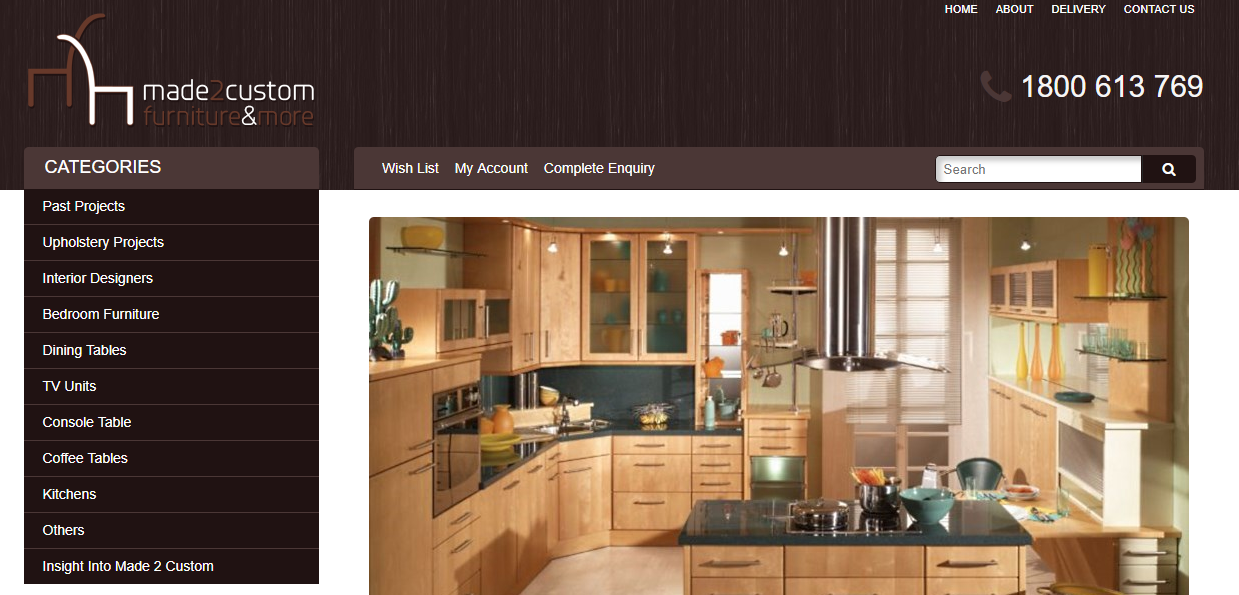 Being in the industry for over 20 years, Made 2 Custom offers a wide range of custom made furniture. Made 2 Custom used to wholesale to many businesses but due to demand have branched into custom made furniture.
They take any kind of idea, even napkin scribbles, and work with their customers to help create the furniture and service that they envision.
Working heavily with Australian and New Zealand timber ensures that the quality of the products and services are kept high. They ensure that the products are created within the Australian standards and guidelines to guarantee that everything is held to high quality.
A big focus for Made 2 Custom is their customer service. They take into consideration everything that the consumer says and how they want to project to be done. Additionally they also send regular updates on the status of the order to bring a peace of mind and a sense of involvement for all their customers.
To create a stronger sense of involvement, Made 2 Custom feature a behind the scenes section of their website where they display their workshop. The gallery shows all machinery in the workshop as well as progression pictures for the status of the furniture.
Made 2 Custom's specialty though is entire room projects. They can measure and quote kitchens and fully refurbish them to give  the modern and personalised look that the consumer is after.
They also work closely with interior designers to ensure that their products are meeting expectations. This is something that other custom made furniture services don't provide in the Sydney region.
The services part is the main distinguisher for Made 2 Custom. Also offering custom stair cases, the cutting of raw materials and many others is something that the competition simply isn't doing. This opens up the custom experience even further by having more options available and being able to ask for opinions from experts in the profession.
So which service is for you?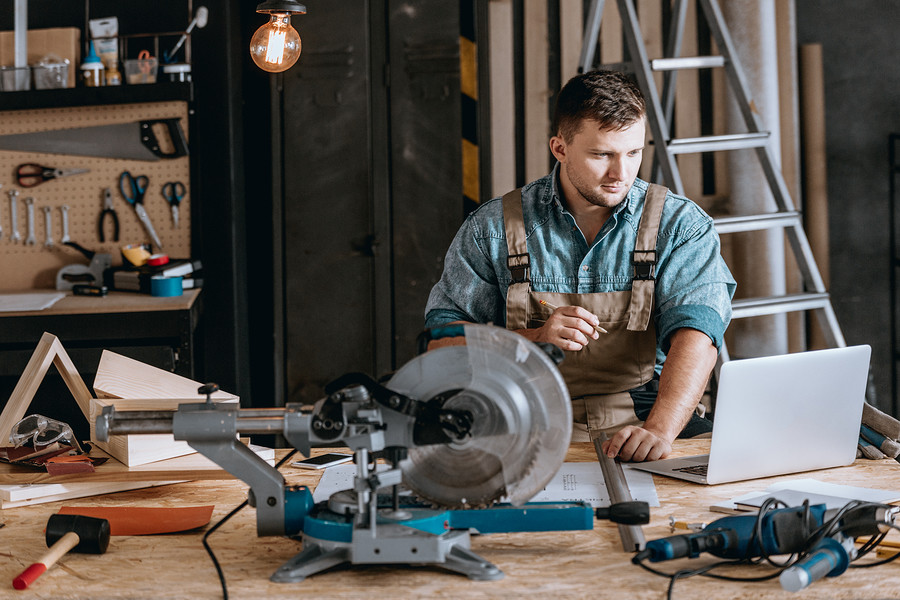 What type of custom furniture service you need relies upon your individual personal needs and desires. Many services are customisable and are driven on the consumer but they all have their own speciality. To make the process of choosing a business easier we have compiled our top 4 business in the Sydney area that specialise in this field.
Desired Living offers the best experience in terms of customisation involving their high quality products. Their website tool is a creation in itself allowing for a fast easy customisation experience. They also offer very affordable products compared to traditional stores and other services, offering interest free purchases which other businesses do not.
Eclipse Furniture offers eco-friendly timber furniture with an extensive gallery and viewing options. Their online digital showroom tour is worth a visit to their website at the least.
Nathaniel Grey offers a genuine custom service that isn't limited to traditional furniture. If you have an idea and he has the timber, he can build you almost anything to accommodate your house or hobby.
Made 2 Custom are the outliers of the list offering more services than the others. They offer decking, custom staircases and handyman work to name a few. They also include the consumers in the custom made experience with the cutting of raw materials.