Home
Authors
Posts by Om Singh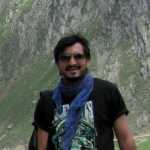 book yoga retreats
and
yoga teacher training
for yogis around the world. He is always on the lookout for interesting places to visit. It took him 25 years of his life to realize where his true calling lies, but once that was done, there's been no looking back.
Who is that new couple spotted in Tinseltown? Why, it's Aquaman star Amber Heard and cinematographer Bianca Butti. An insider confirmed that the pair are...
Nickelback will be heading back on the road in celebration of the 15th anniversary of their hit album "All The Right Reason". The Canadian rock...