Home
Authors
Posts by Ammar Ali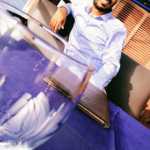 Seeking challenging position as a Digital Marketer and Computer Programmer. computer programmers develop instructions, also known as code, that tell computers how to run software applications. They test software programs to make sure computers process them accurately, and they correct any problems with the code so it will function properly.
Waterproof, solar powered and theft-proof, this is the backpack for the adventurers at heart. If you're looking for a modern-day replacement for your old...
If you're planning on visiting Southeast Asia in the near future, make sure you have the right tools at your disposal. These five travel...