Home
Authors
Posts by Aleksandra Vetrova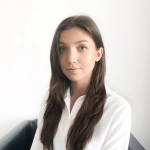 Zenprint
, an Australian online printing company. An expert in Digital Marketing and Blogging, she never misses an opportunity to spread the knowledge and share the industry's best practices.
Hailey Bieber, née Baldwin opened up about her struggles in the modeling industry. The 22-year-old model revealed that she struggled with insecurities especially when...
British songstress Adele has made her split from husband Simon Konecki official as she filed court papers for divorce. Adele's divorce petition was filed in...