The NDIS (National Disability Insurance Scheme) is the new way in which Australians with disabilities, and their carers, will receive support services. The Australian government has approved and implemented this scheme so that nearly half a million Australians with significant disability can enhance their health outcomes.
The spirit of the scheme is to better facilitate treatment of disabled people so that they can overcome the hurdles that impact their quality of life. NDIS occupational therapy services are one of the key ways in which Australians with disabilities can achieve greater independence and confidence to pursue their lives to the fullest potential.
What is Occupational Therapy and how does it work?
Occupational therapy or OT is a client focused healthcare discipline that focuses on training and preparing disabled people on how better perform daily activities. The goal of OT is to promote health and well-being through occupation.
OT can be applied to many different people in varying situations whether they have mental health issues, disabilities, injuries or impairments. Occupations that are helped with include:
ADL: The activities of daily living, such as dressing, grooming, personal hygiene, feeding and toileting.
IADL: The instrumental activities of daily living, such as caring for pets, caring for others, financial management, driving, mobility, meal preparation and medication management.
Rest and sleep outcomes: Preparing for bed and participating in healthy sleep.
Education: Promoting educational outcomes such as reading and writing.
Work: Achieving goals in relation to employment pursuits such as job seeking, job performance and preparation for retirement.
Leisure: Exploring leisure opportunities and participating in them.
Social participation: Community engagement, engagement with family, friends and peers.
The process of OT involves a thorough consultation with the patient and their carers about what goals they want to be achieved. Once the direction has been established a series of standardised assessments and interventions will work to help patients achieve their desired goals.
This process also involves the education of family members and/or carers so that they are able to fully facilitate the patients enhanced participation in daily tasks. This also involves modification of the patient's home environment where necessary so that participation is made easier.
All this work is done by qualified occupational therapists who work closely with patients and their carers to achieve the outcomes desired.  OT's are not only trained to help overcome deficits in patients but to identify them and monitor improvements. NDIS better perform daily activities are carefully administered to promote the health and well-being of disabled Australians.
Why is OT so important?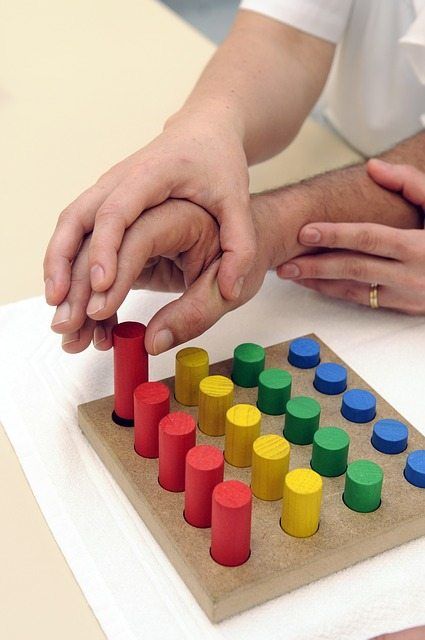 When it comes to therapy, many people automatically think of physical therapy. When it comes to occupational therapy, many people mistakenly believe that it is focused solely on preparing patients to enter or re-enter the workforce.
OT is not focused on physical rehabilitation but on the training, facilitation and encouragement of patients in order to better function in their daily lives. While a significant part of OT is used to promote career outcomes in patients that is not its sole purpose.
OT enables people with disabilities to perform tasks in their lives that they may have otherwise been incapable of doing. OT breaks down barriers in both the performance of physical tasks and in the mental preparedness for them.
While some disabilities may create physical barriers for patients, others create mental ones. OT's are specialised in helping patients overcome these hurdles and creating an environment that facilitates this process.
For these reasons it's clear why OT is so important as part of public health outcomes in Australia. OT is able to help thousands of Australians lead dignified lives that are as independent as possible.
What does the NDIS mean for Occupational Therapy?
The national disability insurance scheme is an incredibly important factor in the growth and application of OT. With the scheme even more Australians are able to access OT services that can make an immeasurable difference in their lives.
The NDIS acknowledges the need to integrate disabled Australians into society in a careful and considerate way. The scheme's facilitation and support of OT means that disabled Australians can participate in society in meaningful ways that boost their quality of life
The scheme represents a new era in disability outcomes for Australia and demonstrates a shift in societal views on disability services. With more Australians getting adequate care their personal dreams and aspirations can be realised.
NDIS occupational therapy services are becoming the most effective way for disabled Australians to overcome their limitations and become self-sufficient members of society. With the insurance scheme promoting and facilitating the accessibility of OT disabled Australians have never had more help in achieving the lifestyles the want.
The implementation and support of the NDIS shows that the Australian government is fully committed to providing the best possible health outcomes for as many citizens as it can.