"Necessity is the mother of Invention… and Video Chats!"
Video conferencing is leading as a medium of communication around the world today. The recent pandemic and social distancing are one of the main factors for increased usage of video chat apps globally.
Even the corporate world has seen the biggest shift ever in work behavior as COVID-19 has forced almost everyone to stay in. Companies who previously used video conferencing have doubled down on the technology as social distancing is to stay for quite some time.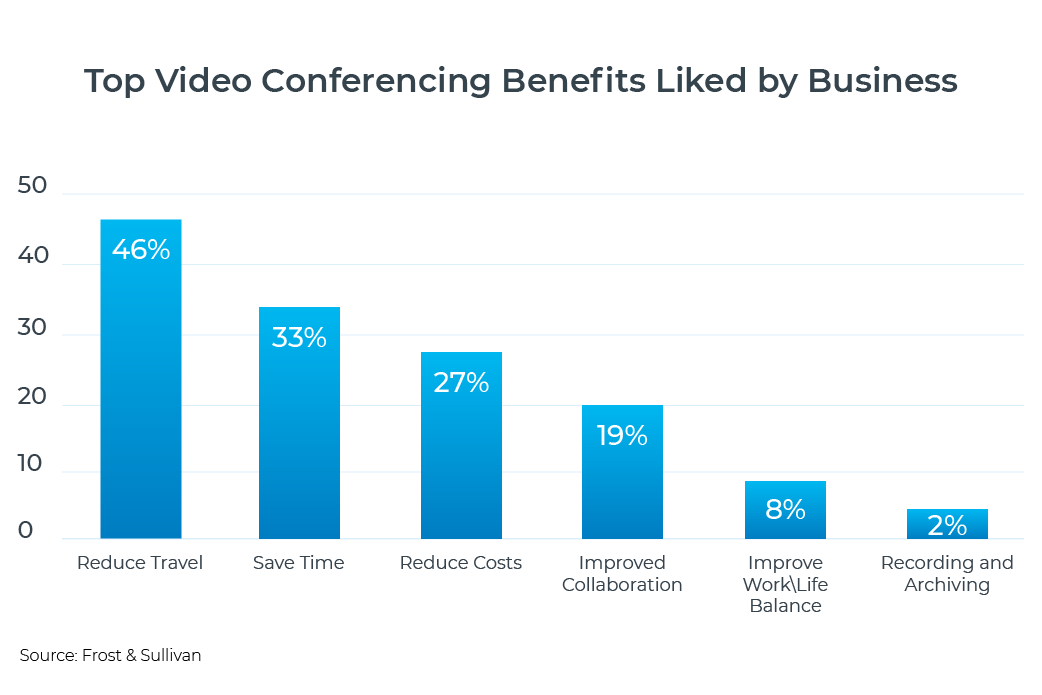 Times are perfect to create a video chat app as this market sees a sharp spike of active users. According to Microsoft, Skype got a 70% increase in customer count and usage. As of today, it stands to 40 million users per day compared to previous records. Similarly, other companies have seen a significant rise in their customer base as well. This article will guide you to build a video conferencing app in detail but first, let's look at main market players.
The 'It's-here-to-stay' VIDEO CONFERENCING MARKET
The fact that our new 'normalcy' will not be the same again suggests that the market of video chat apps is the new frontier. It was not until the pandemic, we realized the immense market capture of these apps. The key market players are –
1. Skype – "It's time for Skype"
Leads by 1,000,000,000+ downloads in the current market with its easy-to-use application model.
2. Viber – "Connect. Freely"
As of 2016, Viber had 800 million registered users and 236 million active participants.
3. Whatsapp – "Simple. Secure. Reliable Messaging"
Whatsapp has a staggering 2 billion user base in which 1.6 monthly active users use this app for communication.
4. Zoom – "In this together. Keeping you securely connected wherever you are."
As of April 2020, the number of daily active participants stands to 300 million.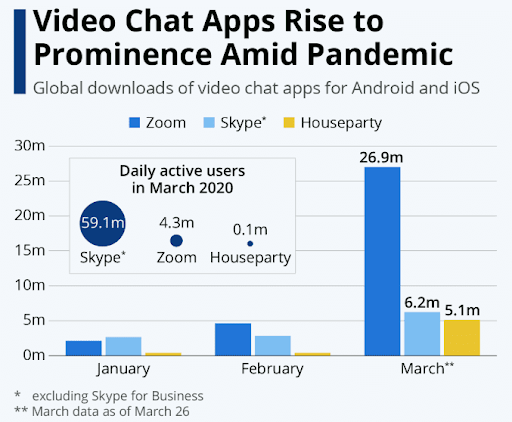 In this market of giant players and fresh opportunities, let's look at the important steps towards your ultimate video calling app.
Steps to Create a Video Calling Application
The success of top video chat applications in the world, as mentioned above, has been a hit because they have captured the intricacies and secrets correctly. Let's dive deep into key factors to successfully make a video chat app for Android, IOS & Web.
The Evergreen 'Know-Your-User' Formula
Knowing your target audience or potential user for a video calling app is the first and foremost step of the app-building process. Important premises such as needs, preferences, trends, innovation, and security must be studied and planned before you enter the phases of building a video streaming app. There must be an inclusion of several updated features for your users so you can stay ahead of the game. But knowing your audience alone won't help. There is more to this technological creation.
The Pillar-features of your Video Chat App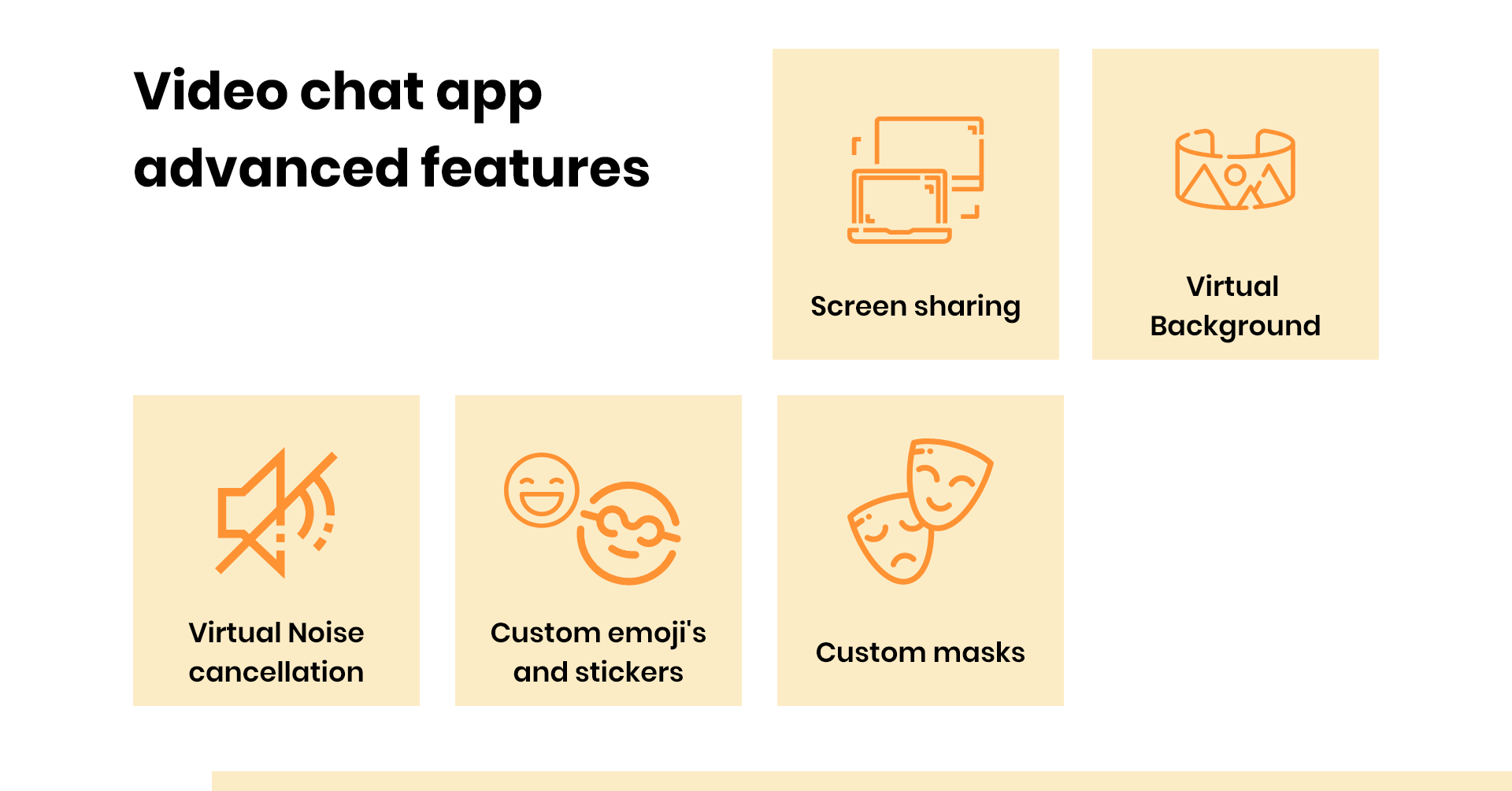 Highly Secure login – Right from registration to logging in, the user must go through an easy yet secure process while navigation. Features like email reminders, OTP, and strong passwords must be included in your app.
Search and Add Contacts – Syncing contacts into the application through a user's contact book must be available within a click. It makes communication easier.
Real-time Instant Messaging – Be it business or leisure, long sending and receiving message timings are a turn-off. Instant Messaging should be a mandatory feature, whether or not faced with a poor internet connection.
High-Quality Video and Audio Calls – Make a video call app that delivers high-quality video and audio feed. Glitches and freezes are inevitable during high internet traffic. Once faced with this issue, the app must boot back into real-time streaming.
Group Calls – Develop a video conferencing app that supports a high number of participants without the occurrence of lags and slowdowns. Video chat applications like zoom and skype are famous because of their high-quality video streaming.
Having an Intuitive and User-friendly Video Chat Application UX & UI
Building a video chat app and website must have intuitive UX and UI. Paying attention to the coherence of users app journey even for a single click is necessary. Design-wise, your video streaming app for mobile must be minimal and contextual. It elevates user experience multifold. The response timing of the app should be fast with the support of robust servers, which brings us to the most important aspects…
Back End Development – Server logic and algorithms are fundamental to add a video calling feature to the app. SaaS solutions (Software as a Service) will help in building a robust app in no time. For more flexibility, you can build the back end from scratch.
Technology Stack – You can make your instant video chat and messaging application using WebRTC – A Real-time protocol that lets users connect or stream audio and video. It uses strong server connections protected by HIPAA. Another protocol you can integrate is RTP in combination with RTCP- (Real-time Transport Protocol) a network protocol used in delivering audio-video streaming and multistreaming over IP networks. In addition to this, there is Jitsi – an open-source project system that allows you to use its secure videoconferencing solutions.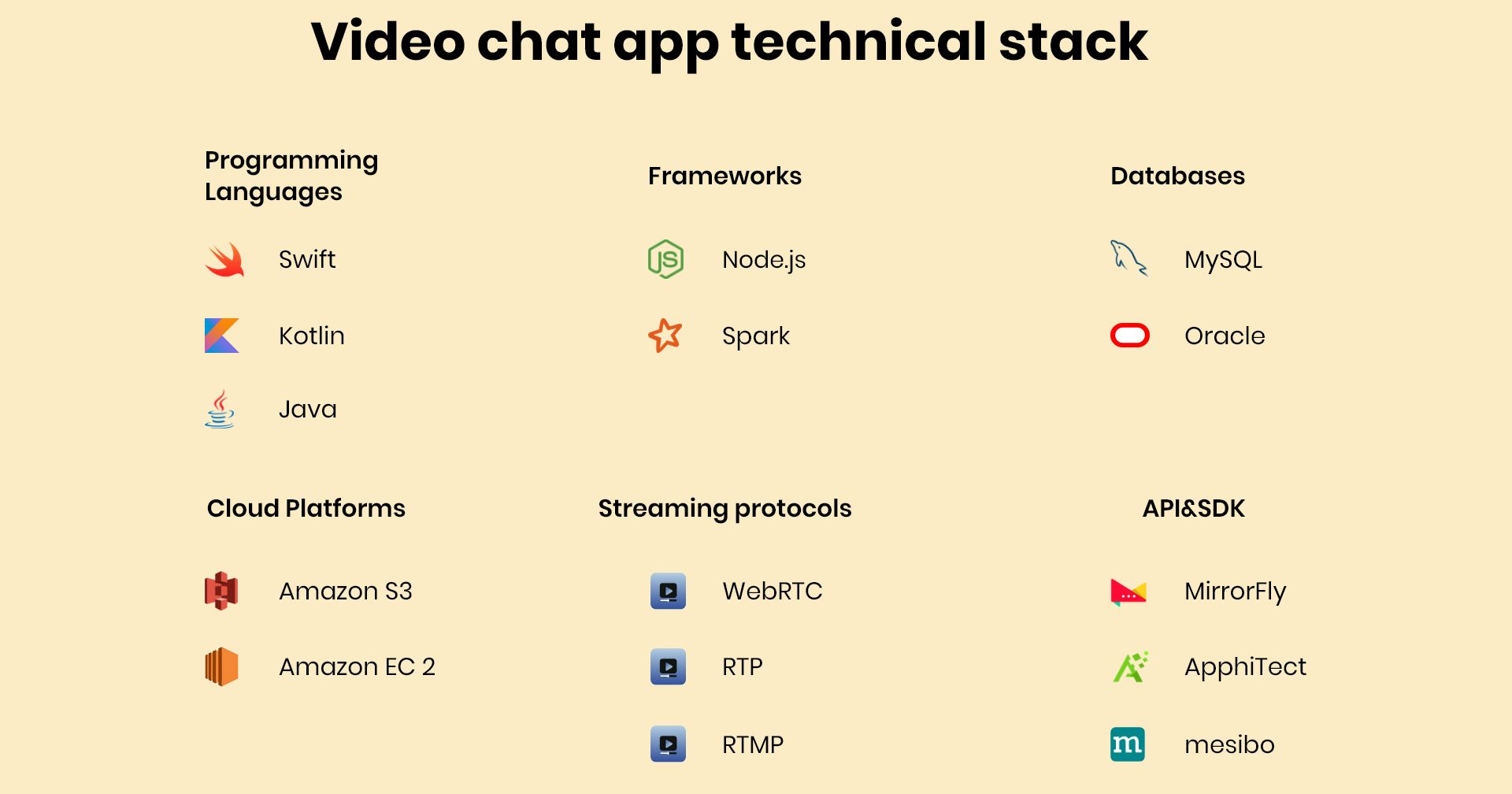 Integrating Third-party Video Chat APIs & SDKs Into Exisitng App & Web
MirrorFly is an HQ video calling and conferencing solution. It comes with SDK (Software Development kits) for both web and mobile apps. The best part about MirrorFly's SDK and APIs is that they have 100% customizable UI, add-ons, and core functionalities. Their 300+ in-house development team integrates innovative technology and software infrastructure for an efficient and smooth video chat app. They deliver lower latency using WebRTC protocol connecting users faster.
Apphitect helps develop chat apps for enterprises using multi-faceted API and SDKs. They can be smoothly integrated with third-party systems to widen API functionality. It gives complete IM solutions with a roadmap to develop a unique UI, multimedia, an Audio-Video sharing solution, and a native messaging system.
Mesibo lets you integrate real-time protocol to your chat application. You can connect messaging and calling to your own database or private cloud. The scalability of their APIs to billions of users is strong and robust. Build an encrypted messaging application using their security solutions combining with AI chatbots and Machine Learning interface.
ChatCamp is another real-time messaging and API solution for creating a chat application in Android, iOS, JavaScript, and cloud platforms. This API solution lets thousands of users interact at the same time. UI and other integrated features are customizable too.
TalkJS provides easy to build and integrate chat application APIs which you can develop in hours. This customizable SDK for developing mobile or web chat application is reliable and scalable with cross-platform synchronization.
The Relevance of Video Chat Support across Multiple Industries
1. Distance Online E-learning & Turorials
Video chat has revolutionized the way students learn these days. (No thanks) to the Pandemic, Videoconferencing is now integrated into academics and examinations. It makes it possible for a student to learn from the comfort of home but not miss out on knowledge.
2. Digital Healthcare & Hospitals
The Healthcare Industry has started embracing innovation like no other. Real-Time Patient tracking and emergency video chat consultations have changed the way healthcare workers take care of patients. Amalgamating Healthcare with video chat applications is smart!
3. Banking & Financial Services
Banking and Finance have also started taking highway turns in the way they function. Video Chat applications these days help customers connect in real-time with agents to carry out bank-related work. Chat apps for finance are both available for web and mobile with high-end security.
4. Field Services
Be it an electrician or a plumber, live videos help them recognize the problem and quickly come up with solutions. Video chat applications in Field Services have a massive potential of eliminating customer errors and failure of self-installs. It also helps for correct diagnosis which leads to accurate allocation of resources for the problem.
Some Strategies to Monetize your Video Chat Application

Developing a video chat app that gives instant communication which also generates money is a boon! Revenue helps in further developing the app and also covering its maintenance. There are multiple ways to monetize your video chat app.
1. In-app advertisements
It's a bit tricky when it comes to advertisements. You can't overdo it by placing it in the middle of a call like in video streaming apps. You will have to invest in placing ad banners on your app fronts which might, in turn, put off users. Placing ad banners to the sides while navigation is one way you can put advertisements of brands in your app.
2. Paid App to phone calling
Users love to call each other through the app. But sometimes people go offline and they can't be reached. To solve this, you can provide an 'app to phone' calling feature at minimal rates than usual call rates.
3. Paid Features
You can build special features only premium members can use. These features can also be designed for free usage up to limited time. The latter works better because the user is aware of it.
4. Paid Stickers
Stickers are fun and easy to send. Design and integrate beautiful, fun stickers that users can buy for minimal rates. When applied on a large scale, this turns to a huge influx of revenue.
Conclusion
Building a video chat application has relatively become easier than before with new technological innovations being produced constantly. With the help of these tips and efficient technical support, you can create a video chat app that delights users across the world.