Fathers play a huge role in every child's life that can't be filled by others. They have a large impact on a child and help shape them into a good person. They provide security to each of the family members, both physical and emotional. With a father's support, it can greatly affect the overall wellness of a child's cognitive and social development. 
Giving something back to fathers aren't easy things to do. Especially when your dad's birthday is coming up and your ideas are starting to run out. Everybody wants to get their dad a special gift, but what should you get? Here are 9 unique gifts for Dads.
Braun multi grooming kit MGK3045
If your father is a proud owner of a beard, he is most likely to take care of it. This kit includes a multi grooming kit, a beard com 3-11mm, beard comb 13-21mm, fixed comb with 1mm and 2mm, a precision trimmer, cleaning brush, a smart plug, and a Gillette Fusion ProGlide manual razor-sharp, everything your father needs to keep his beard looking sharp. 
Roadie tuner smart guitar tuner
Does your father still have great taste in music and rocks out that guitar? To save him some time, the Roadie Guitar Tuner automatically tunes the guitar and does all the hard work. Just connect the tuner to the peg, strum the strings and it will tune it automatically. 
Omega Seamaster
This luxury diving watch features a transparent sapphire crystal case back that allows you to see the movement in action. It uses stainless steel, ceramic-filled bezels that are highly scratch resistant and they are unaffected by color fading due to UV light exposure. The Omega Seamaster has up to 300m water resistance, making it perfect for your dad that is into diving.
Hudson durable goods heavy duty apron with tool pockets
Made from water-resistant and rugged waxed canvas, this handmade apron is perfect for handyman dads out there. This apron has large pockets that can fit almost anything. It has an adjustable cross back strap design that prevents neck pains, making the apron comfortable to wear all day. 
Fishing rod case organizer
Is your dad into fishing? Then there's probably a huge stack of his favorite fishing rods lying somewhere around the house. This fishing rod case can help him keep his valuable rods protected and organized. Made from heavy-duty grade high-tech polyester, the case can hold 5 rods and reel on the outside, and more rods, reels, tackle and equipment on the inside.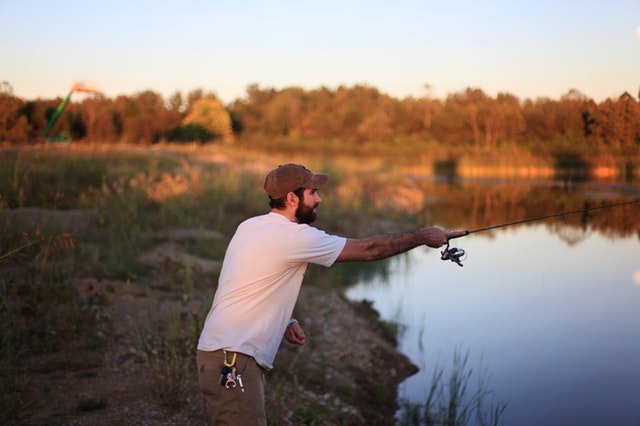 GoPro HERO 5
What better way to capture your amazing trips than with the waterproof GoPro HERO 5. Watch your recorded trips with the sensational 4K resolution. The GoPro HERO 5 is waterproof up to 10 meters without a case, it has electronic image stabilization, GPS, 2-inch touchscreen display, and it has dual microphones that will surely capture everyone's voices. 
Garmin Vivoactive HR GPS Smart Watch 
This smartwatch tracks the heart rate at all times and it can receive notifications when its paired with a smartphone. It has built-in GPS-enabled sports apps like running, biking, swimming and many more. It also has customizable free watch designs, widgets and apps through the Garmin watch face app. 
Rabbit wine tools set
This all-in-one Rabbit 6 piece tool set comes with a corkscrew, wax remover, sealer, foil cutter, pourer, and a stopper, everything a good glass of wine deserves. With the Rabbit tool kit, you can pull a cork in 3 seconds flat. It works on all types of wine bottles, with soft grip pads that give you easy leverage. 
Parker Jotter ballpoint pen
The better the pen, the better his work. A Parker pen is one of the nicest choices of birthday gifts for your dad. The Parker Jotter is a classic pen that keeps upgrading. It has an all-aluminum body, which helps with grip under normal writing circumstances. You can get that pen personalized it can turn out to be one of the best presents for your dad.
Takeaway
Dads are our role model, they are like our superheroes. No one can take their place. The sacrifices of a father are way beyond words. They work hard to fulfill the requirements of their children. When it comes to a birthday gift, they should be special enough to make your dad happy.