The summer sun is high and beach parties are waiting for your presence. But there's no beach day without a swimsuit and a swimwear cover up. While our bikinis are always ready for catching the sun's rays, most of us forget all about cover ups. Even though those lightweight fabric essentials play a huge role and go hand in hand with swimsuits.
Swimwear cover ups don't only get you better pictures but they're also important for when you're done with water fun and sauntering around in a bikini gets awkward. Cover ups can be conveniently thrown on to enjoy the beach vibes without any worries of stares, feeling out of place, and for even protecting your skin against the harmful UV rays.
Talking about swimwear cover ups, these come in a variety of styles. Let's dive into 5 of the most popular ones below which you must toss in your armoire:
1 – Sarong
The sarong style is a pretty famous one which has been worn for a long time now. Such a cover up is for the ladies who want to try the various ways in which a well-cut light cloth can be wrapped around the body for maximum appeal.
Sarongs can be tied up on the chest and they can also be tied by the ends to make two holes enabling the sarong to be worn as a jacket. However, the most common way of styling a sarong cover up is by tying it at your waist.
This way, you can cover up your thighs, which happen to be a body part many women are conscious about. You can move the knot to one side to flash a glimpse of your skin too! This way, you'll be showing what you want to and getting some chic Instagram-friendly pictures as well.
2 – Wrap
Wraps are also a fashionable style of cover ups. These are lovely for a number of reasons; first of all, they suit all body types. Women with big busts will find ample support with a wrap cover up. Those who don't have a very curvy physique can create an impression of curves with wraps dresses.
Whereas, those who are slim, they tend to look taller and leaner in this cover up style. Secondly, wrap cover ups can also be worn without actually wrapping the cover up around your body. This means you can let it flow like an open in the middle.
One actress we've seen in such a cover up is Jessica Alba. It is not necessary that you go for a short wrap cover up. You can also opt for a longer version if you prefer that.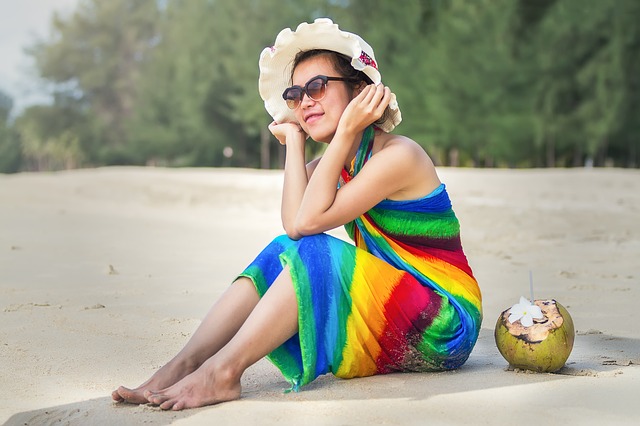 3 – Kaftan
Another option worth trying is a kaftan. Kaftan cover ups are made of lightweight, flowy fabrics. These are loose and they don't give away the shape of your body too much. Kaftans can be mid-length, or they can even reach down to your ankles.
They typically have wide sleeves. Women who are not too confident about their body or who just don't want too much skin to show off the beach can opt for this option. Often a belt is added at the waist of kaftan cover ups so as to give a slimming effect.
If you are a fan of long dresses then you should go for the kaftan style. Add a straw hat on your head and you'll look absolutely picture-ready!
4 – Tunic
You can also try on a tunic cover up for a classy summer look at the beach. Tunics are like shirts that stop as they reach the upper part of your thighs. These cover ups are in and out of vogue depending on the season.
They've been rocked by celebrities like Paris Hilton and Miranda Kerr. Tunics not only cover up your midriff from the sun and unwanted attention, but they also look snazzy. You can go for a sheer one if you want to flaunt your gym body.
Or you can wear one doesn't show your skin but gives a hint of your curves. The second option is great for women who don't mind a bold outfit to waltz in at a resort without having to change as tunics can serve as summer dresses too. Pair with OTK boots and off you go!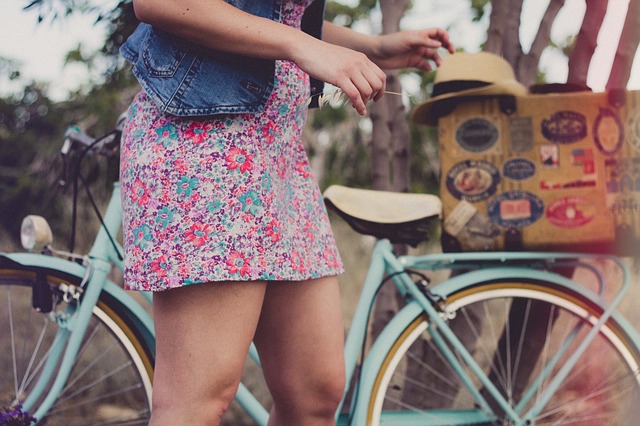 5 – Sundress
You'd think that a sundress and a tunic are essentially the same things, but the styles are actually pretty different. Tunics are always loose, and they do have sleeves. While they come in a variety of prints the basic idea is the same.
Sundresses, on the other hand, are different in it that they can be as long as a maxi or as short as a mini dress. Sundresses can have no sleeves at all or have straps. They can come with different details, for instance, they can have a cinched waist.
Also, the body cut of a sundress and a tunic is pretty different. If you end up choosing a sundress, don't forget to do it justice by giving it a girly summer-ready look complete with wedge heels and sunshades.
Takeaway
Swimwear cover ups come in a range of styles. You can choose whichever you like from a number of retailers. If you find something that you like but think is too expensive don't immediately skip it and move on to another shop.
You can always use swimsuit discount codes for fetching a good discount for swimwear. Or you can wait for a sale to run. Which of these styles do you like best? Tell us in the comments!